Undergraduate Research
The College of Agriculture and Life Sciences Undergraduate Research Scholars program is an immersive experience designed to engage undergraduate scholars in research and creative activities beyond the traditional undergraduate curriculum. In this 12-month experience undergraduate students will work as a junior colleague within a faculty scholar/mentor's research program to discover new knowledge, enhance their discipline-specific expertise, and gain critical thinking skills.
Project Spotlight
Surface area and envelope volume of growing broilers from 35 d to 63 d of age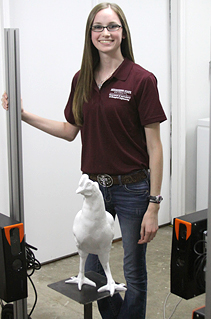 Poultry is Mississippi's most valuable agricultural commodity valued at $2.3 billion and produced on 1,478 farms in 2012. 3D models of broilers are needed to find ways to increase heat removal, thus be able to increase bird performance (better feed conversion ratios) or use fewer fans (less energy) or a combination of both. 3D models can be utilized in a broiler house computational fluid dynamics (CFD) model to improve our understanding of the bird-airflow interface. Therefore, the objective of this study was to characterize surface area and envelope volume of growing broiler birds from 35d to 63 d of age. Live broiler chickens were successfully scanned at 35, 49, 63 days of age with a commercially available 3D digitizer system. Adjustments were made to accommodate live broilers such as cameras angles and placement, light intensity, and bird movement. 3D surface models were successfully rendered however, issues arose with the calculation of surface area thus affecting volume and S/V ratio for both male and female birds. Models can currently be used to gather physical measurements but the study must be repeated to improve the model surface area measurements.
Author: Christina Cooper