Undergraduate Research
The College of Agriculture and Life Sciences Undergraduate Research Scholars program is an immersive experience designed to engage undergraduate scholars in research and creative activities beyond the traditional undergraduate curriculum. In this 12-month experience, you will work as a junior colleague within a faculty scholar/mentor's research program to discover new knowledge, enhanceyour discipline-specific expertise, and gain critical thinking skills.
Project Spotlight
An integrated watershed approach to water and sanitation hygiene priorities through a narrative review of Lake Chivero, Zimbabwe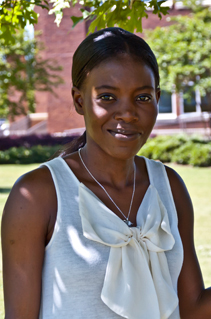 Hazel Buka, originally from Harare, Zimbabwe, is an agricultural engineering technology and business major. She has a concentration in natural resources and management. Her projected graduation date is 2016. Buka attended her first two years of college at Chibero College of Agriculture in Zimbabwe before coming to MSU. Through a partnership established between these two educational institutions, she traveled to MSU to finish her bachelor's degree.
As an undergraduate research scholar, Buka's project is a review and assessment of studies on Lake Chivero, Zimbabwe, a main water source for the area. According to Buka's report, various factors have impacted the lake's water quality. After collecting and analyzing water quality data, Buka proposed two possible solutions: the reduction of the overflow of nutrients going into the lake and educational outreach on clean water practices. The work was presented at the Mississippi Water Resources Conference held in Jackson, Mississippi in April. The next step is to secure additional funding to implement solutions.
Author: Hazel Buka