Undergraduate Research
The College of Agriculture and Life Sciences Undergraduate Research Scholars program is an immersive experience designed to engage undergraduate scholars in research and creative activities beyond the traditional undergraduate curriculum. In this 12-month experience undergraduate students will work as a junior colleague within a faculty scholar/mentor's research program to discover new knowledge, enhance their discipline-specific expertise, and gain critical thinking skills.
Project Spotlight
Persistence of antibiotic resistant genes in Salmonella enterica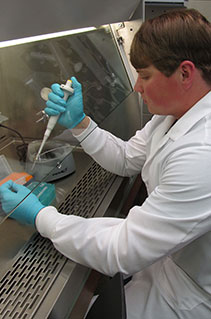 Ben Bishop sought to determine the persistence of antibiotic resistant genes in Salmonella enterica. This resistance is an increasing concern for public health. By studying the DNA from twenty Salmonella isolates found in ground turkey, he hoped to identify the prevalence of antibiotic resistant genes which will help scientists better understand this pathogen's antibiotic resistance. His research was under the direction of Chander Sharma, assistant professor in the Department of Poultry Science. Bishop graduated with a bachelor's degree in poultry science in May 2015.
Author: Ben Bishop