Undergraduate Research
The College of Agriculture and Life Sciences Undergraduate Research Scholars program is an immersive experience designed to engage undergraduate scholars in research and creative activities beyond the traditional undergraduate curriculum. In this 12-month experience undergraduate students will work as a junior colleague within a faculty scholar/mentor's research program to discover new knowledge, enhance their discipline-specific expertise, and gain critical thinking skills.
Project Spotlight
Effects of a week-long cooking camp on self-efficacy of dietary behavior and food preparation skills in children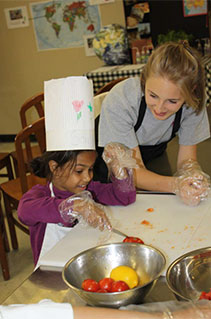 Anna Laurin Harrison, recent Food Science, Nutrition and Health Promotion graduate, assessed the attitudes of participants who attended Fun with Food camp, a weeklong summer camp at Mississippi State University. Twenty camp participants who attended the 2014 Fun with Food summer camp participated in a pre-survey administered the first day of camp, as well as a 9-month follow up survey. The pre- and follow up surveys were analyzed for changes in self-efficacy of food preparation and dietary behaviors resulting from participation in Fun with Food Camp, which is aimed at children between the ages of eight and 13. Prior to attending camp, only thirty-five percent of participants were confident in their ability to follow a recipe without help. Sixty percent of participants were not sure they could eat a half cup of vegetables or one serving of whole grains at home most days. Data revealed that involving children in food preparation can positively affect self-efficacy and dietary behaviors. Additional research is needed to determine if food-preparation skills translate to sustainable and healthier food choices. Sylvia Byrd, professor in the Department of Food Science, Nutrition and Health Promotion, served as Harrison's advisor.
Author: Anna Laurin Harrison