Undergraduate Research
The College of Agriculture and Life Sciences Undergraduate Research Scholars program is an immersive experience designed to engage undergraduate scholars in research and creative activities beyond the traditional undergraduate curriculum. In this 12-month experience undergraduate students will work as a junior colleague within a faculty scholar/mentor's research program to discover new knowledge, enhance their discipline-specific expertise, and gain critical thinking skills.
Project Spotlight
Measuring changes in the annual soil invertebrate community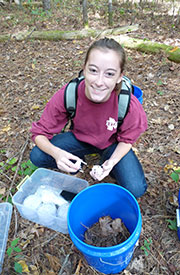 Lauren Gamblin, senior horticulture major, quantified annual soil invertebrate community fluctuations. Gamblin sought to determine the phenology of soil invertebrate communities within a warm temperate forest and identify potential abiotic and biotic factors driving phonological changes. She sampled and sorted soil invertebrates and soil respiration from ten Mississippi forest plots to determine richness and abundance of invertebrate populations. She also collected monthly temperature and precipitation data. Gamblin observed that invertebrate populations and activity increased when precipitation was lower and temperatures were higher. She noted that invertebrate sensitivity to precipitation and temperature might be impacted by climate change, which may alter the important annual soil community fluctuations. John Riggins, associate professor in the Department of Biochemistry, Molecular Biology, Entomology and Plant Pathology served as Gamblin's advisor.
Author: Lauren Gamblin