Undergraduate Research
The College of Agriculture and Life Sciences Undergraduate Research Scholars program is an immersive experience designed to engage undergraduate scholars in research and creative activities beyond the traditional undergraduate curriculum. In this 12-month experience undergraduate students will work as a junior colleague within a faculty scholar/mentor's research program to discover new knowledge, enhance their discipline-specific expertise, and gain critical thinking skills.
Project Spotlight
Effects Of genipin on decellularized porcine cartilage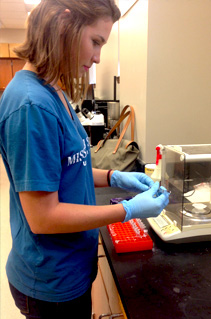 Osteochondral articular transfer is the only procedure to repair articular cartilage and immediately restore functional hyaline cartilage to the joint surface. Drawbacks include donor site morbidity, limited tissue availability, risk of graft rejection and disease transmission.
This research aims to develop an alternative method using decellularized, crosslinked porcine osteochondral xenografts (OCXGs). Benefits of xenografts include low cost, abundant supply, and uniform prodcuts. Further benefits from decellularizing and crosslinking include decreased immunogenicity, reduced disease transmission and immediate "off-the-shelf" availability.
Crosslinking collagenous tissue results in greater mechanical strength, more resistance to enzymatic degradation, and reduced immunogenicity. Traditionally, glutaraldehyde has been used for crosslinking. However, it is cytotoxic and kills adjacent tissues. Instead, this study used genipin, a chemical substance from the Gardenia jasminoides Ellis fruit. Genipin is inexpensive and simple to use. Crosslinking density can be adjusted according to genipin concentration. In this study, porcine articular cartilage disks were decellularized via a previously published method for porcine nasal septal cartilage decellularization. The process extracts glycosaminoglycan to allow for greater infiltration of nutrients and host cells. The disks were then crosslinked with 0.01% and 0.1% aqueous genipin for 3 days at room temperature with agitation. Prior to decellularization, the cartilage disks' biphasic properties were determined by confined compression testing. The test was repeated after decellularization and after crosslinking. The aggregate modulus was notably lessened after decellularization but returned to, and in some instances, exceeded that of the fresh disks after crosslinking. This study demonstrates that genipin is a viable alternative for crosslinking OCXGs.
Author: Taylor King