Undergraduate Research
The College of Agriculture and Life Sciences Undergraduate Research Scholars program is an immersive experience designed to engage undergraduate scholars in research and creative activities beyond the traditional undergraduate curriculum. In this 12-month experience, you will work as a junior colleague within a faculty scholar/mentor's research program to discover new knowledge, enhanceyour discipline-specific expertise, and gain critical thinking skills.
Project Spotlight
Examining peripheral activity of Catechol-O-Methyltransferase,(COMT) in holstein cows following artificial insemination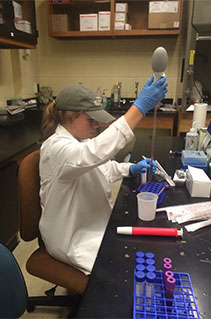 Rachel Wilson, a senior animal and dairy sciences major, examined the peripheral activity of catechol-O-methyltransferase, or COMT, in pregnant versus non-pregnant cows. While the activity of COMT has not been previously studied in cattle, research in humans and mice have indicated that activity of COMT can be detrimental to pregnancy. Wilson took blood samples from pregnant and non-pregnant cows and evaluated the presence of COMT and how the enzyme interacts with progesterone and estrogen, two hormones that play significant roles in ensuring a healthy pregnancy. Wilson discovered that COMT activity may be down regulated by estradiol and/or increased by extended exposure to progesterone in the luteal phase. Pregnancy status and days post-insemination may have altered peripheral COMT activity, which is involved in catechol-estrogen metabolism. To further investigate COMT activity and function, Wilson will continue the research, examining both estrogen and enzyme activity in order to confirm her hypothesis of the function of this enzyme. Caleb Lemley, assistant professor in the Department of Animal and Dairy Sciences, served as Wilson's advisor.
Author: Rachel Wilson