CALS Students
Welcome to the College of Agriculture and Life Sciences Students website. We are so glad that you are interested in being part of one of the founding colleges at Missisippi State. Explore our site and then schedule a visit. We would love to show you around our campus and university.
---
Featured Student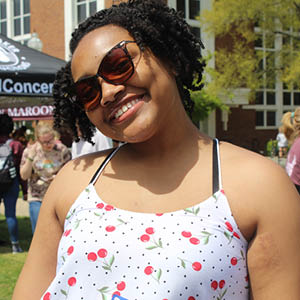 Camryn Titus
Camryn Titus, Dallas, Texas native and birthday-buddy with Rosa Parks, has big plans for her education. As a senior biochemistry major, she's concentrating in science while also minoring in psychology. Eventually, Titus hopes to use her degree to excel in the world of genetics. Currently, she's doing research as an undergraduate assistant in the comparative genomics lab, and once she graduates in 2021, she'll try for a master's degree in human genetics and genetics counseling before eventually settling down into her dream career of a clinical geneticist.
---
How to Become a Bulldog
Make sure you submit the $40 application fee, official transcript, your official test scores (ACT & SAT), and any college coursework you have completed.
Fill out the Scholarship resume and submit by December 1st for Competitive scholarships, August 1st for Leadership & Service Scholarships.
Fill out your housing application by April 1st.
Come to Academic Insight.
Complete the FASFA.
Register for Orientation.
Welcome to the family!