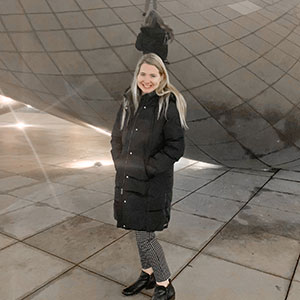 Ainsley Jessup
Ainsley Jessup, a sophomore from Mahomet, Illinois, went from soloing her way across Lucas Oil Stadium in Indianapolis as a part of her high school marching band to rubbing elbows with students of food science and professionals in the field at the AFA Food Institute in Chicago, Illinois. The food science, nutrition and health promotion major says that she hopes to share with prospective students the vast array of opportunities available to them through CALS, and once she's graduated, she hopes to use the opportunities she's taken advantage of to propel her through graduate school and eventually to her own lab as a food microbiologist.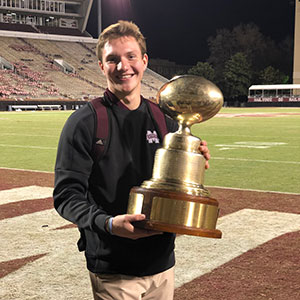 Alex Rial
Alex Rial is earning his degree in biochemistry and his minor in business administration in hopes of one day opening his own practice in orthodontics. Determined though he may be, the Tupelo, Mississippi native said that those around him help make his dreams attainable. "I remember one day, I met with my advisor, and I had gotten a bad grade on a test that morning. She could tell that I was disappointed in myself, and she went above and beyond to not only advise me academically but to be a role model and a voice of encouragement," Rial said. Rial will graduate in 2022, but he plans to continue spreading positive change around Mississippi State in the meantime.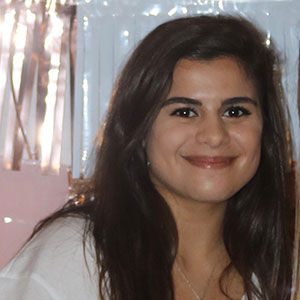 Alexandria Ferrante
Senior agribusiness major, Alexandria Ferrante, is fascinated by the interconnectedness of the College of Agriculture and Life Sciences. "The fashion and merchandising majors study very different things than the agribusiness majors, but the raw materials of both our industries are exactly the same. CALS is so diverse but we're all from the same family," Ferrante said. Ferrante hopes to continue this study of interconnectedness as she moves into law school, where agriculture will intersect through her interest in environmental law.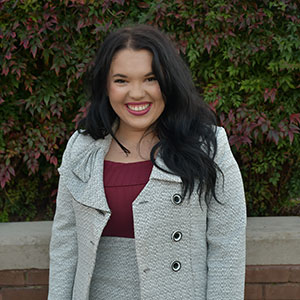 Allie Davis
Allie Davis of Ovett, Mississippi started her journey at MSU worried about her abilities to succeed in the difficult biochemistry major. Now, the junior assures that the variety of concentrations and plethora of opportunities offered through the department more than make up for the challenging curriculum. Davis has been tackling her degree with gusto over since, hoping soon to join MSU's ranks of veterinary medicine students.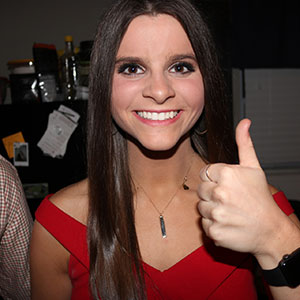 Allie Kerby
For Allie Kerby, a senior biochemistry major from Columbus, Mississippi, it was the major's flexibility that drew her to it. "I've always loved science, but I didn't want that to be all that my college experience was. Biochemistry was the perfect fit, since it allowed me to attain an minor and take non-science classes while also challenged me academically and better prepared me for medical school," Kerby said. Kerby also participated in the undergraduate research scholars program, which allowed her to gain experience in the medical research field and get a jump start on her career.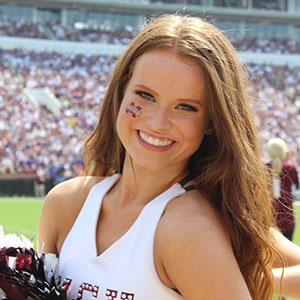 Becca Brecekenridge
Sophomore Becca Breckenridge wanted to be an ambassador for CALS to offer students who might be unsure a guiding insight. The Starkville native spends what time she isn't studying for medical school showing her spirit on MSU's dance team and says she has dreams of being a Rockette. Look out Radio City!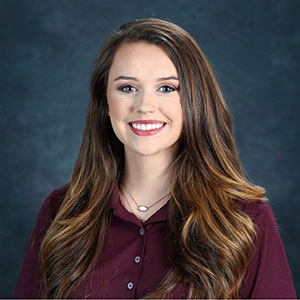 BreAnna Lynch
BreAnna Lynch, a senior from Belmont, Mississippi, wants to use her biochemistry degree to help animals. Lynch is concentrating in pre-veterinary medicine, minoring in animal and dairy sciences, and gaining experience in the field through international research. In 2019, Lynch was able to travel to Momostenango, Guatemala to teach rabbit husbandry for nutritional and monetary benefit.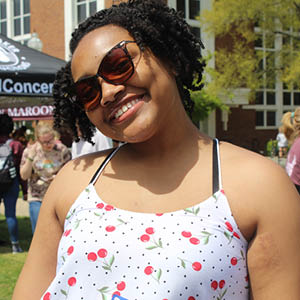 Camryn Titus
Camryn Titus, Dallas, Texas native and birthday-buddy with Rosa Parks, has big plans for her education. As a senior biochemistry major, she's concentrating in science while also minoring in psychology. Eventually, Titus hopes to use her degree to excel in the world of genetics. Currently, she's doing research as an undergraduate assistant in the comparative genomics lab, and once she graduates in 2021, she'll try for a master's degree in human genetics and genetics counseling before eventually settling down into her dream career of a clinical geneticist.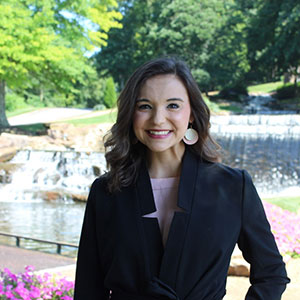 Claudia Reid
Unexpected doors are always opening for senior, Claudia Reid. The Southside, Alabama native left her hometown to jump the 27 Waterfalls in the Dominican Republic, tour of campus sold her on Mississippi State, and a peek into student life through Preview Day made her fall in love with the College of Agriculture and Life Sciences. Now, she's a thriving biochemistry major preparing for medical school and was able to earn a minor in chemistry through directed individual study in the lab.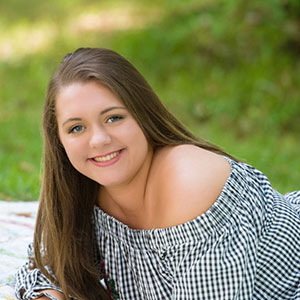 Courtney Ruth
Courtney Ruth, a junior from Houston, Mississippi, said that she found her identity in the agricultural education classrooms. Now studying agricultural education, leadership and communication herself, Ruth chose to be an ambassador for CALS for the opportunity to lead and to guide. After graduation, she wants to continue leading and guiding through agricultural education and even hopes to find a program with a junior chapter, so that she can teach as broad a base as possible about the importance of agriculture.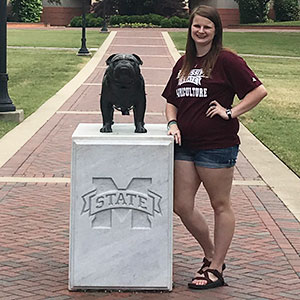 Dana Poore
Meet Dana Poore, an agricultural science major from Hurley, MS. Dana loves the diversity of subject areas in the College of Agriculture and Life Sciences. From traditional agriculture majors like Agronomy and Animal and Dairy Sciences to majors like Fashion Design and Merchandising. Agriculture reaches farther than just farming which make the college special because it touches areas in everyone's daily life.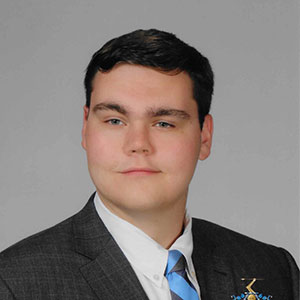 David Ashley
David Ashley, senior and Conway, Arkansas native, can certainly appreciate legacy. The animal and dairy science major with a pre-vet concentration also serves as warden of Phi Delta Theta, where it's his duty to uphold the fraternity's honored traditions. "Part of the reason I wanted to be an ambassador," Ashley said, "Is for the opportunity to share CALS traditions with the next generation of students." While there is no signature CALS experience, there is certainly a tradition for everyone.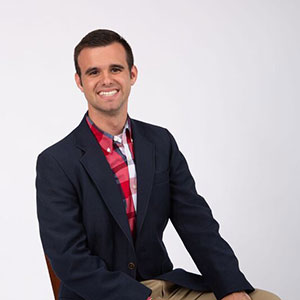 Dellon Barber
Thanks go growing up on his family's cattle farm in Donalsonville, Georgia, Dellon Barber has been invested in animals all his life. The junior animal and dairy sciences major has seen his capabilities and confidences grow leaps and bounds as he progressed through CALS' renowned animal labs, and when his time at MSU is done, he hopes to start his own veterinary clinic and continue the quality of care he found here.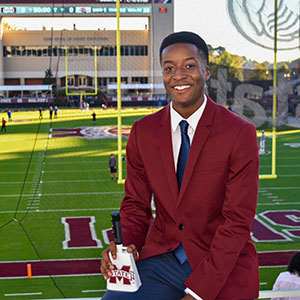 Donovan Gordon
Donovan Gordon is a man of many interests, and MSU's College of Agriculture and Life Sciences has opportunities for each of them. A biochemistry major, Spanish minor, and dreams of earning a business degree after graduation, Gordon has gotten to prepare himself for his future in a number of different ways. In preparation for medical school, Gordon took a research position in the metamemory and cognitive studies lab, and the Olive Branch native will likely put both his Spanish minor and future business degree to good use when he opens his own rural medicine clinic.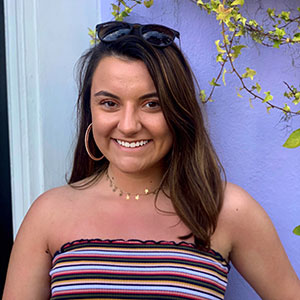 Emily Duncan
From her home in Florence, Alabama to the top of Machu Picchu, sophomore Emily Duncan has seen enough of the world to know that she wants to be outdoors embracing it. Duncan is a landscape architecture and landscape contracting major, and after spending a summer learning the ropes in her hometown's landscape architecture business, hopes to one day create outdoor living spaces of her own design.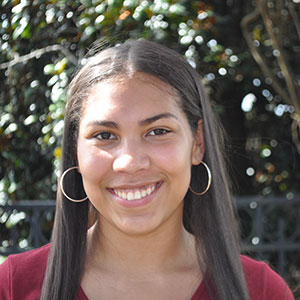 Gabbey Hobbs
Though Gabbey Hobbs is just one of thousands of Mississippi State students, she says that her position in the College of Agriculture and Life Sciences has never once made her feel like she's just one of the thousands. "CALS is special because I know every faculty member wants me to succeed and will do anything to ensure that I do. They know my name, and they know my face, and that's very important to me," Hobbs said. The biochemistry major hails from Little Rock, Arkansas and hopes to become a neonatal surgeon, where she's already dipping her feet into research by helping to develop targeted therapies for vascular calcification.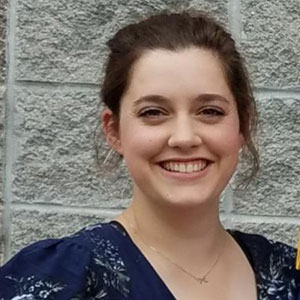 Hannah Gordon
Franklin, Tennessee native Hannah Gordon is the perfect example of a dedicated animal and dairy sciences major concentrating in pre-veterinary science. She has done an internship at the Nashville Zoo, where she cared for and trained animals such as parrots, snakes, birds of prey, opossums, and porcupines. "The internship allowed me first-hand experience not only in the care of these animals but also in how impactful they are through their role of educating the public," Gordon said. After veterinary school, the senior hopes to move back to Nashville and begin practicing as a mixed-animal veterinarian, which would position her caring for an array of animals, including even exotic ones!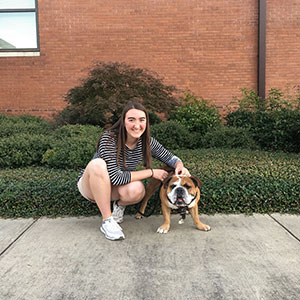 Hannah Scheaffer
Hannah Scheaffer, a senior biochemistry major from Ruston, Louisiana, is taking hold of every opportunity presented to her. Scheaffer minors in French, interns at the Wesley Foundation, participates in undergraduate research, and spent six weeks studying abroad in Oxford, England. While abroad, Scheaffer was able to participate in an oncology study that bridged the undergraduate work she's doing with the future research she hopes to be a part of. Not to mention she plays piccolo in the Famous Maroon Band!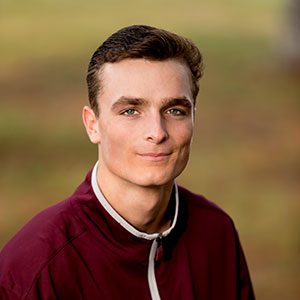 Hayden Miller
Hayden Miller, a junior poultry science major from Brandon, Mississippi, got involved with the College of Agriculture and Life Sciences because he felt it was his job to bring enthusiasm to education. In his role as ambassador, Miller hopes to guide up-and-coming students towards their interests while he continues working towards his own passions. As a student of the College of Veterinary Medicine's Early Entry Program, Miller will be embarking on the next step of his veterinary medicine education after graduation.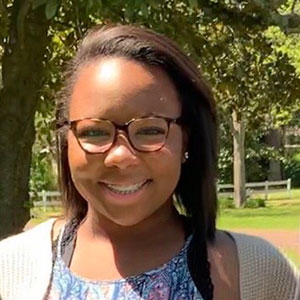 Jasmine Brown
Junior biochemistry major, Jasmine Brown, says that the College of Agriculture and Life Sciences lends its students not only a sense of direction but also a sense of community. When Brown decided to become an Ambassador, it was with the shining example of the Ambassadors before her and with the hopes of being able to guide future students by exactly those principles.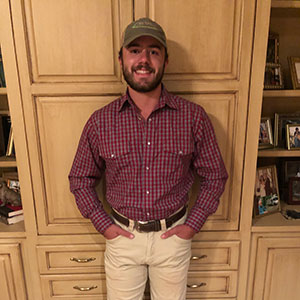 John Lake Merriman
Though John Lake Merriman is involved with the world of agriculture as an agricultural engineering technology and business major minoring in precision agriculture, the draw of CALS for him is that there's no one CALS student. "It's not just row crop and cattle majors," Merriman said. Merriman himself plans on taking his degree and helping people better their family farms, since he can't grow his own family's farm in Grenada, Mississippi.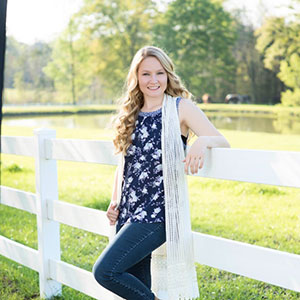 Kaitlyn Barber
In the College of Agriculture and Life Sciences, you don't have to choose just one path. Kaitlyn Barber, the senior biochemistry major, has found a home in both agriculture and in life sciences. As the president of Mississippi State's Sigma Alpha, the professional agriculture-based sorority, as well as a research assistant in the biochemistry lab, Barber has found a way to walk all the paths that interest her. Soon, the Poplarville, Mississippi native will walk towards medical school!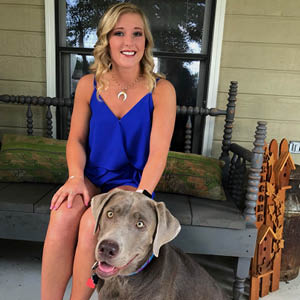 Kaitlyn Wood
Before coming to Mississippi State, Kaitlyn Wood, a native of Huntsville, Alabama, had primarily kept animal interactions limited to her dog, Callie, who is completely blind. Now, as an animal and dairy sciences major with a pre-veterinary concentration, the chance to interact with animals, both large and small, is as simple as going to her classes. Wood is also involved in a research project on campus, where she helps to feed and clean the pens of the Brangus heifers on South Farm and where she stokes her interest in veterinary medicine. After the senior graduates in May of 2021, she'll be applying to veterinary school and potentially one day, making her way into the beef cattle industry.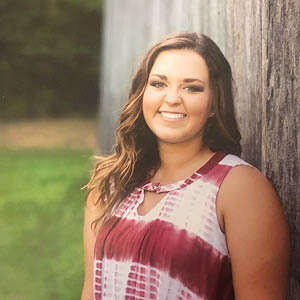 Katelin Waldrep
Katelin Waldrep, an agricultural engineering, technology and business major from Cherokee, Alabama, praises CALS for its individualized approach to the needs of its students. "Future farmers have classes with future fashion designers, and future engineers have classes with future veterinarians," she said. Her own education meets her personal needs by integrating her passion for the technical side of agriculture with the knowledge she'll need to run a successful business someday. For Waldrep, this means running her own row crop and beef cattle operation.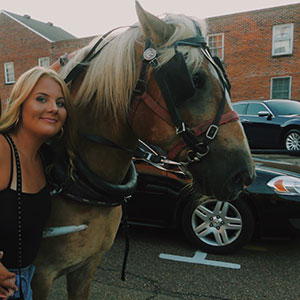 Lessley Dooley
Lessley Dooley, a native of Natchez, Mississippi and human development and family sciences major, says that she's excited to be studying in the "Life" aspect of the College of Agriculture and Life Sciences. For Dooley, this means working closely with children, whether that is by joining the Brickfire Mentoring Program or by planning to devote herself to supporting patients at St. Jude's as a child life specialist.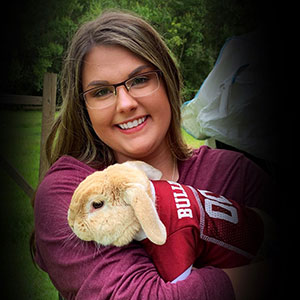 Madalyn Jennings
Madalyn Jennings came to MSU ready to study animal and dairy science, but after a poultry science class opened her mind up to the wonders of poultry, the Folsom, Louisiana native sought help from CALS to determine her future. CALS said, Why not both? Now, Jennings is double majoring in animal and dairy science and poultry science, with a passion for breeding and production on both fronts. Jennings hopes to one day own her own livestock company, but regardless, she says that she seeks to evolve the livestock world for more efficient and ethical breeding.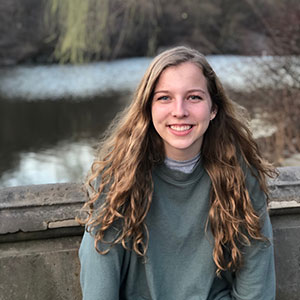 Madeline Easter
Sophomore Madeline Easter credits the introductory events hosted by CALS for drawing her across college lines and encouraging her to double-major in the College of Agriculture and Life Sciences' landscape architecture and landscape contracting as well as the College of Business' management. Easter says that she looks forward to jumping into the job market and seeing all the opportunities opened to her by Mississippi State.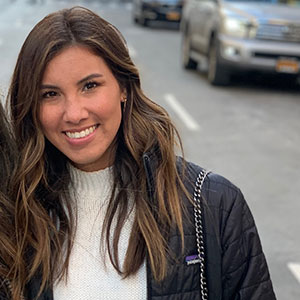 Madelyn Eisgruber
Madelyn Eisgruber's appreciation for food began right in her hometown of Powder Springs, Georgia. Eisgruber shared that her father was a lover of all things healthy and ensured that every meal the family shared was well-balanced. As she grew, so too did the shared appreciation for health and nutrition, which lead her to majoring in food science, nutrition and health promotion at MSU. She even had the opportunity to experience European nutrition standards as part of her study abroad experience. Still, Eisgruber plans to take her love of food and health right back home and invest in her community as a clinical dietitian.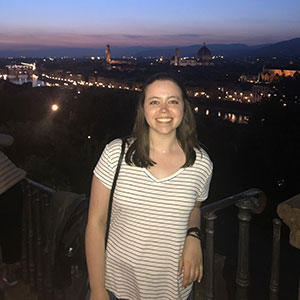 Madi Keller
Madi Keller, native of Hiawassee, Georgia, credits the ambassadors of CALS for helping her decide what she wanted her future to look like. Now an ambassador herself, she returns the favor one-on-one for current and future students of the College of Agriculture and Life Sciences. However, even with the ambassadors on her side, Keller's research opportunities with the College of Veterinary Medicine gave the animal and diary sciences major the experience to pinpoint exactly what she wants to do with her degree. "The opportunities that are available to us as Mississippi State students and students of CALS give us the tools we need to go above and beyond the goals we set for ourselves," Keller said.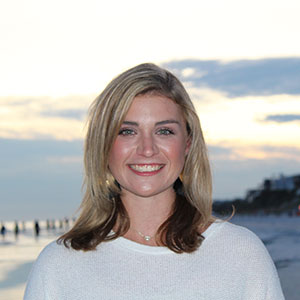 Mari-Todd Brown
For Mathiston, Mississippi native, Mari-Todd Brown, Mississippi State University has always been associated with childhood. Brown took her very first steps inside of Humphrey Coliseum and is now taking advantage of every opportunity to work with kids in her human development and family sciences major. She says of tackling this educational track, "My love for school was reborn," and one day, she hopes to open her own pediatric occupational therapy clinic.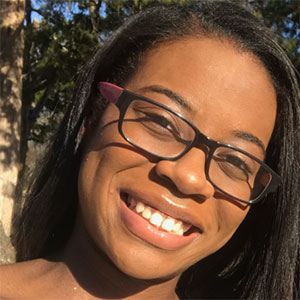 Marimba Williams
Optimism is a choice for sophomore Marimba Williams. As a biochemistry major concentrating in pre-medicine, Williams has had her share of tough moments, but thanks to her firm belief in the silver-lining of hard times as well as the support of those around her, she has always found a way to persevere. One example she offers comes from her early-level English courses, in which she struggled to shift gears from science to English. Still, despite the challenges she met, Williams claims now that the course offered her the chance to explore a subject outside of the one she was used to, as well as it offered her the tools and experience she would need to do extensive research and write longer papers. Now, these experiences will help her on her way towards a career in orthopedic surgery.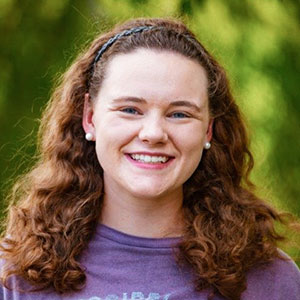 Mary Allison Page
Mary Allison Page, who dreams of tackling the grape production industry with an MBA under her belt, has been set apart by the experiences she's had outside of the classroom. The senior is a horticulture major concentrating in fruit and vegetable production while minoring in international studies in agriculture, and she has worked on two different research projects at different ends of the horticulture world. As if that weren't enough to prepare her, she has worked at a vineyard/winery close to her home in Gibsonville, North Carolina, interned with Summerhill Landscapes in the Hamptons, and currently serves as a nursery category intern for SiteOne Landscape Supply.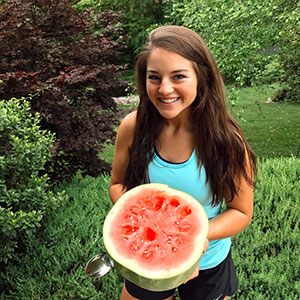 Mary Elaine Bridges
Though Mary Elaine Bridges is from Hendersonville, North Carolina, 8 hours away from Starkville, she's willing to go the distance. "I've never felt like I'm going home more than when I'm headed back to campus," she said. One of her favorite on-campus activities is preparing and sharing meals with her friends and family. The food science, nutrition and health promotion major said helping people live a healthier life is her passion, and CALS research and outreach opportunities have given her the opportunity to pursue that passion.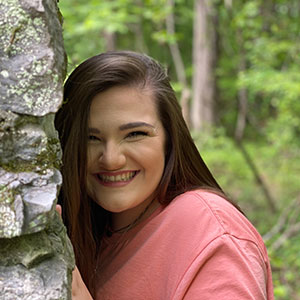 Mikayla Shelton
Mikayla Shelton, a senior agricultural science major concentrating in both agricultural education, leadership and communications and animal production, has a very firm hold on the worth and potential of each individual student of the College of Agriculture and Life Science. "There are students within CALS that will graduate and become the doctors and scientists of tomorrow, students who might change agriculture as we know it, students who want to challenge and change difficult home lives and who want to keep us healthy with nutrition and happy with fashion," Shelton said. "CALS students come to Mississippi State ready to change the world." Shelton herself hopes to change the world of agriculture, having come from a small farm in Bruce, Mississippi herself and wanting to return to that environment by eventually working with the Mississippi State Extension Service.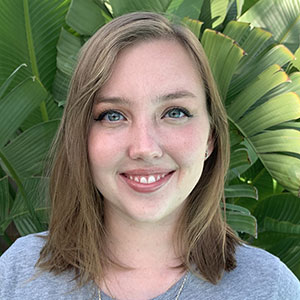 Peyton Anderson
Junior Peyton Anderson, a native of Kemah, Texas, has a lot on her plate as she double-majors in Food Science, Nutrition and Health Promotion and Animal and Dairy Sciences. Anderson said that being able to study the intersection between food and animal agriculture is exactly the reason she chose the College of Agriculture and Life Sciences. It comes as no surprise that she has goals of one day joining the ranks of Mississippi State's College of Veterinary Medicine and that she's been hailed a great steak chef.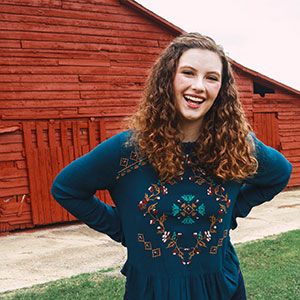 Rachel Hill
Though she started by growing a pineapple over the summer, it's cotton seed that Rachel Hill, a sophomore agronomy and biochemistry double-major from Gates, Tennessee, dreams of developing. Hill already has some experience searching for a way to give producers the upper-hand, thanks to the research she's done in CALS, a study focused on understanding how the soil microbiome can be used to increase farmers' yields. Her concentrations in integrated crop management and plant pathology help lead her closer to her dream.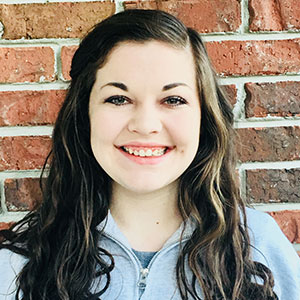 Reagan Smith
Trussville, Alabama native, Reagan Smith, is ready to encourage the interaction with agriculture that she never got, growing up on the outskirts of Birmingham. Smith said that her upbringing was sadly devoid of 4-H, FFA, and other experiences related to agriculture. Because of this, Smith felt that she was at a disadvantage in her animal and dairy sciences major, especially given that she holds hopes of one day going to veterinary school. Despite her late start into the world of agriculture, the junior has made up the difference. Once she's graduated in 2022, she's already got a spot in the College of Veterinary Medicine waiting for her, thanks to the Early Entry Program.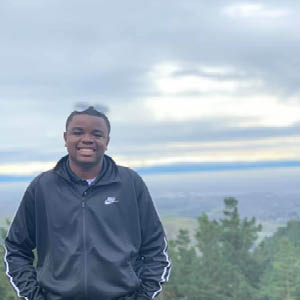 Rodney Self
Meet Rodney Self, a poultry major from Madison, MS. Rodney loves the family atmosphere in the College of Agriculture and Life Sciences, which is why he became an ambassador. He understands that the faculty and staff care about their students and want them to succeed.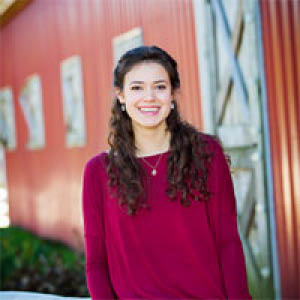 Shelby Leigh Brewer
Shelby Leigh Brewer is a senior agribusiness major from Madison, Mississippi. Shelby Leigh is very family-oriented and goal driven. She has made sure to put her academics first and always push herself. She loves to spend time with her horse, and she is very proud of her academic success here at MSU.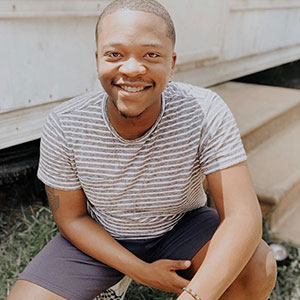 Tyus Wilson
Food science, nutrition and health promotion major, Tyus Wilson, said that it was helping his peers that fueled his desire to become a registered dietitian. It was an experience within CALS, however, that showed him his dream was within reach. "I was assigned a case study for a patient who had COPD, and my job was to create a diet plan that made sure he would receive an adequate amount of nutrition. It was really great practice for what I hope to be doing one day, and it showed that I was capable of doing it," Wilson said. After Wilson graduates in 2021, he hopes to get more real-world and in-clinic experience while he applies to graduate school.