MSU's College of Agriculture and Life Sciences celebrates 120 years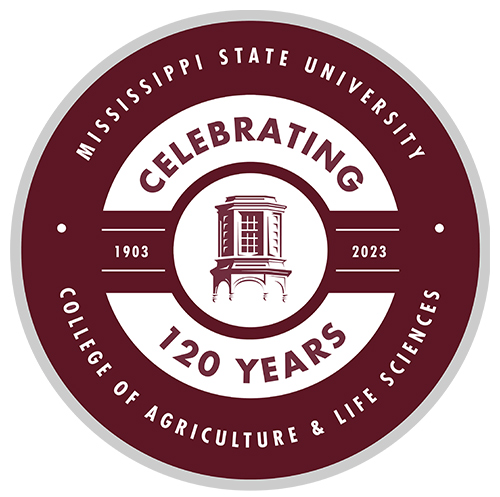 Mississippi State's College of Agriculture and Life Sciences is celebrating 120 years of teaching, research and service with events for alumni, faculty, students and staff.
CALS kicked off its anniversary celebration with a recent homecoming reception for alumni and friends prior to the football weekend against the University of Kentucky. More than 100 alumni and friends attended the evening soiree held in the Animal Industries Annex.
On Friday [Nov. 10], the college hosts a 120-year celebration in the Junction for students, faculty and staff from 11 a.m. to 2 p.m. that will include food, games and 120-year swag.
The School of Agriculture was formally established in 1903. In the years since, CALS, which has nearly 24,000 living alumni, has grown into a national leader in agriculture and life sciences with nine schools and departments offering 17 majors and 45 concentrations for undergraduates, and 18 majors and 41 concentrations for graduate degrees.
"From advancing agriculture by developing the tools and technologies to support the farmers that feed, clothe and fuel the world through initiatives like our new Agricultural Autonomy Institute, to training tomorrow's health care professionals with a medical school admissions rate more than 20% above the national average, CALS is constantly evolving and pursuing innovation to address the needs of our state, nation and world," said CALS Dean Scott Willard. "Much of what we do is supported by our generous alumni and friends of the college. Without their support, our important work wouldn't be possible."
CALS programs consistently rank nationally and regionally.
Nationally, CALS is ranked in the top 20 for best bachelor's in agriculture and agribusiness according to BachelorsDegreeCenter.org and as one of the top 20 best colleges for agricultural science according to Niche. Regionally, All Fashion Schools ranked the CALS fashion design and merchandising program as one of the top 10 fashion schools.
The CALS footprint includes 22 buildings and 2,210 farm acres that serve as experiential classrooms for its more than 2,000 undergraduates and nearly 500 graduate students. Forty clubs and organizations within CALS give students a chance to expand their knowledge and connect with like-minded peers. CALS awarded 627 scholarships in 2022-2023 totaling $755,000, an increase of nearly $260,000 from the previous year.
To further commemorate the milestone, CALS has announced a 120-year giving fund to support the college now and into the future. To explore the timeline of CALS since its inception and to donate to the 120-year giving fund, visit www.cals.msstate.edu/cals120.php.
For more on MSU's College of Agriculture and Life Sciences, visit www.cals.msstate.edu.
Mississippi State University is taking care of what matters. Learn more at www.msstate.edu.