MSU landscape architecture professor, department head earns national teaching medal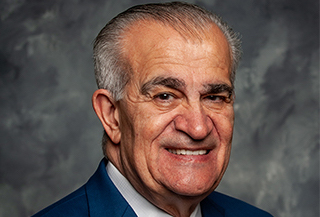 Sadik C. Artunç, professor and head of Mississippi State's Department of Landscape Architecture, has been awarded the Jot D. Carpenter Teaching Medal from the American Society of Landscape Architects.
The Jot D. Carpenter Teaching Medal goes to an individual who has made a sustained and significant contribution to landscape architecture education.
Founded in 1899, the ASLA is the professional association for landscape architects in the U.S., representing more than 15,000 members.
"I am grateful for the nomination, led by the Mississippi Chapter of the American Society of Landscape Architects, and to all who wrote supporting statements. I am delighted to receive this national honor and recognition. Looking at the list of past recipients, I am humbled," said Artunç, who noted Robert S. Reich, his first department head and mentor at Louisiana State University, won the accolade in 2004. "Dr. Reich was affectionately known as 'Doc.' My first thought upon hearing the news was that Doc must be proud."
Artunç, who has been an MSU professor and leader of the landscape architecture department for the past 16 years, has mentored and taught generations of landscape architects over his 40-plus year career, teaching a range of courses including design studios, and professional practice and construction classes. The recipient of several teaching accolades, Artunç is a notable landscape architecture scholar with more than 150 publications and presentations. He was recognized as Scholar of the Year by the Turkish Society of Landscape Architects in 2019 and has held various leadership positions in ASLA, the International Federation of Landscape Architects, the Council of Educators in Landscape Architecture, or CELA, among many other honors.
"The ASLA honorees are the best of the best and represent what is possible in the field of landscape architecture. This is the highest recognition ASLA bestows each year," said the organization's President Emily O'Mahoney. "We celebrate and congratulate another standout class of honorees on their well-earned recognition."
Artunç's service to the profession includes ASLA Louisiana chapter president in 1991, chapter trustee from 1996-2001 and national vice president of membership from 2002-04. He served as CELA president from 2020-21. He was inducted into the ASLA Council of Fellows in 2000 and the 2023 CELA Academy of Fellows, the highest achievement within the organization.
Artunç earned his bachelor's and master's degrees in forestry and forest engineering, respectively, from the University of Istanbul and a Master of Landscape Architecture from the University of Michigan. He has worked on several projects including large-scale planning and design, recreation and tourism, resource planning, and design implementation and construction, throughout the U.S., Guatemala, Nicaragua and Turkey.
Housed in the MSU College of Agriculture and Life Sciences, the Department of Landscape Architecture offers undergraduate and master's degrees in landscape architecture, a B.S. degree in landscape contracting and management, and a dual degree option. For more information on the department, visit www.lalc.msstate.edu.
Mississippi State University is taking care of what matters. Learn more at www.msstate.edu.