MSU's fashion program trends upward in regional rankings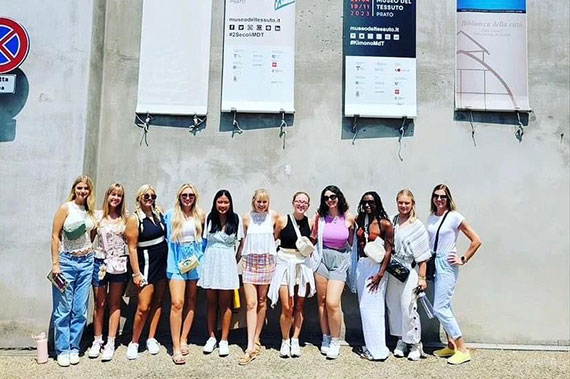 A solid academic foundation and opportunities to work on real-world projects are always in style.
Providing students with these experiences is what motivates Charles Freeman Jr., associate professor in Mississippi State's School of Human Sciences, and his colleagues in the fashion design and merchandising program. This consistent drive has landed MSU a #6 spot in the top 50 fashion schools in the South by all-fashion-schools.com.
Since joining the faculty in 2011, Freeman has seen the program grow from 100 students to a steady 150-160 enrolled over the past few years. Along with student enrollment, the department has been able to hire more faculty and-thanks to generous donations-upgrade equipment for its new laboratory facilities.
MSU's fashion design and merchandising program has focused in recent years on developing an immersive experiential learning curriculum. All FDM majors are required to complete either two internships or an internship and FDM faculty-led summer study abroad experience. Freeman and his colleagues believe in exposing students to as much firsthand experience as possible before graduation. Today, many program alumni reach out to Freeman and other faculty members asking for students interns.
"The fashion industry is huge and encompasses a wide range of jobs, from retail sales to high-end fashion, marketing, social media, production and manufacturing," he said. "We've made this push because we want our students to appreciate what working in the industry will be like while they're still in school."
About 40% of majors choose the study abroad experience, with destinations including Italy, Germany and France.
"Fashion is a global industry, and I think this experience helps our students be more competitive in the job market," said Freeman. "Our students need to have that global perspective and see how the industry works in other countries and cultures."
To prepare for an industry that is constantly evolving, students must learn in the classroom the ability to change with the times. This year, the department will undergo its latest curriculum revision based on feedback from its industry advisory board partnership.
"Our faculty are committed to keeping our students' success at the forefront, and that focus is why we are ranked where we are today," Freeman said. "Taking care of our students is the most important aspect of our program."
Scott Willard, dean of the College of Agriculture and Life Sciences, said the program's success is due, in part, to its stellar faculty and the industry partnerships they've forged with MSU alumni and others.
"Our fashion design and merchandising faculty have done an exemplary job of giving students a global perspective with strong Mississippi roots. As a leading fiber-producing state focused on helping clothe the world, our faculty engage industry partners and agricultural producers to provide a real-world, tactile experience in a complicated and nuanced industry," he said.
For more on the fashion design and merchandising program in MSU's School of Human Sciences in the College of Agriculture and Life Sciences, visit www.humansci.msstate.edu/students/atm.php.
MSU is taking care of what matters. Learn more at www.msstate.edu.