MSU's Oakley chosen for national ag research mentoring program
Author: Keri Collins Lewis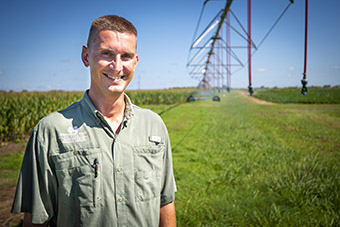 The Foundation for Food and Agriculture Research recently selected a Mississippi State University graduate student for its three-year mentoring program.
Graham Oakley, an agronomy doctoral student in the MSU College of Agriculture and Life Sciences and project manager with the Mississippi Water Resources Research Institute, joins approximately 25 students from across the U.S. in the sixth cohort of the FFAR Fellows Program. He will engage with mentors and leaders representing the agricultural industry, government and non-governmental organizations for professional development and network building through online and in-person sessions. The program's goal is to better equip future leaders through early career guidance.
Oakley, an Oktibbeha County native who grew up on a dairy and beef cattle farm, focuses on advancing crop production practices and precision agriculture technologies. His current research addresses reducing water usage for rice production while integrating new, autonomous technologies to aid in water management. He earned a bachelor's degree in agricultural engineering and a master's degree in weed science, both from MSU.
Dave Spencer, assistant professor in the MSU Department of Plant and Soil Sciences and the Mississippi Water Resources Research Institute, serves as Oakley's major professor.
FFAR was established by Congress in 2014 to boost America's agricultural economy through innovation and scientific research, and by leveraging public and private resources to advance technology. MSU President Mark E. Keenum currently serves as chair of the FFAR Board of Directors. Learn more at www.foundationfar.org.
For more on the MSU College of Agriculture and Life Sciences, visit www.cals.msstate.edu.
Mississippi State University is taking care of what matters. Learn more at www.msstate.edu.