MSU's Artun&ccedil inducted as CELA landscape architecture fellow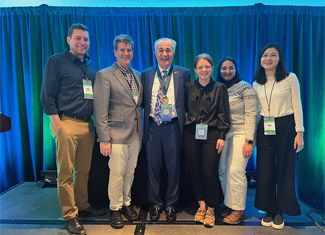 Sadık C. Artun&ccedil, professor and head of MSU's Department of Landscape Architecture, is the newest member of the Council of Educators in Landscape Architecture's Academy of Fellows.
Artun&ccedil is one of only four fellows inducted this year during the CELA Annual Conference held in San Antonio, Texas. He is the second MSU professor to receive this designation.
"This induction recognizes my lifetime accomplishments in teaching, scholarship, creative activities and service," Artun&ccedil said. "It is a recognition by my peers in the academy; therefore, it carries a special meaning. I am simply grateful for the honor and am happy many from MSU were able to attend the award ceremony to observe the induction process."
Artun&ccedil has been a member of MSU's faculty since 2007. He earned bachelor's and master's degrees in forestry and forest engineering, respectively, from the University of Istanbul and a Master of Landscape Architecture from the University of Michigan. Artun&ccedil was inducted into the American Society of Landscape Architecture Council of Fellows in 2000.
He has worked on several large-scale planning and design projects focused on recreation and tourism, resource planning, and design implementation and construction throughout the U.S., Guatemala, Nicaragua and Turkey. Artun&ccedil has served at various leadership levels within CELA and the American Society of Landscape Architects throughout his professional career.
Founded in 1920, CELA consists of over 120 organizations across the globe and aims to increase education in the landscape architecture field. By supporting educators interested in landscape architecture, CELA's mission has helped to increase the quality of education within the field.
Housed in the MSU College of Agriculture and Life Sciences, the Department of Landscape Architecture offers undergraduate and master's degrees in landscape architecture, a bachelor's degree in landscape contracting and management and a dual degree option.
For more information on MSU's landscape architecture department, visit www.lalc.msstate.edu.
MSU is Mississippi's leading university, available online at www.msstate.edu.