Former associate dean honored for 40 years of service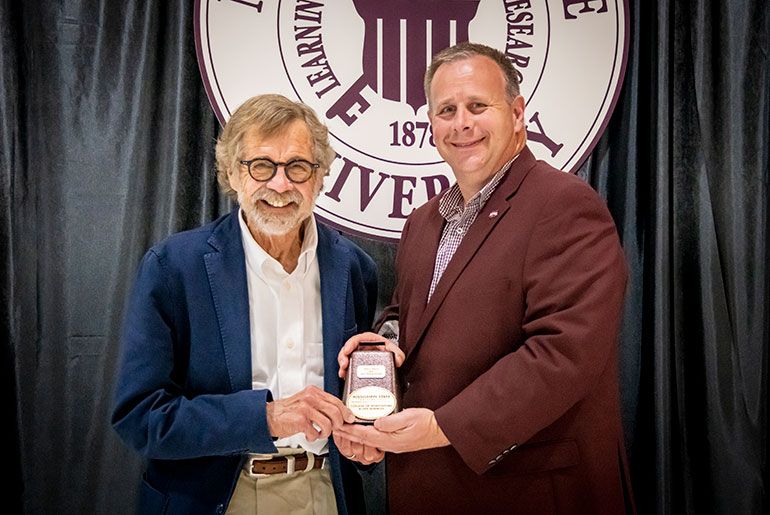 Dr. Lynn Reinschmiedt, former associate dean of the College of Agriculture and Life Sciences, received the 2023 CALS Dean's Award at the CALS Alumni Breakfast on Saturday, April 15 during Super Bulldog Weekend.
Dr. Scott Willard, CALS dean and MAFES director, presented Reinschmiedt with the award.
"Lynn was a pivotal leader for the college and university for nearly 40 years. When I first made the decision to apply for an administrative position as biochemistry department head, I called Lynn. He's served as a mentor to me through the years offering feedback and advice on everything from mentoring me during a leadership course through to my roles as associate dean and now dean and director. I've sought his knowledge, guidance, and leadership every step of the way," Willard said.
Lynn Reinschmiedt was associate dean for the College of Agriculture and Life Sciences at Mississippi State University from 2001 until his retirement in July 2010. Prior to his role as associate dean, he moved up through the professorial ranks in the Department of Agricultural Economics. The Oklahoma native earned bachelor's and master's degrees from Oklahoma State University and a doctoral degree from Texas A&M University, all in agricultural economics. Prior to joining MSU in 1978, Lynn was on the faculty at the University of Delaware for a year and a half. After his retirement from MSU in 2010, he held roles as interim associate vice president for administrative services, faculty credentials consultant, interim registrar, and interim executive director of the Center for Distance Education at MSU before fully retiring in 2016.