MSU Department of Animal and Dairy Sciences announces Bratcher as new head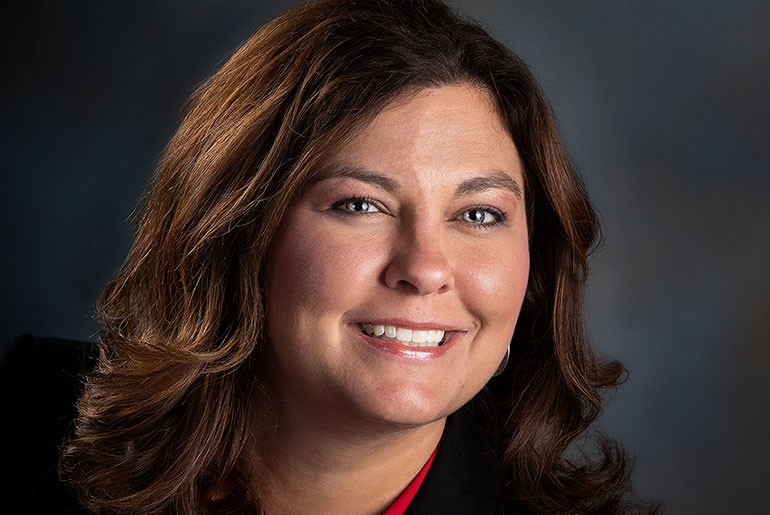 An experienced animal and meat science expert begins her new role as head of Mississippi State's Department of Animal and Dairy Sciences on July 1.
Christy Bratcher joins the university after serving as associate dean of research and graduate students at Texas Tech University's College of Agricultural Sciences and Natural Resources. Her work there is included in a proven track record of facilitating the growth and development of university academic, research and outreach programs.
"Dr. Bratcher's excellence in academic leadership will help grow our department as we train graduates who become innovators and leaders in their respective fields," said Scott Willard, dean of the MSU College of Agriculture and Life Sciences and director of the Mississippi Agricultural and Forestry Experiment Station. "Her reputation as an inventive research leader will grow our capacity to provide solutions for livestock industries vital in feeding the world."
During her tenure at Texas Tech, Bratcher increased public and private partnerships with Texas Tech and made strides to address diversity, equity and inclusion. Through a strategic plan she spearheaded, which included a dean's research grant incentive, grants awarded to the college increased from $8.1 to $14.4 million in three years.
Prior to Texas Tech, Bratcher served as director of Auburn University's Food Systems Institute, where she developed a vision for innovative research and center sustainability, managing a staff and facilitating the development of interdisciplinary teams from approximately 80 affiliate faculty. She oversaw a $1 million budget that addressed emerging research themes centered around food, including the agriculture-food-health nexus. She also worked in quality assurance in the beef cattle industry.
Bratcher said she is excited to build upon the department's current successes in teaching, research and outreach.
"My vision is to bring together brilliant minds to use critical thought and innovative ideas to develop successful students, solve critical research questions and lead positive change with science-based, practical solutions," Bratcher said.
Steve Martin, interim director of the MSU Extension Service, commented on Bratcher's role in helping serve Mississippi's constituents, including the state's nearly 16,000 cattle/calf operations, 10,500 equine farms, small ruminant farms, 4-H youth and more.
"We are proud to have Dr. Bratcher on board to ensure continued success in Extension programing that meets the needs of livestock producers and their families," Martin said.
Bratcher earned her Ph.D. in animal science from the University of Missouri in 2007 and her master's and bachelor's degrees in animal science from the University of Florida in 2004 and 2002, respectively.
The Department of Animal and Dairy Sciences manages multiple livestock species for research, teaching and outreach housed at the MAFES H. H. Leveck Animal Research Center, the MAFES Bearden Dairy Research Center and several off-campus branch stations. The Meat Science and Muscle Biology Laboratory also is housed in the department.
For more on the Department of Animal and Dairy Sciences, visit www.ads.msstate.edu.