MSU horticulture students cultivate international recognition for research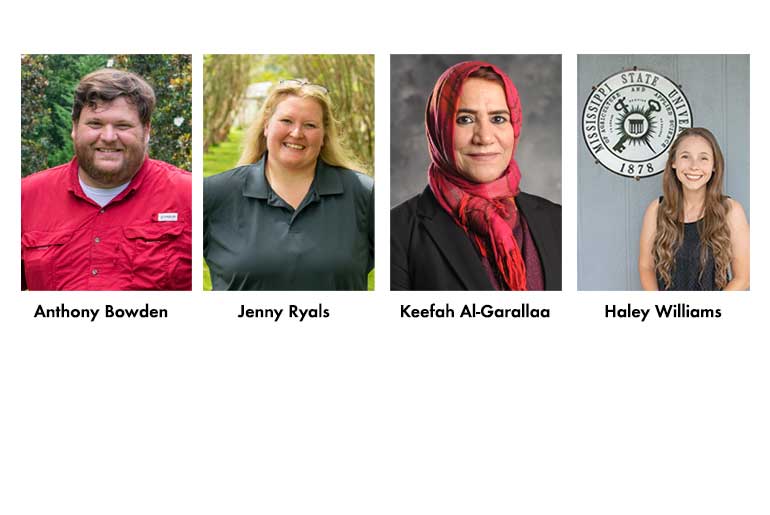 Students in Mississippi State's Department of Plant and Soil Sciences are the recipients of top honors at two recent national conferences.
Three doctoral students in MSU's College of Agriculture and Life Sciences have received awards at the annual American Society of Horticultural Sciences conference, while a master's degree student's paper earned accolades from the American Pomological Society.
Anthony Bowden of Jacksonville, Alabama, placed first overall in the Plant Growth Regulation Oral Competition, with his doctoral presentation highlighting propagation of a selected woody ornamental plant.
Indianola native and doctoral student Jenny Ryals took second overall in the same category with her presentation explaining the rooting response of mountain azalea.
Keefah Al-Garallaa, a Babylon, Iraq native, placed third overall in the Ph.D. Graduate Poster Competition, with her research on using cultural techniques to enhance essential oil output in lavender.
At the American Pomological Society annual meeting, Haley Williams, a master's student from Russellville, Arkansas, received the 2021 U.P. Hedrick Award as one of the lead authors on "Inbreeding Among Muscadine Cultivars."
MSU Professor Richard Harkess said the professional meetings provide academic and networking opportunities for students as well as oral and poster competitions featuring students from programs all over the world.
"This strong showing in competitions is a testament to the demanding work put into preparing for this opportunity and reflects well on our department's horticulture program," Harkess said.
Research Professor Patricia Knight, stationed at MSU's Coastal Research and Extension Center, said MSU's horticulture program aims to provide students with quality time and resources to be able to research, communicate and compete at a high level.
"Our students are well prepared for a professional career through the preparations they go through with competitions and with their work at MSU," Knight said.
For more on the horticulture major in the MSU Department of Plant and Soil Sciences, visit www.pss.msstate.edu.