MANRRS week honors MSU chapter's 20-year anniversary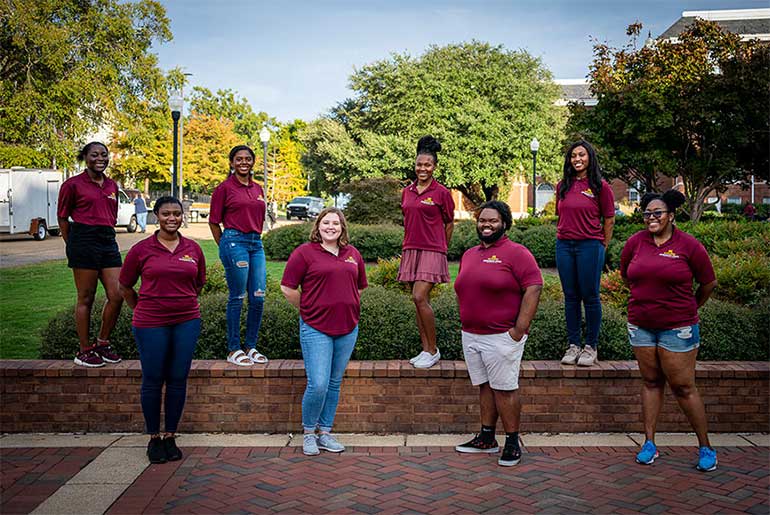 The Mississippi State student chapter of Minorities in Agriculture, Natural Resources and Related Sciences, or MANRRS, will commemorate two decades of empowering minorities with a weeklong campus celebration Oct. 18-22.
While the MSU chapter was founded in the fall semester of 2001, the national organization dates back to 1985 and helps minorities excel in the fields of agriculture, natural resources and related sciences by providing insight, access and expertise. The organization fosters leadership and professional development through a wealth of resources focused on networking, mentorship, internships and job opportunities.
Derris Devost-Burnett, associate professor in the Department of Animal and Dairy Sciences in MSU's College of Agriculture and Life Sciences, serves as a faculty co-advisor for the university's MANRRS chapter.
"I'm a true believer in representation. If I can see it, I can be it. Exposure to likeminded individuals, with similar backgrounds, and those who have reached the highest heights of academia, government and industry allows us to see ourselves in others who have paved the way and have gone through similar career paths," Devost-Burnett said. "Ag and natural resources are spaces that lack diversity and, while diversity in these areas is growing, MANRRS assures us that we belong and that we can achieve our aspirations in these fields."
Mya Dixon of Starkville, MANRRS chapter president and senior animal and dairy science and biological sciences double major, said the group immediately felt like family the first time she attended a meeting. She notes professional preparation as one of the main benefits MANRRS members enjoy.
"I think the connections you create with people, plus opportunities the organization provides from internships to mentoring specific to your major, set our members up for success," Dixon said.
Jacinda Leopard, MANRRS vice president and master's student in the Department of Food Science, Nutrition and Health Promotion, joined the organization at the suggestion of Assistant Professor Shecoya White, another MANRRS co-advisor.
"Dr. White suggested MANRRS when I began grad school. She said it would help with professionalism and developing my resume," Leopard said. "One of my favorite things about MANRRS is that they help you brand yourself and define who you are so you're comfortable speaking in front of people and have confidence in what you do."
The celebration week events include:
Monday, Oct. 18: "Mental Matters Monday," Drill Field, 11 a.m.-2 p.m., MANRRS will be promoting mental health tips. At 5:15 p.m. in Dorman Hall Room 128, MANRRS will host mental health speakers Kim Kavalsky, outreach coordinator for MSU Student Counseling Services, and Conner Beth Ball, a counselor education graduate student and MSU Counseling Services graduate assistant.


Tuesday, Oct. 19: "Trivia Taco Tuesday," Drill Field, 11 a.m.-2 p.m., pork and/or beef tacos will be sold. At 5:15 p.m. in Dorman Hall Room 128, MANRRS will host trivia and games.


Wednesday, Oct. 20: "'Who wants to be in MANRRS?' Wednesday," WebEx Event, 3 p.m., visit any of MANRRS social channels for the link. The MANRRS president will discuss benefits of joining the organization and host a sign-up for new members.


Thursday, Oct. 21: "Thoughtful Thursday," Colvard Student Union, 11 a.m.-2 p.m., Students can pick up thoughtful notes and have the opportunity to write a thoughtful note to share.


Friday, Oct. 22: "Fantastic Future Friday," Colvard Student Union, 11 a.m.-2 p.m., MANRRS will be promoting their rib sale and raising money for breast cancer. Students can purchase $1 pink ribbons. Raffle tickets will be sold for a fantastic basket full of goodies.
In addition to Devost-Burnett and White, Scott Willard, interim dean of the College of Agriculture and Life Sciences, also co-advises the MSU chapter. Beyond the collegiate MANRRS chapters like the one at MSU, the organization has Junior MANRRS for middle school and high school students from grades 7-12. The organization also is establishing alumni chapters. MSU MANRRS is online at www.manrrs.org.msstate.edu, Facebook @MSU MANRRS, Twitter @ MSUMANRRS and Instagram @msstatemanrrs.