MSU graduate student honored for research publication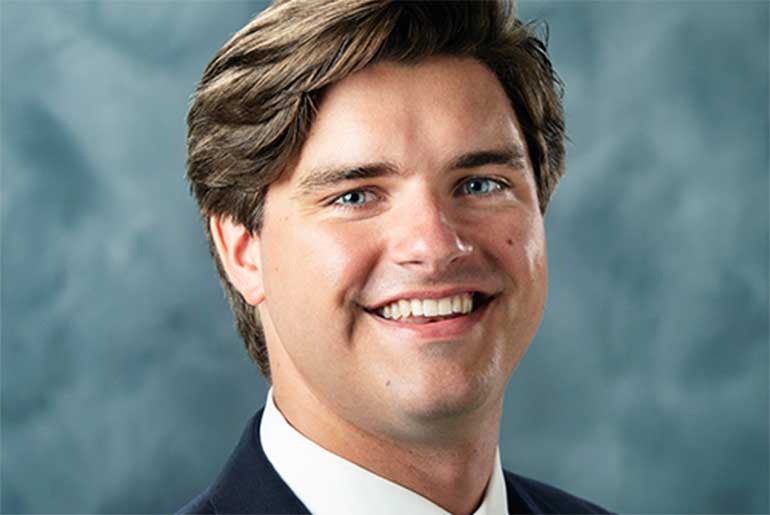 Charles "Hunt" Walne, a Mississippi State doctoral student in the Department of Plant and Soil Sciences, is the recipient of the 2021 Outstanding Student Manuscript Award by the Mississippi Academy of Sciences.
Walne, a native of Collierville, Tennessee, is the third MSU student in the last five years to win this statewide award, given annually to students in the 13 divisions of science and engineering who publish papers in the Journal of Mississippi Academy of Sciences.
He became an MSU College of Agriculture and Life Sciences Undergraduate Research Scholar in 2016, working under the direction of Raja Reddy, a research professor in the Department of Plant and Soil Sciences and scientist in the Mississippi Agricultural and Forestry Experiment Station.
"Hunt is a very talented student who understands the big picture of the issues related to crop production and food security from the farm level to a global scale. He has published six papers, and several others are at various stages to be submitted to journals from his dissertation work," Reddy said.
Walne earned his Bachelor of Science in Agronomy in 2017 and has continued with his research as a graduate student.
Working in the MAFES Environmental Plant Physiology program under Reddy's direction, Walne's research focuses on the interaction between plant genetics, various crop management practices and environmental stressors.
Walne has received numerous accolades during his graduate studies at MSU. Earlier this year, he received the Graduate Research Award from the College of Agriculture and Life Sciences. He was the 2020 recipient of the Future Leader in Science award given by the agronomy tri-societies—the American Society of Agronomy, Crop Science Society of America and Soil Science Society of America. In 2019, he was selected to attend the Golden Opportunity Scholars Institute, a program of the agronomy tri-societies.
The Mississippi Academy of Sciences promotes communication and shared research among scientists within the state and also encourages potential scientists, engineers and mathematicians through its youth activities programs. The academy's journal is one of the oldest in the state and has been publishing peer-reviewed papers over the last 85 years across multiple science and engineering disciplines.
To learn more about MSU's College of Agricultural and Life Sciences, visit online at www.cals.msstate.edu. To learn more about the Mississippi Academy of Sciences, visit msacad.org.