Reinventing pizza: MSU students 'pocket' national culinology competition win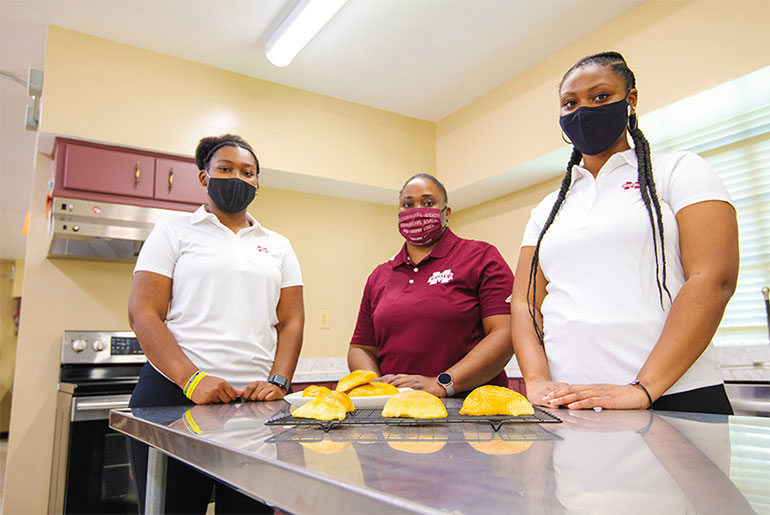 Two Mississippi State students with a passion for food science recently turned a novel pizza invention into a national win.
Dianna Wilson, a food science master's student from Norfolk, Virginia, and Lauryn Heidelberg, a senior microbiology major from Laurel, placed third in the Research Chefs Association 2021 National Student Culinology Competition with their plant-based pizza pocket.
Wilson, who plans to graduate in August, said the challenge provided a valuable experiential learning opportunity she can apply as she enters the workforce.
"This competition brought food science and product development full circle for me because it allowed me to apply concepts I learned in the classroom," said Wilson, who begins a position as product development scientist for Rich's Products Corporation after graduation. "This hands-on experience will further help me succeed in my new role."
The team was tasked with creating a product that easily could be integrated into a school dining hall. The students had to use at least one ingredient from competition sponsors while also reducing sodium content by 10 percent. Given those guidelines, the team concepted and created a plant-based spicy Italian sausage pizza pocket.
"We studied market trends, so we decided our product needed to be a plant-based convenient comfort food," Wilson said. "Our target market included vegetarians, young adults, health enthusiasts and pizza lovers."
Heidelberg said the pizza pocket's unlikely ingredients blended in an unexpected and surprising way.
"We were able to incorporate the ingredients set forth by the judges, and they made our product better. We had to reduce our salt level by 10 percent through an effective use of MSG. We also used fermented beet concentrate, yeast extract and vegetarian pork and bacon flavoring," she said. "The beet concentrate provided earthly tones, and the flavoring bouquet gave the dish a meatier flavor. It was interesting to figure out the right amount of each ingredient and pull everything together."
A transfer student from Jones College, Heidelberg initially chose microbiology as a path to medical research. A stint as an undergraduate research scholar under the direction of Assistant Professor Shecoya White in MSU's Department of Food Science, Nutrition and Health Promotion changed her career goals.
"First, I considered the medical research field but when I met Dr. White, she introduced me to the world of food microbiology, and I fell in love with it," she said.
Planning to graduate with her bachelor's degree this December from MSU's College of Arts and Sciences, Heidelberg will pursue a master's degree in food science and technology at MSU through the College of Agriculture and Life Sciences.
"I like to figure out what's happening at the micro level when it comes to food. To see how even small adjustments can create big changes in food, from how long it lasts to the health benefits it can provide, is fascinating to me," she said.
White, who advised the team throughout the competition, said Wilson and Heidelberg did well throughout the competition, noting the work involved a lengthy presentation and 40-minute virtual question-and-answer session with the judges.
"Both Dianna and Lauryn are open to new challenges. With this particular competition, not knowing the ingredients you'll be given can make this a complicated and involved endeavor," White said. "It isn't as simple as making a recipe. Throughout this process, both women demonstrated that they are true innovators who understand the science behind food."
For more information on the Research Chefs Association, visit www.culinology.org. For more on MSU's Department of Food Science, Nutrition and Health Promotion in the College of Agriculture and Life Sciences, visit www.fsnhp.msstate.edu.