On the Front Lines: Dr. Jeff Moses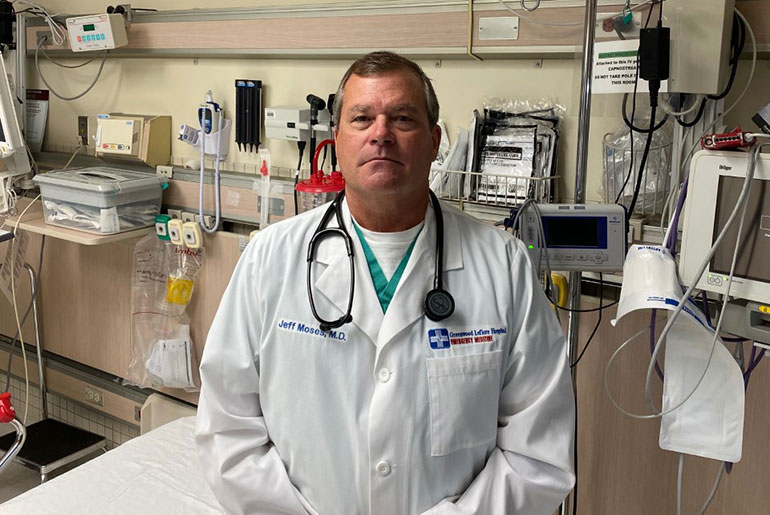 Born and raised in Greenwood, Mississippi, Dr. Jeff Moses, 1980 biochemistry alumnus, followed in the footsteps of his brother not only to Mississippi State but to medical school as well.
"I don't remember ever wanting to be anything other than a doctor, so I trained in internal medicine and moved to Greenwood to build a practice with my brother. When I got here, Greenwood Leflore Hospital was looking for a director of emergency services, and I initially took the position to help pay off student loans," Moses said.
His professional stint in emergency services was only supposed to last a year. Now, 33 years later, he can't imagine himself anywhere else.
"Spending three decades with the same institution has allowed me not only to learn from the incredible doctors and staff here but also to help it grow," Moses said.
Though Moses began his involvement with Greenwood Leflore Hospital as the director of emergency services, he added that, now, the seven fulltime emergency room physicians on staff at the hospital share the responsibility of the role. This includes everything from hospital-wide disaster-response training to direct patient care in the ER.
"Working in the emergency room has been very fulfilling for me. It's an honor to be able to care for people and for them to put their trust in me, especially in times of emergency," Moses said. "In a given night, we might be dealing with a heart attack, a gunshot wound, and a car wreck back to back. Adaptability is something you develop quickly working in emergency services, and it's something that's proven especially useful, as of late."
As an emergency physician, Moses and his team see their fair share of patients who are presenting COVID-19 symptoms. The task remains the same: figure out what's wrong and determine the best course of care. Though there are alternatives to the ER for those who are presenting symptoms, such as walk-in testing clinics and screening centers around Greenwood, the emergency room staff serves as the gatekeepers of the hospital. Moses and his fellow physicians determine if a patient needs to be admitted and provides reassurance for those who don't.
"The global scope of the pandemic is what can be boggling, but in the bubble of the ER, we're doing what we've always done by striving for the best possible care for our patients. Now, we just wear more personal protective equipment," Moses said.
He also said that the most challenging aspects of COVID-19 have been a lack of available bed space and staffing deficiencies, both of which they've managed by upholding the caregiving attitude that is intrinsic to medical professionals.
"Hospitals have always tried to help one another in any way they can, but we have all become a lifeline for each other during the pandemic. If a patient comes in and our beds are full but the individual needs to be admitted, we are able to transfer the patient to other area hospitals that have available space. If other hospitals don't have space, then we keep calling until we find it," Moses said. "The same goes for our nursing staff. It's uncommon to share nurses between hospitals, but so many of those on-staff here are going above and beyond, both in terms of their hours and in their investment to the patients."
While this investment to the patients is certainly applicable to those who are admitted, Moses also underscored the importance of reassuring the ones who aren't.
"There's a lot of anxiety and fear surrounding this pandemic because it's something we as a society have never experienced before, but the reality is that, as scary as it is, the vast majority of COVID patients will recover. We try to remind our patients of that, even though we tell them to come back if they get worse," Moses said.
Moses's optimistic diagnosis is closely related to the collaborative attitude of his medical peers. He shared that the hospital's staff holds weekly meetings to discuss the different policies surrounding the pandemic, and that, while the policies are continuing to evolve, it's because they're becoming more efficient and effective at managing it.
"As we go along, we continue to figure out better ways to minimize the spread of COVID-19 and maximize the resources we have. I think one thing that is particularly encouraging about how we're adapting to the circumstances is that none of our seven ER doctors have had the virus, even with daily exposure in the months since the first infected patient arrived in our hospital," Moses said.
For Moses, the key to COVID-19 is remaining steadfast.
"The best thing anyone can do is stay diligent. Keep wearing your masks over your mouth and nose. Keep washing your hands. Keep your distance. Keep your spirits up, if at all possible. There's no doubt in my mind that we're going to get through this, but it's just going to take a little while."
Biochemistry, Molecular Biology, Entomology and Plant Pathology