On the Front Lines: Dr. Ryan Looney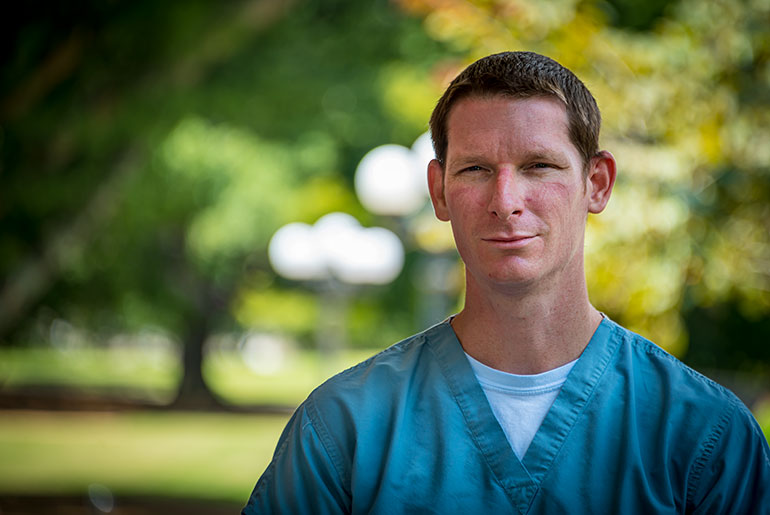 For Dr. Ryan Looney, '07 biochemistry major, a career as a physician was second nature.
The Kennett, Missouri native grew up along the banks of the Mississippi River and remembers spending long hours at the local hospital as a kid alongside his twin sister.
"I was raised by a single mom who was a microbiologist at the local hospital and if she was on call at night or on the weekends, she'd bring us to the hospital," Looney said.
Whether it was coloring in a corner of the lab or walking the halls of Twin Rivers Regional Medical Center, Looney remembers the place fondly as something that inspired his future pursuit toward medicine.
"My comfort is this profession. For me, medicine isn't a job. It's who you are 24 hours a day, seven days a week, 365 days a year," said Looney, who earned his medical degree at the Kentucky College of Osteopathic Medicine and completed his residency at Brookwood Baptist Health in Birmingham, Alabama.
For the past four years, Looney—board certified in internal medicine—has been one of the staff physicians at the MSU John C. Longest Student Health Center, serving students, faculty, and staff alike.
"People forget that MSU is like a little city when the students are here on campus. We have more than 20,000 students plus faculty and staff. On a game day weekend, we might have 100,000 people in Starkville," Looney said. "We have a very diverse, condensed community and I might see everything from a runny nose to diagnosing cancer all within a given day."
Looney said while the core mission of the center hasn't changed, the global pandemic of COVID-19 has shifted the way the facility operates on a daily basis.
"Prior to the pandemic, traffic in the clinic flowed with a little more flexibility. Now, we have checkpoints and safeguards at various intervals to ensure greater safety," Looney explained.
Looney said the center has established a separate wing to treat possible COVID-19 cases and currently, possible cases and well visits are staggered so sick and healthy patients enter the clinic at different times. He also said patients are screened prior to and upon arrival, which includes answering a set of COVID-19 screening questions and temperature check at entry. Social distancing measures have also been adopted and personal protective equipment, including masks are required of patients and medical staff alike. The team has also increased the availability of telemedicine visits, which many patients have opted for as a viable alternative to coming into the clinic.
"Everything is a lot more regimented, deliberate, and slower," he said. "If we have to stop at a checkpoint, we stop and wait until we can move forward."
Looney noted that the more mitigation factors implemented in any given situation, the easier it will be to keep people healthy.
"Reducing risk through social distancing, the use of masks, meeting together in smaller groups over shorter periods of time, and meeting outdoors or in well-ventilated indoor spaces will help keep yourself and others healthy," he explained.
He encouraged people to remember that while the virus can be fatal to some, it can also be incredibly challenging to those who survive it.
"It's not just the mortality of this virus, it's the morbidity. People with COVID-19 might feel terrible for two or three weeks while others might have six to eight-week recoveries. Since it's such a new virus, we're also just learning that some patients might have permanent damage," said Looney, who noted that just because someone has a mild case of the virus doesn't mean the person they give it to will have the same outcome.
Looney, who also serves as a doctor for MSU athletics and is one of the head physicians for the university's football team, said MSU Athletics have implemented layers of safeguards to keep student athletes, coaches, staff, and the greater student population safe.
"We address everything as a public health situation whether it's in the clinic, an athletic facility, or the campus as a whole. With athletics, for instance, it's not just keeping the student athletes healthy so they can play and be successful on and of the field. It's also about keeping them healthy so we can help keep the student population healthy as a whole," Looney explained.
Looney, a former student athlete himself who ran track for MSU, said going forward MSU student athletes will serve as an example for all students.
"There is more at play here and the student athletes have become a focal point for the MSU community's public health in general," Looney said. "For instance, for MSU football players engaging in workouts, we have protocols and strict regulations in place that have been laid out by MSU, the SEC, and the NCAA to make sure it is as safe as possible."
He said COVID-19 has been unlike anything he's experienced before as a physician.
"While we train for things like mass casualties, biohazard risks, and emergency medical life support, a pandemic of this size and scope is truly unprecedented," Looney said. "During my residency, I worked on a tuberculous wing and have been around highly infectious diseases, so it wasn't foreign to me to wear PPE but that was a patient at a time or an hour at a time. Now, it's all day, every day."
He emphasized the importance of slowing down, ramping up communication, and introducing several mitigation factors to decrease the risk of transmission.
"Slowdown has become our motto and I take extra time with every single patient. Even when someone has no symptoms, we still have to be dressed in varying degrees of PPE like masks, gloves, and eye protection because we have to have personal protection while seeing every single patient but also be continuously protecting every single patient, even if they aren't being seen specifically for COVID-19," he said.
While he said the pandemic brought plenty of changes to the clinic and throughout the MSU campus, he said the hardest part centers on the family.
"Our families are the true frontline heroes. My wife, my kids, and the families of other clinicians, nurses, respiratory therapists, lab technicians, people who work our front desk, the people that clean the clinics and campus buildings are the true heroes behind all this and the challenge is that we keep our families safe but also keep our families sane," he said.
He continued, "Our families are really the backbone behind this because they're taking on as much risk as us and they are keeping us safe and without them, we wouldn't be able to do what we're doing," he said.
Looney emphasized the importance of the bulldog family stepping up to take care of each other as well as stewards of one another's health.
"Everything done on campus, whether it's in our clinic, athletics, or the campus as a whole, it's all done from a public health perspective. Everyone needs to know we adopt measures like wearing masks and social distancing not just for ourselves but for others," Looney said.
He continued, "This is a public health situation and that's why it's important for everyone to make these sacrifices so that everyone as a whole can be healthy. If one of us is well, then we can all be well."
Biochemistry, Molecular Biology, Entomology and Plant Pathology