University Florist celebrates 85 years of service, Valentine's Day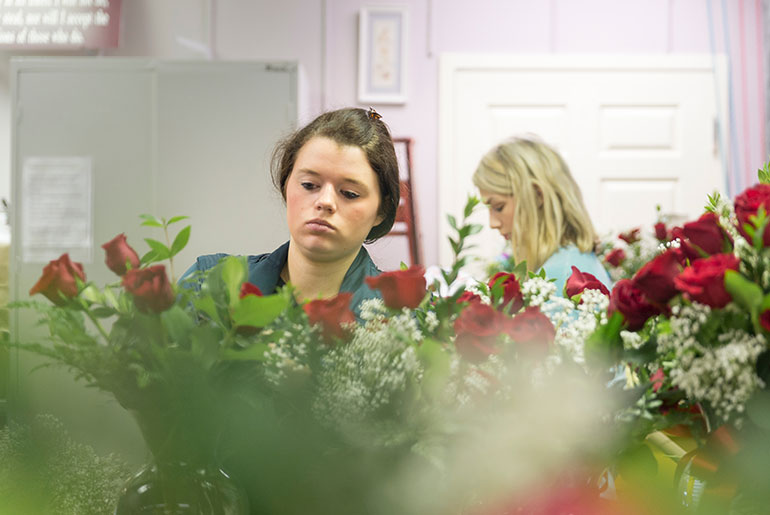 A Mississippi State landmark is marking more than eight decades of service to the land-grant university.
The University Florist is celebrating 85 years this semester and welcoming business as February commemorates the "month of romance" through the exchange of chocolate, gifts and flowers. The florist is taking orders now for Valentine's Day, Sunday [Feb. 14] and is open today [Feb. 9], Thursday and Friday from 9 a.m.-4 p.m., and on Wednesday 9 a.m.-noon. Special weekend hours are Saturday and Sunday, 10 a.m.-2 p.m. Also, visit www.florist.msstate.edu or call 662-325-3585.
Located at 100 Lee Blvd., the University Florist began serving MSU and the community in 1936 and has, over the years, maintained a loyal patronage through its commitment to detail and quality service. Behind that dedication are the 22 current students in the floral management program and the 15 minoring in the field—many who are employed with the student-run business. MSU is one of two universities in the SEC, along with Missouri, offering a student program with a florist on campus.
"Our students are experiencing what it means to work and run a retail shop," said Lynette McDougald, horticulture instructor in the plant and soil sciences department.
"Along with selling flowers, MSU-labeled gifts, candles and the popular McCarty Pottery, students are ensuring the flowers' longevity through postharvest care, creating floral designs with some of the most popular flowers on the market today, and creating eye-catching visual merchandising in the showroom and display windows," said McDougald, who also is the floral management program's senior designer.
With the ultimate goal of finding a livelihood through a floral management degree, students are finding newer trends and opportunities in employment, along with jobs in traditional floral shops. Event design companies that specialize in flowers also are looking for employees who are familiar with using props, tables, linens, drapes and more to decorate large weddings and other occasions, with wholesale brokers and florists hiring those who know about large flower farms and wholesale houses, according to McDougald.
Student coursework includes postharvest care of cut floral crops, wedding floral, sympathy floral, interior plantscaping, permanent botanicals and floral management (business).
She said there are several characteristics that can turn a floral management student into a successful graduate and florist.
"Multi-tasker might be a good way to put it. A craftsman who appreciates and aspires to create designs following the correct principles and elements; a horticulturist who enjoys growing and nurturing plants; and someone who thinks quickly and can respond sympathetically and empathetically when selling the emotions tied to flowers," she explained.
The University Florist and the floral management degree concentration are operated under the direction of the Department of Plant and Soil Sciences, College of Agriculture and Life Sciences. Prospective students interested in floral management may visit pss.msstate.edu/students/floral.php for more information.