On the Front Lines: Dr. Ashley Harris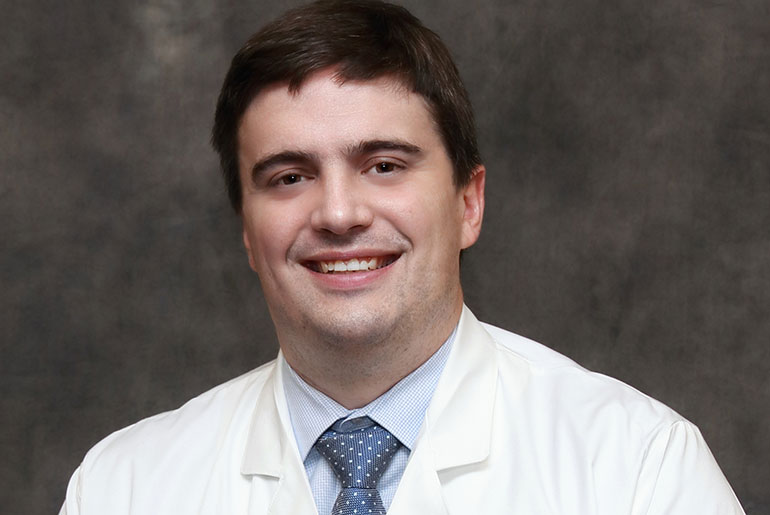 Dr. Ashley Harris,'04 biochemistry alumnus, grew up in Water Valley, Mississippi, and knew he wanted to be a doctor around age ten.
"My great uncle was a family medicine physician in my hometown and I grew up with him as a mentor. Watching him take care of patients and seeing his role in the community inspired me to want to do something like that," Harris remembered.
Harris's bulldog roots run deep. When it came time for college, he knew MSU would be the first stop on his journey to med school. His dad, Wayne Harris, an All American, played MSU football from 1979 to 1982 and was inducted into the M-Club Hall of Fame in 1998, so the family was maroon and white through and through. Harris met his wife, Jennifer, in an organic chemistry lab at MSU. She became a nurse and the couple now has two girls, Kenzie and Ella, who Harris says are being raised to love MSU, too.
After Mississippi State, Harris earned a medical degree at the University of Mississippi School of Medicine in Jackson in 2007, then completed his internship and residency at the North Mississippi Family Medicine Residency Program in Tupelo. A geriatric medicine fellowship took him to Harvard University, where he served as an associate faculty member from 2010 to 2011.
As time went on, the trajectory of his career has shifted from hometown doctor to hospital administration. While Harris has always possessed a physician's heart for healing the sick, that passion led him on the path to administration, to help people he felt called to serve at the system level. Harris was inspired by his mentor—a fellowship-trained geriatrician who was chief medical officer at the hospital where he completed his residency.
"My training during residency opened my eyes to the fact that so much of our healthcare system isn't necessarily tailored to the care of older patients. While I ended up working as a clinician serving older patients in the hospital and nursing homes, I recognized that to significantly impact healthcare delivery for this population I needed to be involved at the administrative level where policies are enacted and decisions are made that can impact the type of care we provide," he said.
After his fellowship, Harris earned a Master of Health Administration from the University of Alabama at Birmingham. Now, he is the associate chief medical officer of Baptist Memorial Hospital-Memphis. In that role, Harris is a key liaison between the medical staff and hospital administration. Prior to that position, which began in May 2020, he served as chief medical officer for Baptist Memorial Hospital-Golden Triangle.
Harris helps lead a medical team of more than 2,000 doctors, nurses, and ancillary staff. He describes his role as a bridge between the administrative side of the hospital and the medical staff. His goal is to work with administrators to get medical staff all they need to care for patients, both those who may be sick with COVID-19 and those who are there for other reasons.
"While much of our day may be devoted to addressing COVID-19, we all have the same goal and that's to provide excellent care for all of our patients, whether that care is related to COVID-19 or not," Harris said. He said the team has taken everything in stride and stepped up to the unprecedented occasion. "This pandemic highlights the fact that by far the significant majority of people who go into healthcare do it because they genuinely have a heart for caring for others and healing sick people. I think that's highlighted by what I've seen in the midst of the turmoil surrounding COVID-19 as our healthcare providers face challenges at work and then go home and deal with disruption in their own lives," Harris said.
He continued, "Our teams have responded with a collaborative sense that if we work together we can manage this crisis much more efficiently than if we work in silos. I think that as administrators we support our physicians, nurses, and staff by acknowledging all they do and by making sure they have the tools and resources they need to continue to provide excellent care and protection for themselves as they take care of sick patients."
Harris is board certified in family medicine and geriatric medicine and is a certified hospice medical director. His expertise, specifically in geriatric medicine, offers a unique lens for better understanding COVID-19 as it relates to older Americans.
"So much of what we do in healthcare is caring for older patients and that's certainly truer in the middle of this pandemic, which disproportionately impacts elderly patients from the direct impacts such as higher mortality rates and higher acuity of illness to the indirect impacts of social isolation," Harris said. "I think of my own grandmothers who are largely at home because of this and the impact of social isolation on their long-term mental and physical health. I think for me it's important to think about those individuals and communities that are significantly more vulnerable, while also considering the overall impact of this pandemic."
He emphasized the importance of reaching out to those populations while heeding the advice of healthcare professionals on preventing the spread of the virus.
"We are all tired of this pandemic. While we want the virus to go away, we have to be realistic. We have to adopt the practices advised by our infectious disease experts," he said. "Wear our masks. Socially distance. Leverage technology, so we can still be connected even when we're apart. Obviously, that's challenging for some of our older population but we can be intentional and go out of our way to make sure there is still that connection."
Harris said while overall challenges abound in a pandemic of this scope and size, he's honored to be a part of a team that provides care on the front lines.
"I'm very proud of our physicians, nurses, and staff because I've seen more teamwork during the pandemic than I've seen in all the time I've worked in healthcare."
Biochemistry, Molecular Biology, Entomology and Plant Pathology