On the Front Lines: Dr. Tameka Hairston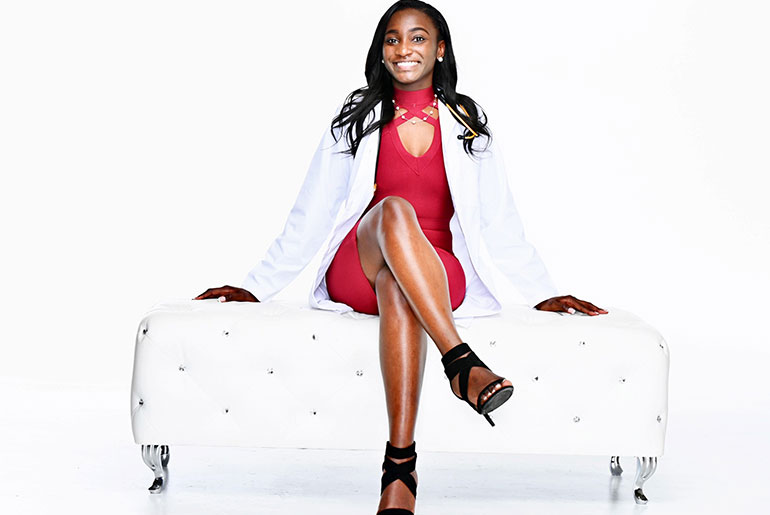 Hailing from Pachuta, a Mississippi community with a population of less than 300 people, Dr, Tameka Hairston found her passion for serving the underserved at a young age.
"I grew up seeing firsthand the healthcare disparity in rural areas. With these places often also being the poorest communities, some people have to make the decision between suffering the financial burden of driving to a faraway doctor's office or suffering through their illness. I thought, if there were more rural doctors, then the decision might be easier, and it was that notion of being able to actually help communities that are often overlooked that led me to the medical field," Hairston said.
The road to residency, however, was winding for Hairston. An internship working for a local physician as a medical scribe made her realize that she didn't want to be documenting someone else's medical career; she wanted to have her own.
The 2013 Mississippi State University biochemistry grad went on to earn her medical degree at the University of Mississippi Medical Center and is now in her second year of residency at The University of Alabama Tuscaloosa Family Medicine Residency Program, where she practices under the guidance of seasoned attending physicians.
In the midst of COVID-19, rural communities have a heightened need for well-equipped and accessible healthcare providers such as Hairston. According to the U.S. Centers for Disease Control and Prevention, a lack of healthcare infrastructure, including a shortage of health professionals for primary care, and older populations with higher rates of chronic disease are some of the factors that can make rural communities more susceptible to the disease.
Though COVID-19 has had such far-reaching impacts on rural communities like Hairston's hometown, it has been an especially formative experience for the 29-year-old resident, who still has the vast majority of her medical career ahead of her.
"Before this pandemic, medicine, for me, was clear-cut. A patient came in with symptoms, and we knew exactly what to do and how to treat it. But because COVID-19 is unprecedented both in terms of what the medical field has seen before and the overwhelming scale of it, there's a layer of uncertainty. It's caused me to be much more critically-minded when planning the best course of treatment for a patient. Sending someone home with a false-negative strep test probably wouldn't be life-threatening, but COVID-19 has the potential to be," Hairston said.
Hairston, however, firmly believes in the power of optimism and sees this as the pandemic's silver lining.
"It's difficult to think long-term when every day is so unpredictable, but I think healthcare is changing for the better in light of the pandemic. Doctors are insisting on even higher standards of care, patients are taking their health more seriously, and medical help is increasingly more accessible. That's especially true for the care in rural communities," Hairston said.
Hairston shared that, for those in rural communities, one of the largest inhibitors for receiving healthcare is transportation. With telehealth revolutionizing the way that patients and doctors are able to interact, a previously daunting hurdle for rural patients suddenly seems more manageable.
"Telehealth has been an option for a long time. It wasn't until COVID-19 turned virtual practice into a necessity, however, that the major insurance companies began to cover this type of visit, making it a viable option for those who might not be able to afford transportation or to take a full day of work. It's not an all-encompassing solution, but telehealth consultations now being covered by more insurance companies mean that we're one step closer to health equity," Hairston said.
She said that, upon completion of her residency, she hopes to one day return to her community and continue the effort for accessible health care by starting her own practice.
"Family medicine physicians, especially in rural communities, are expected to be able to treat anything. You might see us working in emergency rooms or nursing homes or traditional clinics. For me, coming from and planning to one day return to Pachuta, the ability to serve a community, whatever the need, is important," she said.
While Hairston is certainly aware of the impact one individual can have on a community, she also notes the importance of a combined communal effort in the broad scope of the pandemic.
"To beat this, it's going to require a united effort. I'm extremely grateful and blessed to be able to do my part, but everyone has a role to play in stopping the spread of COVID-19. We all have to do the little things that have been stated by multiple physicians and healthcare staff. Stay home. Wear your mask," she said. "I know the big push has been to thank essential workers, and while they deserve that acknowledgment for all they do, every single person is essential in this pandemic."
Biochemistry, Molecular Biology, Entomology and Plant Pathology