Our People: Jessica and Kenneth Graves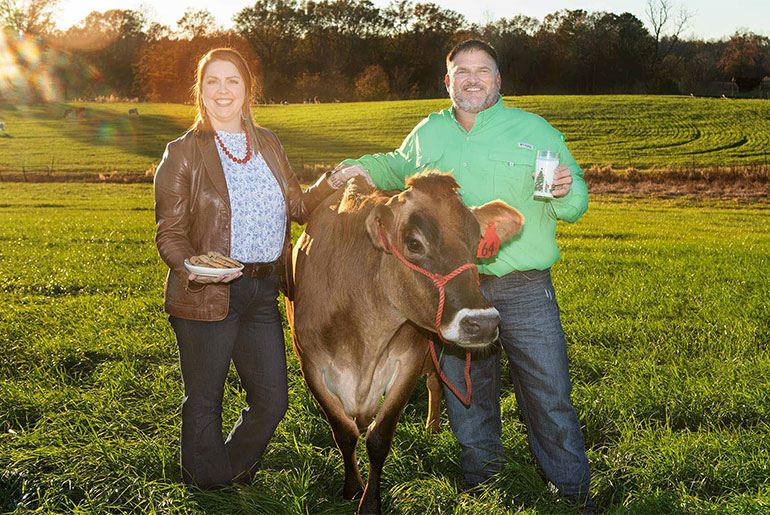 Every dairy herder knows that the cows always come first. That means at the Mississippi State University Bearden Dairy Research Center, cows are milked every day twice a day, 365 days a year.
"I tell our student workers, whether it's your birthday or Christmas day, we still milk cows twice a day," said Kenneth Graves, dairy herder for the center that's part of the Mississippi Agricultural and Forestry Experiment Station (MAFES).
And come Dec. 25, that's exactly where Kenneth will be, just as he has been almost every Christmas since 1998.
Kenneth points out that while students aren't required to work Christmas Eve, Christmas Day or the day after Christmas, oftentimes one or two do just that.
"Either they live local or far away and plan on celebrating at a later date," he said.
For those who do stay and crave a family meal, Kenneth and his wife Jessica offer them a seat at their Christmas table.
Jessica said "MSU is like a family and any of the students that stay are always welcome to join us. Kenneth likes to cook so it's a good excuse for him to justify frying and smoking two turkeys."
The Graves, both raised on farms, are passionate about teaching the next generation about farm life—whether it be MSU students or their own children, ages 9 and 1.
Kenneth, who graduated as an agricultural science major in 1998, worked at the MAFES Dairy as a student. While he completed a substantial amount of coursework in chemistry and physics because of teaching and coaching career goals, he enjoyed working at the dairy so much he made a career of it instead. He said the position has allowed him to mentor countless students.
"My labor force is mostly college students, so teaching is a large part of what I do. It's the biggest reason why I've stayed with the job for so long and why I enjoy it so much," he said.
Jessica, a soon-to-be three-degree MSU alumna, earned her bachelor's in animal and dairy sciences in 2008 and master's in agriculture with an animal nutrition concentration in 2010. She now is working on her doctorate in agricultural sciences with an agricultural and extension education concentration.
In her current position as director of academic advising for the College of Agriculture and Life Sciences, Jessica advises both undergraduate and graduate students across all majors.
She says teaching students and her own children about animal agriculture and stewardship has been a driving force in her career and life.
"I love teaching students about how animal agriculture impacts our lives as consumers and how it compares to other places around the globe," she said.
That global perspective has informed her doctoral work, which has involved leading a study-abroad trip for the past four years, taking nearly 60 MSU students to Guatemala to help train women in the western highlands region about sustainable animal protein production.
"We're training women how to raise rabbits as a source of household nutrition and income. We show them how to harvest an animal onsite and cook the meat and share a meal together while we're there. We also show them how to use the rabbit's pelt to make byproducts that help them generate additional income," said Jessica, who also spearheaded the establishment of a rabbitry at the MAFES H.H. Leveck Animal Research Center (South Farm).
Both Kenneth and Jessica said their ag backgrounds inform their careers and lives. Kenneth's dad ran the MAFES Beaumont Horticulture Unit in Perry County and Jessica grew up around a cow/calf operation in Vance, Alabama. While they lived at the MAFES Dairy for five years when they first got married, they've since purchased their own piece of land and raise cattle and rabbits. They said their children are growing up understanding life on a farm.
"My 9-year-old knows as much about animals as some of the college students who come to work at the dairy," Kenneth said. "Whether it's going with me when I had to pull a calf to looking after baby calves to feeding and taking care of the animals, he's done it all. He experiences things most kids his age don't get to, and that's an advantage in our minds—growing up as a farm kid, knowledgeable about what we do and why we do it."
Suffice to say, on Christmas Eve, when Kenneth and Jessica's oldest child pours milk for Santa to set beside a plate of cookies, the youngster knows where the milk comes from.
Animal and Dairy Sciences College of Agriculture and Life Sciences