Our People: George Awuni and Urita Agana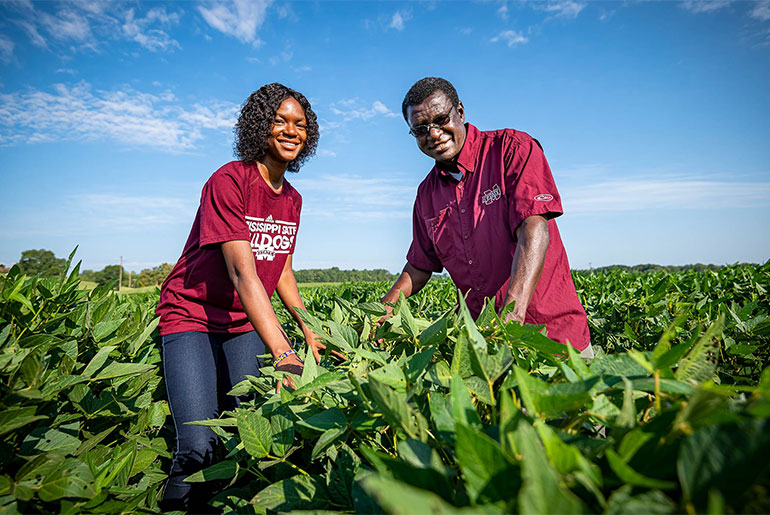 Sometimes feeding hungry people in your local community takes you nearly 6,000 miles from home. At least, that was the case for Dr. George Awuni, now an assistant research professor in the Department of Plant and Soil Sciences in MSUís College of Agriculture and Life Sciences.
Born and raised in Northern Ghana, Awuni has always been passionate about food security for his nation. That drive propelled him to work for Ghana's ministry of agriculture for 10 years and pursue a bachelor's degree in natural resources management in 2003. It's what led him to the United States—first to Tuskegee University where he earned a plant and soil sciences master's degree in 2009, and then to MSU where he earned a doctoral degree in entomology in 2013.
Awuni stayed at MSU as a post doctorate before taking on his current position. He has helped Dan Reynolds, a weed science professor now serving as interim associate vice president and executive director of MSU's International Institute, establish demonstration farms aimed at providing soybean farmers in Africa with the tools they need to increase yield in an impactful way.
"Soybean is an important cash crop and provides sustenance for smallholder farmers in Africa and increased yield means better income and nutrition for households," Awuni said.
Reynolds and Awuni began the project with funding from USAID through the Soybean Innovation Lab at the University of Illinois in 2014. Since its inception, the work has expanded from Ghana into Ethiopia, Malawi, Mozambique and Zambia, where researchers have provided resources and best management practices to approximately 6,000 soybean farmers across Sub-Saharan Africa.
Awuni said his favorite part is giving back.
"I enjoy helping change lives for the better in terms of nutrition and income," he said, noting the team has partnered with local educators to see how soybeans can be used to provide milk for school nutrition programs.
He said a combination of hard work, determination and luck brought him to the place he is today.
"I would encourage anyone to work hard and believe in themselves," he said. "I tell my family, 'You have to trust and believe in yourself and once you do, work hard and be good to others. That is the only way to success.'"
Awuni's words of wisdom have been taken to heart by his four children, including his eldest daughter, Urita Agana.
While food security drives Awuni, a passion for human health propels his daughter, Agana, now a senior biochemistry major at MSU. While she hopes to study human health one day, a research opportunity studying disease in soybeans brought Agana closer to the work her father does.
Under the direction of Associate Professor Sorina Popescu in the Department of Biochemistry, Molecular Biology, Entomology and Plant Pathology, Agana is studying biologic controls to fight taproot decline, a prominent disease found in soybeans.
Agana encourages others to step outside of their comfort zone and pursue research interests that might be new to them noting that her current work has her thinking about a master's in plant health.
"To anyone who has a dream they want to pursue, it doesn't matter if things don't always go as planned. At the end of the day, whatever path you choose, you can still make an impact," she said.
While Agana irons out plans for a master's degree, she said she still thinks she'll ultimately wind up studying human health at some point.
"I told my dad a while ago even if I end up getting a master's studying plant health, I might switch to human health for my Ph.D. Coming from Ghana, and seeing illnesses like malaria, I've always wanted to find ways to cure diseases that affect humans," she said.
In the meantime, she welcomes a chance to collaborate on research with her father.
"It would be cool if we ended up working together on a soybean research project. If that happens, hopefully I can teach him something he doesn't know and vice versa," she said.
Plant and Soil Sciences Biochemistry, Molecular Biology, Entomology and Plant Pathology