Flowers delivered for hands-on instruction in MSU's floral design course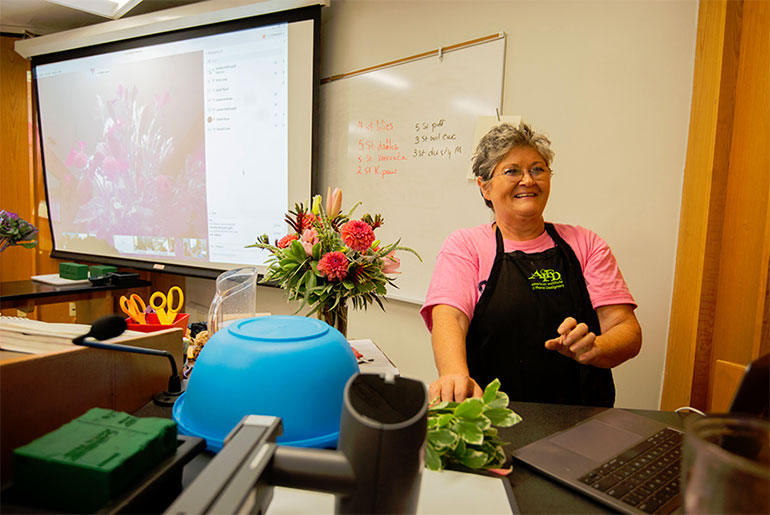 In a time of social distancing and face coverings, the decline in mental health and the rise in emotional distress have almost everyone looking for solutions during coronavirus.
One Mississippi State instructor has found a way to reach students all over the world and create immediate social and emotional connections through virtual floral design.
Floral management teacher Lynette McDougald designed and introduced the first basic floral design course offered virtually during MSU's Summer Advantage Online.
"It's been proven in a number of studies that the presence of flowers increases emotional wellbeing at home, at work and as a gift," said McDougald, whose class is offered through the Department of Plant and Soil Sciences. "I don't think the average floral consumer looks at buying flowers as the purchase of a highly perishable commodity, but as an emotion. Flowers convey our emotions when we don't necessarily have the words."
Especially in the midst of social distancing, she hopes floral design helps students understand the benefits of living with flowers while, at the same time, instilling in them the principles and elements of the craft. While the class is a basic building block of the floral management curriculum, it also is approved as a fine arts course and attracts students from all majors as a popular elective.
McDougald knew that for students to ingest the fundamentals of the traditional course, she needed to find a way to incorporate experiential hands-on learning that's vital to the curriculum and the students' success.
She admitted, "It's daunting to know that, within a five-week period, you've integrated design theory, floral care, handling, identification and actual design into virtual learning."
To achieve a real design experience, flowers were packed and shipped from a California cut flower farm to the students, with each completing a hand-tied bouquet, a vased floral design, and others that were round, symmetrical and asymmetrical. Beginning with plant identification, each floral selection is chosen with a purpose.
"We demonstrate flower forms, learn anatomy, discuss foliage fragrance, color and form, and then delve into design elements like texture, fragrance and color," McDougald said.
Riley Smith, a senior biochemistry major from New Zealand, who has been virtually completing his last electives before graduation due to COVID-19, didn't let distance keep him from participating.
"I'd heard nothing but good things about this floral design course, and it was cool when I was on campus to see the designs that students completed. I just couldn't miss the opportunity myself," he said, adding that access to and availability of flowers in New Zealand was challenging in mid-winter and amid COVID-19.
Keeping the designs fresh and colorful was tough, according to Smith, as was "keeping each design separate from the next and not using the same set of flowers for everything."
"I worried at the start that I wouldn't be able to participate in the lab portion of this class since I am almost 8,000 miles away, but Ms. McDougald was so helpful and went the extra mile to include me in every way despite the distance," he said.
For more on MSU's floral management program, visit https://www.pss.msstate.edu/students/floral.php. For more information on the Department of Plant and Soil Sciences in the College of Agriculture and Life Sciences, visit www.pss.msstate.edu.