MSU doctoral student honored for agronomy research, discusses agriculture's importance with national leaders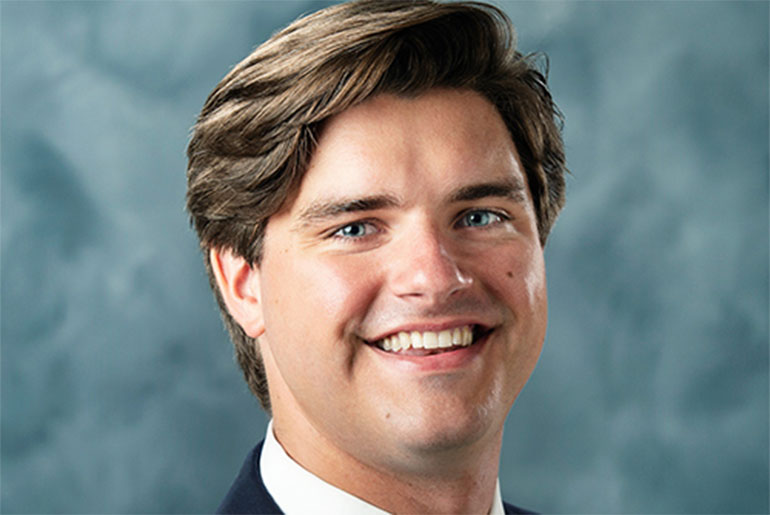 A Mississippi State graduate student is being recognized this year as a Future Leader in Science, an honor bestowed by the agronomy tri-societies—the American Society of Agronomy, Crop Science Society of America and Soil Science Society of America.
Charles "Hunt" Walne, an MSU agronomy doctoral student in the College of Agriculture and Life Sciences, earlier this year was one of 18 graduate students chosen as a recipient of the Future Leader in Science award and invited to the tri-societies' annual Congressional Visits Day at the U.S. Capitol to advocate the importance of federal funding for agricultural research to Mississippi legislators.
In keeping with the United Nations General Assembly having named 2020 the "International Year of Plant Health," the Collierville, Tennessee native also was invited to the Capitol event to present research conducted by K. Raja Reddy—Walne's major professor—about crop performance in projected future climates. This work was made possible using the Mississippi Agricultural and Forestry Experiment Station's unique Soil-Plant-Atmosphere-Research Facility, known as the SPAR unit.
Reddy, a research professor in the Department of Plant and Soil Sciences and MAFES scientist, discussed why Walne's recognition is a testament to his exemplary dedication to the field of agricultural research as a whole.
"I had the opportunity to mentor Hunt starting from junior year of his undergraduate studies and now serve as his major professor as he pursues his doctoral degree. Hunt understands the big picture of the issues related to food security at the national and global levels and how his interest in research and leadership can help shape policy decisions now and in the future," Reddy said.
Walne served as team leader during the national event, leading discussion with policymakers about the importance of funding for the Agriculture and Food Research Initiative as well as funding for the Agriculture Advanced Research Development Authority, two competitive grants that focus on advancing agricultural research and education.
"Everyone we spoke with was receptive. Congressional members understand the importance of this," he said.
Walne said while agricultural research garners support on both sides of the aisle, the Congressional Visits Day is an opportunity for leaders to focus on the need for a safe, plentiful food supply.
"These events serve as a bridge between policymakers and agricultural experts," Walne said. "It's important that there's a space for researchers and scientists to share what they know and explain why it's vital to continue the progress made in producing food and fiber to feed and clothe a growing population."
"We wouldn't be able to conduct the research we do at universities if it weren't for the support we receive from our federal government. I'm proud to have had the chance to represent Mississippi State and advocate for research funding, not only for our university but for the agricultural research sector in general," Walne said.
To learn more about MSU's Department of Plant and Soil Sciences, visit www.pss.msstate.edu.