Our People: Lori Hearon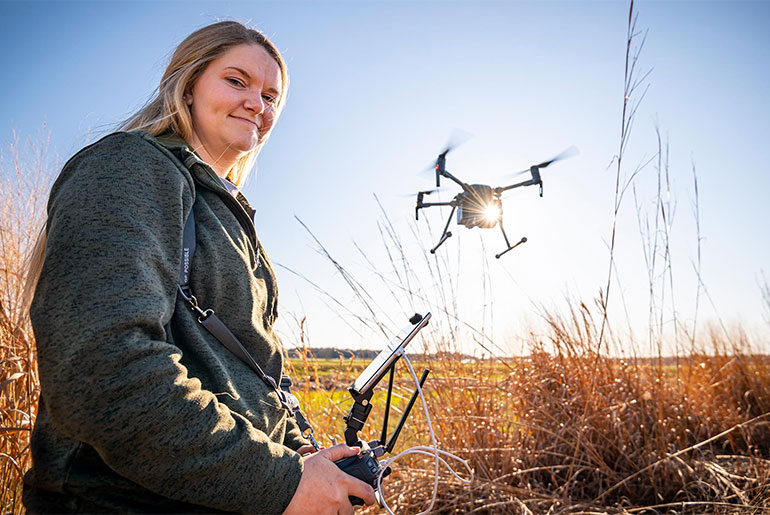 Lori Hearon grew up in the rural town of Vardaman and came to Mississippi State as an undergraduate to continue a lifelong passion in agriculture and wildlife. Now, she is pushing agriculture to reach new heights.
From working in sweet potato fields as a teen to conducting research as a plant and soil sciences master's student, Hearon also has become a fully licensed unmanned aerial vehicle (UAV) pilot.
"Agriculture is what kept our little town going and put food on our tables, literally, and it's magical to have a hand in seeing something thrive that I helped grow or conserve," Hearon said.
As an undergraduate agricultural science major in the MSU School of Human Sciences, Hearon focused on integrated crop management and wildlife science. She first learned about the applications of UAVs in both agriculture and wildlife at an Eastern Native Grass Symposium. That's when she realized the rapidly expanding world of drone research gave her the chance to merge her love of agriculture and wildlife. She soon began the progression of Assistant Clinical Professor Amelia Fox's precision agriculture courses to gain her UAV licensing.
"When I was young, I never even dreamed that I could become a UAV pilot, much less use it as a tool for my career. I became a drone pilot because I was given the opportunity, and I realized how much this could benefit not only me but also the world of agriculture and wildlife," she said.
Now, as a grad student, Hearon is uniquely positioned at the intersection of precision agriculture and precision wildlife conservation. Her thesis committee includes Assistant Research Professor Jesse Morrison, native grass expert in the College of Agriculture and Life Sciences, and Assistant Professor Mark McConnell, who specializes in upland birds in the College of Forest Resources.
Hearon shared that her research—requested by the Mississippi Lignite Mining Company in hopes of determining if planting native grasses on the business reclaimed land had any ecological benefits—is a reflection of this cross-college collaboration.
"My research uses UAVs equipped with thermal cameras to detect grassland bird nests. The goal is to see how new detection methods compare to traditional methods of nest detection. We're able to monitor and track bird populations in decline due to decreasing habitat," Hearon said. "And I'm achieving dreams that I never knew I had."