MSU's Staggers honored for achievements in agricultural advancement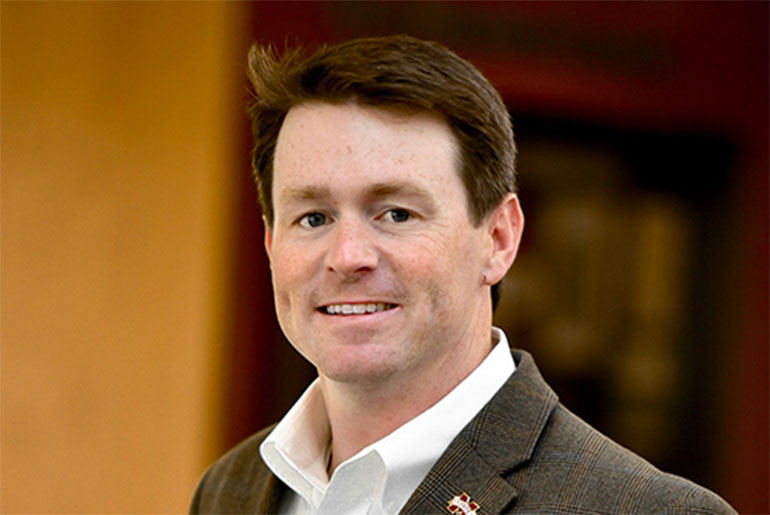 Mississippi State University Foundation fundraiser William "Will" Staggers of Starkville is being recognized by the National Agricultural Alumni Development Association for his early career success and leadership.
Staggers is receiving the organization's Up and Coming Award, which honors individuals with two to five years of experience in agricultural advancement professions. Staggers joined the MSU Foundation in 2015 and serves as assistant director of development for MSU's College of Agriculture and Life Sciences, MSU Extension, and the Mississippi Agriculture and Forestry Experiment Station. Both Extension and MAFES serve all of Mississippi's 82 counties.
"For a long time, NAADA has been the lead organization for professionals who work in development and alumni tracks at land-grant institutions and agricultural circles here in the U.S., so to be recognized in that arena is flattering, and I'm really honored to have been selected," Staggers said.
The Starkville native graduated from MSU in 2010 with a bachelor's degree in kinesiology from the College of Education. Staggers then worked as a physical science teacher and football coach at Quitman High School, later returning to Starkville and working in commercial insurance. He began his career at MSU as an accounts payable specialist in the Department of Procurement and Contracts before beginning his current role.
Beginning July 1, Staggers officially will be promoted to director of development for CALS, Extension and MAFES. He succeeds Jud Skelton, who has the new role of senior director of development for real estate services for the MSU Foundation.
Regarding his recent award, Staggers said he owes his success to those who have helped him along the way.
"I think largely this award has as much to do with Jack McCarty, Jud Skelton, and Charlie Weatherly as it does me," Staggers said. "These guys paved the way to create the level of philanthropy in the College of Agriculture and Life Sciences, as well as MSU Extension, and I'm fortunate to be behind the wheel now."
McCarty and Weatherly each had a tenure as the primary fundraiser for CALS. Today, McCarty is executive director of development for the MSU Foundation and Weatherly is the college's senior director of development emeritus.
Staggers continued, "I also can't say enough about what our alumni and friends of the college do to help us on an annual and perpetual basis to further opportunities. Their loyalty is unwavering and that's what makes this college and our university so special."
NAADA has provided education, support and recognition to professionals and volunteers dedicated to advancing agriculture and related disciplines through land-grant and other colleges of agricultural sciences and partner programs for more than 40 years. For more information, visit www.naada.org.
To learn more about how to support MSU's College of Agriculture and Life Sciences, MSU Extension, or MAFES, contact Staggers at 662-325-2837 or wstaggers@foundation.msstate.edu.