MSU School of Human Sciences now offers retail certification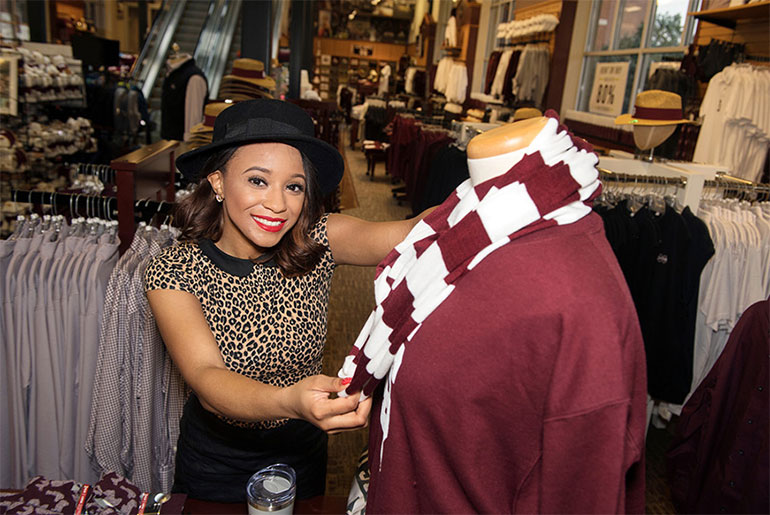 Mississippi State fashion design and merchandising students in the university's School of Human Sciences now can earn a retail certificate, also available to all majors.
The state's retail industry is one of the largest in terms of employment, with 254,562 working directly for retail and another 94,000 with jobs supported by retail. Caroline Kobia, MSU assistant professor of fashion design and merchandising, pointed out that many careers, including buyers, analysts, allocators, planners, managers, product developers, designers and more, all utilize skills that may be learned through this retail certificate program.
Kobia and JuYoung Lee are spearheading this effort within the university's College of Agriculture and Life Sciences. To ensure the best preparation possible for students looking to better position themselves in the field, these faculty members have developed MSU's program from a model program created by the world's largest retail trade association, the National Retail Federation.
"The certificate was created to fill a void in the state," Kobia said. "It will help our students break into difficult areas of the retail industry, and we're proud to be the only university in Mississippi to offer it."
Kobia also said the certification is an important part of remaining successful in the field once a job has been secured.
"Retail is an industry of change. Things are always shifting—market trends, platforming techniques, needs of the consumer—all of it. Through the process of earning this certificate, our students will learn how to adapt with the shifting tides," she said.
One of the most rapidly evolving areas within the industry is online shopping. Retailers are losing face-to-face interactions and opportunities to promote their merchandise. However, Lee said as online shoppers scour the internet, retailers are able to do the same and market their merchandise more broadly.
"It's because we are living in a world of online shopping that it is important to know about the 'ins and outs' of retail, where operations hidden behind a screen are, ultimately, more complicated and complex," Lee said.
While the internet promises more changes to come, Lee said it also provides a distinctive opportunity. Currently, many classes comprising the certificate are offered online, and program advocates are working toward creating an entirely online option, hopefully making it available for non-traditional students already working in the retail industry.
To learn more about MSU's new retail certificate, visit https://www.humansci.msstate.edu/students/retail-cert.php. To learn more about the College of Agriculture and Life Sciences, visit www.cals.msstate.edu .