MSU doctoral candidate appointed Fellow in USDA Office of the Assistant Secretary for Civil Rights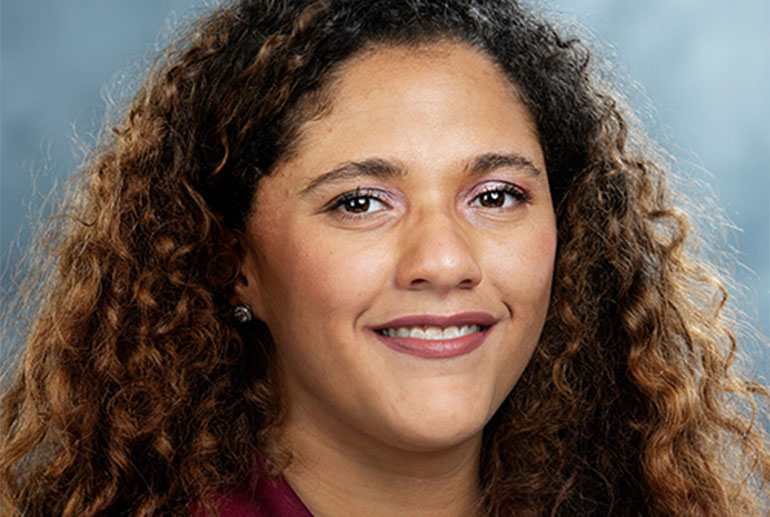 An agricultural science doctoral candidate in Mississippi State's College of Agriculture and Life Sciences is serving as a Fellow of the U.S. Department of Agriculture's Office of the Assistant Secretary for Civil Rights.
Christien Russell was granted the USDA appointment earlier this year and has been working as a special assistant to Deputy Assistant Secretary for Civil Rights Naomi C. Earp for nearly three months this summer. The OASCR provides direction and leadership for the fair and equitable treatment of all USDA customers and employees while ensuring the delivery of quality programs and enforcement of civil rights.
A native of Louisville, Kentucky, Russell is now returning to MSU where she is a Ph.D. candidate in agricultural sciences with a concentration in agricultural and extension education. Her research focuses on diversity, equity and inclusion. She said the opportunity to further civil rights in a federal agricultural agency is a dream come true, and she considers attaining diversity in agriculture as a major life goal that steers her academic pursuits as well as current and future career goals.
"While I didn't grow up around agriculture, my experiences in high school and college led me to where I am today," Russell said.
She attended a law and government magnet high school, which sparked her interest in policy and government, and she became interested in agriculture in an unlikely way—on a study abroad trip to the Czech Republic as an undergraduate.
Russell said the 2013 trip while she was a University of Kentucky agriculture student focused on leadership lessons in production and related topics. "We also examined how the different regimes of the region really affected the nation's agriculture. I realized how a lack of access to agriculture means citizens don't eat. While I didn't necessarily want to be a farmer, I knew I could leverage my strengths in networking, lobbying, and diversity and my passion for management to make a difference," Russell said.
Russell also is a long-time member of Minorities in Agriculture, Natural Resources, and Related Sciences, or MANRRS. She currently is serving as the organization's graduate vice president for Region III, which includes Mississippi, Alabama, Arkansas, Kentucky, and Tennessee. Russell said her MANRRS affiliation helped pave the way to both MSU and the USDA.
"One of my biggest goals at MSU and part of the reason I was recruited here was to help build the MANRRS chapter at the school," she said. "It's a hidden gem that more students should get involved in because of the many great services and professional development opportunities it provides," she said, pointing out her work representing MANRRS during National Ag Day in Washington, D.C., which helped set the wheels in motion for her journey to the USDA.
She said her time at MSU is helping her in each new endeavor.
"My fellowship at USDA has allowed me to implement principles I have learned at MSU to help an organization that serves more than 100,000 employees," said Russell, who has helped develop a strategic plan for diversity at the agency, among other tasks.
Carla Jagger, MSU assistant professor in the School of Human Sciences and Russell's major adviser, said the fellowship is a great opportunity that will open many doors for Russell in the future.
"Christien has never met a stranger. She excels at finding common ground with anyone she interacts with, which will be a great asset as she continues to make new connections throughout her fellowship with the USDA," Jagger said.
Russell has been honored for work in diversity, most recently by the American Association for Agricultural Education for excellence in research, specifically research on the impacts of culturally responsive teaching on minority students in a university setting. Russell earned her bachelor's degree in community leadership and development from the University of Kentucky and master's in public administration from Auburn University.
For more on MSU's College of Agriculture and Life Sciences and its School of Human Sciences, visit www.cals.msstate.edu or www.humansci.msstate.edu.