Student collaboration in MSU Community Garden bears first fruits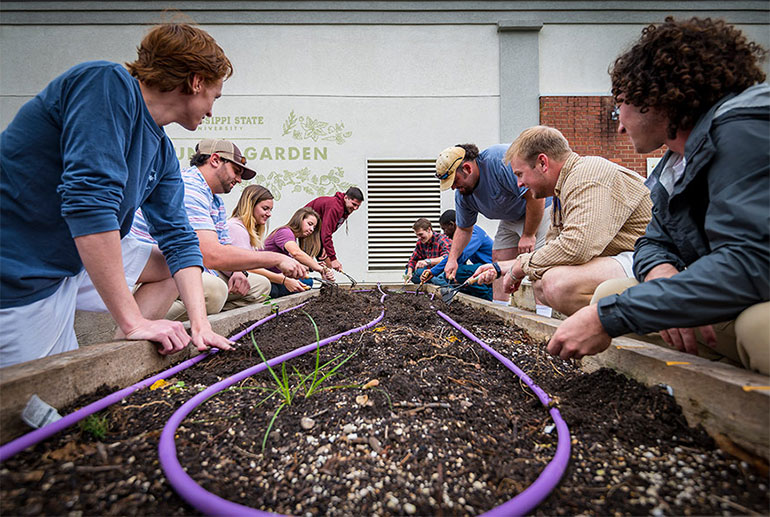 A student and faculty collaboration is blossoming into national and state awards for Mississippi State's Community Garden design team.
The MSU Community Garden has received the 2019 Award of Excellence for Student Collaboration from the American Society of Landscape Architects, the highest honor in its category. This multidisciplinary effort will be recognized at the 2019 ASLA Conference in San Diego Nov. 15-18.
In addition to ASLA's national award, the garden also was recently recognized as part of the annual Mississippi Celebrates Architecture. Hosted by the Mississippi Chapter of the American Institute of Architects, the garden received an AIA Design Merit Award in the sustainability category, and the U.S. Green Building Council Mississippi Chapter Award for Sustainability.
The 8,000-square-foot garden, designed and built from 2015 to 2018, is located in the landscape architecture complex off Stone Blvd. and is a research lab, classroom and community center. The first planting in spring 2017 was followed by an opening ceremony last fall. Landscape architecture students led the garden project, while students in architecture, graphic design and building construction science also played significant roles. Their collective work resulted in 17 standard, raised beds, eight accessible beds and the installation of two farming robots, called "Farmbots" across four terraced levels. Two garden sheds, a 2,000-gallon rainwater cistern, a system capturing rainwater from another building, a gateway arbor, demonstration area and stair entrance were all designed and built by students in their respective courses.
Cory Gallo, associate professor in the MSU Department of Landscape Architecture who spearheaded the multiyear project, said collaboration was essential to the garden's success.
"In addition to cross-college collaboration between several departments and units on campus, there was plenty of collaboration within our own department," Gallo said. "For instance, Peter Summerlin, assistant professor in landscape architecture, taught two courses in which the main focus was helping construct the garden."
Gallo said the garden design and build was a unique opportunity for all of these students to leave an indelible mark on the university for years to come.
"These types of spaces only flourish when people invest in them. While I'm proud of what the students accomplished from a design standpoint—designing and building a beautiful, well-functioning space—I'm happiest about the fact that two years after that first planting, the space is still being used to its full potential," Gallo said. "The MSU Community Garden is a place that is impacting a lot of people in a lot of different ways."
In 2015, Gallo collaborated with Hans Herrmann, associate professor in the School of Architecture, to design and build the garden sheds and connecting pergola. Herrmann directed, at that time, over 70 architecture and building construction science students, and a second group of architecture students in 2018 when the stairs and bridge leading into the garden were designed and built.
Herrmann said the project provided his students a chance to engage in real-world design, building something they can revisit in the future.
'Building things in the world takes time and it requires communication, trust, diligence and care. To be in our allied professions, one must be willing to take a long view on their individual efforts," Herrmann said. "I appreciate the university's willingness to let us work on campus and showcase the capacity of the students, faculty and academic units associated with this undertaking. I believe the students who get their hands dirty building MSU into a renowned institution of higher learning will also be students who return many years later to maintain their alma mater."
Suzanne Powney, are department associate professor of graphic design and longtime collaborator with Gallo and Herrmann, joined the community garden project after the 2017 completion of the adjacent EPA raingarden, also located at MSU's landscape architecture complex. Graphic design students led design of the garden's way-finding and informational signage, its color palette and the mural adorning the garden's main wall.
"For each element of the project, students had to get the entire group to agree that this was what they wanted to install. In addition to hands-on experience designing a community space, the students learned how to present and argue for an idea, and then make it happen. We also didn't have a large budget, so they were resourceful and able to get a lot of things accomplished using the materials on hand. I'm very proud of them," Powney said.
More than 50 MSU students, faculty and staff rent garden beds in groups on an annual basis. Additionally, the space serves as an outdoor laboratory for sustainable/healthy food courses on campus and as a research site for the Mississippi Agricultural and Forestry Experiment Station.
In addition to the MSU landscape architecture and art departments and the School of Architecture, university collaborators include the departments of plant and soil sciences and food science, nutrition and health promotion. The MSU Student Association in conjunction with Students for a Sustainable campus played a significant role in helping secure funding and promotion. Administrative units include the Office of Planning Design and Construction Administration and the Department of Health Promotion and Wellness. MSU Facilities Management and the Mississippi Agricultural and Forestry Experiment Station volunteered time and expertise while the MSU Extension Service contributed funds.
To learn more about the national award from the ASLA, visit www.asla.org/2019studentawards and scroll to the student collaboration category.
For more information, visit communitygarden.msstate.edu or www.instagram.com/msucommunitygarden.