MSU signs proclamation to mark National Nutrition Month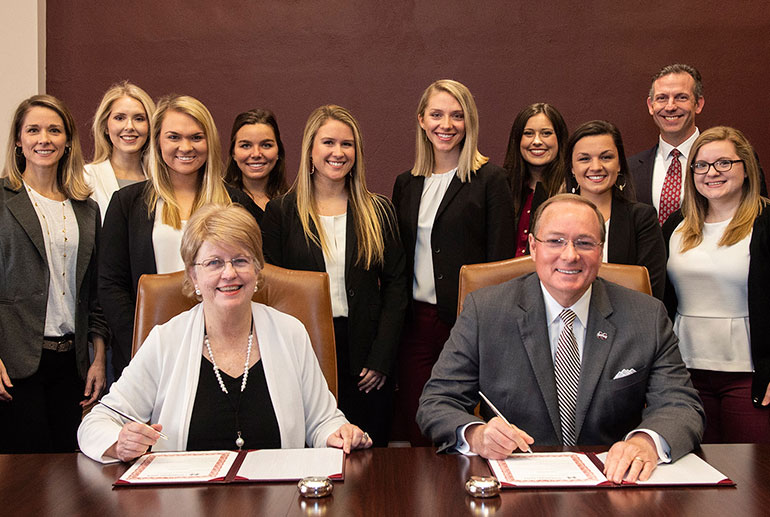 Mississippi State University Provost and Executive Vice President Judy Bonner and President Mark E. Keenum, seated left and right, marked National Nutrition Month with the signing of a proclamation Monday [March 4] announcing the annual campus observance of the March event.
The local observance is coordinated by MSU's Student Dietetic Association, which promotes healthy lifestyles at MSU and in the surrounding community through awareness and involvement in key areas as identified by the American Dietetic Association. The organization is part of the Department of Food Science, Nutrition and Health Promotion in the university's College of Agriculture and Life Sciences.
Pictured at the signing with Bonner and Keenum, standing from left, are SDA adviser Mandy Conrad; food science, nutrition and health promotion majors Lauren A. Parker, Samantha E. Hawkins, and Sumner R. Stayer, all of Hattiesburg; Samantha M. Sockwell of Southaven; Allie Cowles of Denmark, Tennessee; Mary Charles Anderson of Okolona; Katie N. Hubbard of Madison, Alabama; Associate Extension Professor Brent Fountain; and Emily E. Swortzel of Middleton, Tennessee.
Initiated in 1973 by the Illinois-based Academy of Nutrition and Dietetics, the National Nutrition Month campaign encourages health eating habits and physical activity.
For complete information about National Nutrition Month, visit www.eatright.org/resources/national-nutrition-month.
For more on MSU's food science, nutrition and health promotion department and its Student Dietetic Association, visit www.fsnhp.msstate.edu, www.facebook.com/msstatesda, or follow on Twitter @sdamsstate and Instagram @msstatesda.