Partnership between MSU, EMCC opens door for future medical researchers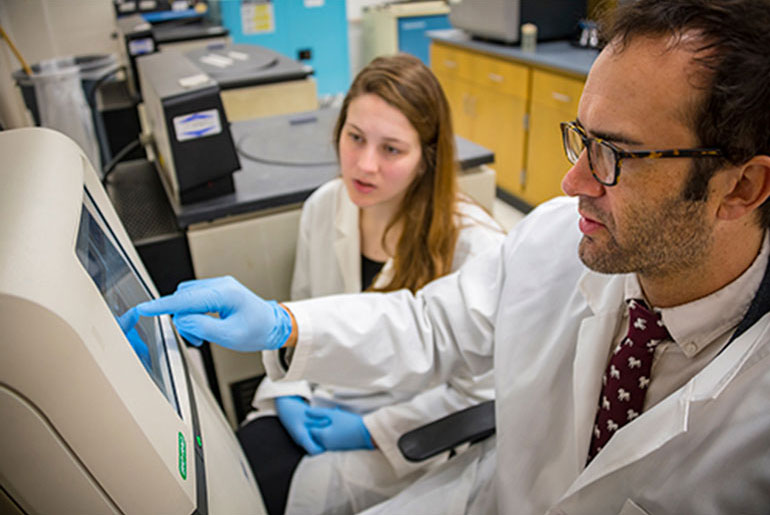 A partnership between Mississippi State University and East Mississippi Community College is providing a path into advanced degree programs for transfer students interested in the biomedical and behavioral research fields.
The partnership is possible through a $1.1 million grant from the National Institutes of Health Research Education Program, called an R25, which focuses on training a future workforce to meet the nation's biomedical, behavioral and clinical research needs. Called "Bridges to Baccalaureate," the program provides paid research opportunities for undergraduate students transferring from EMCC to MSU.
This grant, which seeks to enhance diversity in the biomedical and behavioral research fields, will help transfer students from underrepresented minority and economically disadvantaged backgrounds in their pursuit of four-year and advanced degree programs.
Jonas King, assistant professor in the Department of Biochemistry, Molecular Biology, Entomology and Plant Pathology in MSU's College of Agriculture and Life Sciences, is the grant's principal investigator. He is hopeful the grant will encourage transfer students to pursue STEM fields and advanced degrees.
"I'm excited to attract and retain transfer students who are interested in the sciences," King said. "If at least some of these students go on to advanced degrees that might not have done so otherwise, I consider that a huge success in promoting the students in their careers and contributing to the medical research field in Mississippi."
King explained, "Through this grant, undergraduate researchers will receive supplies to perform their research, and they will be paid an hourly rate to work in the lab they join. Students have a range of opportunities in labs across campus from working with sociologists, to molecular biologists to entomologists and more."
He said selected EMCC students will attend a 10-week Summer Research Experience paid internship in a faculty-mentored setting at MSU while attending EMCC during their first two years. These experiences will continue for one year after transfer to MSU for select trainees. Students are encouraged to continue research through other MSU funding mechanisms.
Among several MSU and EMCC administrators and faculty members who have helped build this new program, co-investigators on the grant are Bindu Nanduri, associate professor in MSU's Department of Basic Sciences in the College of Veterinary Medicine; Florencia Meyer, MSU associate professor in biochemistry, molecular biology, entomology and plant pathology; and Jairus Johnson, biology professor and science and math division chair at EMCC.
As a graduate of Northwest Mississippi Community College himself, King emphasized the importance of helping transfer students realize the next step in their collegiate journey.
"Community colleges are one of our state's strengths. This grant provides vital support to help transfer students transition to a four-year university and get one step closer to realizing their full potential," King said.
Jeffrey Dean, professor and department head for biochemistry, molecular biology, entomology and plant pathology, said MSU has a high proportion of two-year college transfer students, making it an ideal place for testing new approaches to helping these students complete their degrees on schedule.
"MSU does an excellent job serving a student population that includes a high percentage of transfer students compared to peer institutions," Dean said. "The training grant will provide some direct help through financial supplements, but for many of these students, the additional program mentoring and community-building activities may be even more important for helping them to persevere and complete their degrees."
The Bridges to Baccalaureate program application process currently is being developed, but will be based on merit and financial need. Grant leaders expect the first applicants to be selected in spring of 2019 to jumpstart the program for the summer.
Biochemistry, Molecular Biology, Entomology and Plant Pathology