MSU graduate student receives major agronomy scholarship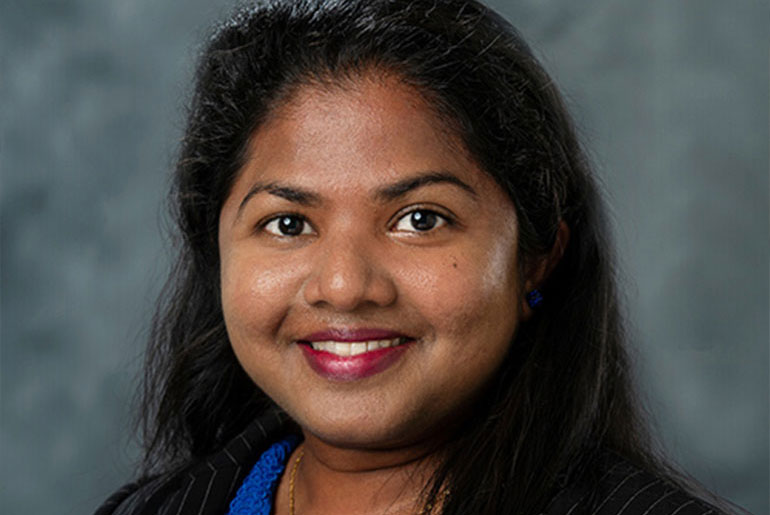 A Mississippi State doctoral candidate and research assistant in the College of Agriculture and Life Sciences is receiving a prestigious scholarship from the American Society of Agronomy.
Chathurika Wijewardana, a native of Sri Lanka who graduated from the University of Kelaniya and earned a master's degree in agronomy from MSU in 2015, is the recipient of the $5000 Nelson Yield-Limiting Factors Graduate Student Scholarship.
The scholarship encourages students to pursue leadership and research accomplishments and focuses on the nominee's long-term research goals to improve diagnostic techniques and solutions to combat yield-limiting factors in agronomy.
Wijewardana's studies focus on identifying and quantifying the effects of yield-limiting factors including drought, heat and cold on the growth, developmental and reproductive performances of agricultural commodities such as soybean, corn, cotton and rice. She also is an author or co-author of 12 publications and has presented more than 45 abstracts, some of which have received awards at national and regional conferences.
Wijewardana seeks to better understand crop responses, as well as help develop new cultivars with greater yields to cope with current and future environmental conditions. Her ultimate goal is to help promote food security around the world.
Award winners are selected from an international pool of accomplished agronomy graduate students. Wijewardana said the scholarship is a great honor.
"This recognition has shown me that hard work pays off in the long run," she said. "As the first MSU student ever to receive this recognition, it's an honor to represent the Department of Plant and Soil Sciences and Mississippi State University. This scholarship, for me, is not the end but just the beginning."
Raja Reddy, research professor in plant and soil sciences and director of the Soil-Plant-Atmospheric-Research unit, is Wijewardana's major professor. He said Wijewardana's recognition is a testament to her hard work as an emerging leader in this particular field of study.
"Chathu's accomplishment highlights the cutting-edge research our students conduct to solve big problems in limiting crop yield," Reddy said. "With her many credentials, she serves as a role model for many to follow as they emulate her success both in academia and leadership activities."
Reddy explained that in crop production systems, no two seasons are the same. Weather and crop production are, likewise, intricately linked. Among these stressors, cold temperatures, and water during early seasons, and hot summers with limited rainfall are the most limiting factors.
"Chathu has been working with many of these yield-limiting factors on major crops grown in Mississippi and beyond," Reddy said.
Wijewardana, who will graduate this month with a Ph.D. in agronomy, said she hopes to use the scholarship to attend professional conferences to broaden her knowledge, gain more experience, and network with professionals.
The scholarship is provided through the Agronomic Science Foundation by the Werner L. Nelson Fund and administered through the American Society of Agronomy.
Learn more about MSU's Department of Plant and Soil Sciences in the College of Agriculture and Life Sciences, at www.pss.msstate.edu