MSU Community Garden ribbon cutting kicks off Green Week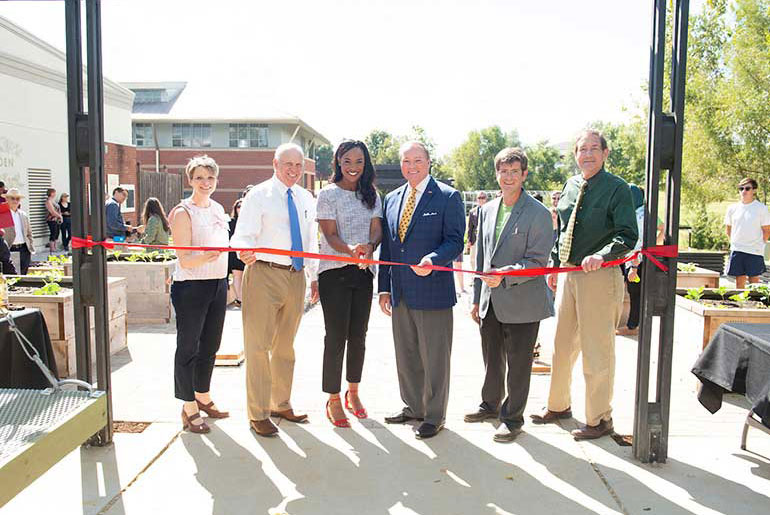 The MSU Community Garden is kicking off its first official season today [Oct. 15], holding a ribbon cutting ceremony that also marks the beginning of Green Week on campus.
Administrators, faculty and students gathered to celebrate the garden's opening, with Green Week activities including a stream clean-up, recycling sort, sustainability fair and more.
MSU President Mark E. Keenum discussed how the garden forwards the university's mission of helping feed the world while serving as an illustration of the three pillars of the land-grant institution—learning, research and service.
"The MSU Community Garden exemplifies Mississippi State University's commitment to solving one of the world's greatest challenges—food insecurity," Keenum said. "This garden will serve as a valuable resource for students, faculty and staff as they grow healthy food and conduct research and outreach, all of which will contribute to our overall efforts to eradicate hunger wherever it exists, whether that's here at home in the local community or in communities around the world."
A former Under Secretary of the U.S. Department of Agriculture, Keenum has made global hunger a priority since returning to Mississippi State as president in 2009. Earlier this year, he was appointed chairman of the Board for International Food and Agricultural Development. He also is chairman of the Foundation for Food and Agriculture Research Board of Directors.
George Hopper, dean of MSU's College of Agriculture and Life Sciences, emphasized during the ceremony the garden's important role as a living classroom for MSU students.
"The MSU Community Garden provides an excellent opportunity for our students to be involved in food production at the local level. We are always looking for opportunities to train them and impart necessary life skills," Hopper said. "This not only teaches valuable life lessons but encourages students to be ambassadors for agriculture locally, nationally and globally."
Angi Elsea Bourgeois, dean and professor in MSU's College of Architecture, Art and Design, said the garden gives students a chance to make a positive and lasting impact on the university community.
"This opportunity for cross-college collaboration creates a beautiful and meaningful impact on the Mississippi State community," Bourgeois said. "Not only does the garden itself provide a place for students across campus to experience community while engaging in micro-gardening, it also provides our students in both CAAD and the College of Agriculture and Life Sciences a chance to use their shared expertise in design to create a positive lasting mark for future students."
Spearheaded by Cory Gallo, associate professor of landscape architecture, the garden is located adjacent to the EPA raingarden at the landscape architecture complex on Stone Boulevard. The garden includes eight accessible planters and 19 large raised planters. Approximately 50 students, faculty and staff were selected as the first gardeners earlier this fall on a first come, first served basis and now manage beds flush with a mix of fall produce.
Additionally, the space serves as an outdoor laboratory for sustainable/healthy food courses on campus and as a research site for the Mississippi Agricultural and Forestry Experiment Station. The garden also includes two autonomous farming robots, or "Farmbots," operated by the Students for Sustainable Campus organization. Each Farmbot maintains its own 5' by 10' bed. Two 2,000 gallon cisterns harvest rain water and condensation from a nearby air conditioning unit, and compost for use in the garden is collected from dining halls and Campus Landscape.
The garden is a cross-campus collaboration between several academic entities, two administrative units and three student organizations. Student organizations include MSU Student Association, MSU Graduate Student Association and Students for a Sustainable Campus. Academic units include the departments of Landscape Architecture; Plant and Soil Sciences; Food Science, Nutrition and Health Promotion; Art (graphic design concentration); Building Construction Science and the School of Architecture. Administrative units include the Office of Planning Design and Construction Administration and the Department of Health Promotion and Wellness. Additionally, MSU Facilities Management and the Mississippi Agricultural and Forestry Experiment Station volunteered their time and expertise while the MSU Extension Service contributed funds.
For more information, visit communitygarden.msstate.edu or www.instagram.com/msucommunitygarden