MSU assistant professor earns national teaching award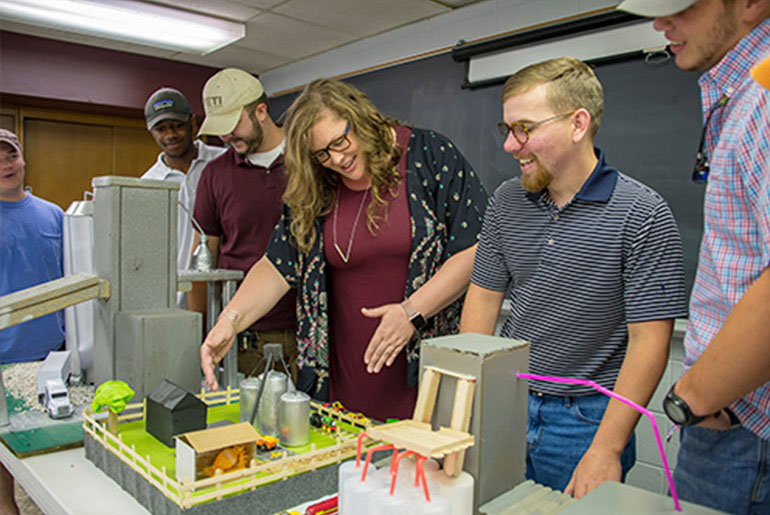 The Poultry Science Association recently has recognized a Mississippi State assistant professor for teaching excellence.
Kelley Wamsley is this year's selection for the PSA Early Career Teaching Award, presented during the 107th Annual Poultry Science Association Meeting this summer in San Antonio, Texas. Accompanied by a $1,000 stipend, the award spotlights the achievements of poultry science members within the first six years of their careers in four categories—teaching, research, extension and industry.
A faculty member in MSU's Department of Poultry Science and researcher with the Mississippi Agricultural and Forestry Experiment Station, Wamsley currently directs two doctoral students, one master's student and 10 undergraduate researchers. Since joining MSU in 2012, she has taught four upper-level or split-level courses and two upper-level lab-based courses. She also is co-advisor on a departmental study abroad program, in which students travel to New Zealand to learn about that country's culture, agriculture and poultry industry.
Wamsley said teaching is a chance to pay it forward.
"I have always had passionate educators and mentors and they helped shape me into the person that I am today. I believe the best gift I can give these special people is to pay it forward. I have the potential to impact students in the same way teachers have impacted me," Wamsley said.
Professor Chris McDaniel, one of several people who recommended Wamsley for the award, highlights how her unconventional but effective approach in the classroom sets her apart as an educator.
"Dr. Wamsley teaches students how to learn through various in-class activities. For example, she has students complete the Myers-Briggs personality assessment and organizes them into groups based upon their personality types to improve teamwork and logic skills," McDaniel said. "In her feed manufacturing course, students design and build three-dimensional models of their own feed mills. This task alone indicates her devotion to ensuring that students don't just memorize to pass tests, but rather rationally analyze new information and formulate new solutions."
Wamsley said her approach in the feed manufacturing course was inspired by the board game Cranium. She designed the course around the game's four categories (data head, word worm, creative cat and star performer.)
"The data head and word worm portions of the feed mill project focus on incorporating lectures and key concepts that were covered throughout the semester into the students' own feed mills. Creative cat happens with the design and modeling of the mills and star performer centers on students presenting their work at the end of the semester," Wamsley explained. "By grouping students with different personalities and strengths together and incorporating these four elements, it gives each student an opportunity to shine."
Recent doctoral graduate Mark Lemons also received a PSA Graduate Student Award of Excellence at the same event. He graduated this past spring with Wamsley as his major adviser. Lemons is now a staff nutritionist at Sanderson Farms.
"We are thrilled about Dr. Wamsley's recognition. She is truly an outstanding teacher, with innovative techniques for engaging students and challenging them to enhance their desire to learn," said Mary Beck, MSU professor and head of the Department of Poultry Science.
"Additionally, under Dr. Wamsley's leadership, Dr. Mark Lemons excelled in his doctoral program and earned the Graduate Student Award of Excellence based on the scientific merit and quality of his presentation. We are proud of his achievement and look forward to seeing his impact on the industry."
For more about the College of Agriculture and Life Sciences' poultry science department, visit www.poultry.msstate.edu.