MSU doctoral student awarded prestigious NASA fellowship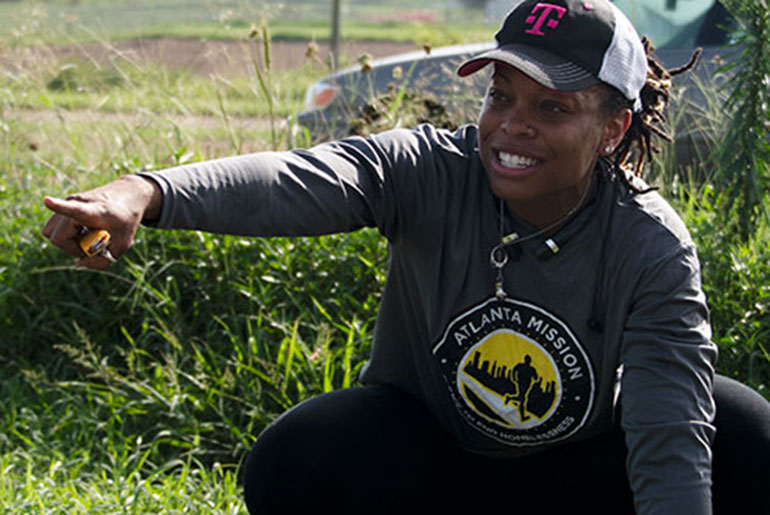 A doctoral student in MSU's College of Agriculture and Life Sciences is receiving a prestigious NASA/Mississippi Space Grant Consortium Graduate Research Fellowship.
Shandrea Stallworth is the recipient of the $20,000 award designed to help produce engineers and scientists of the future. The fellowship will provide support for Stallworth's research and academics, as well as a K-12 outreach project.
Stallworth, who is pursuing a Ph.D. in plant and soil sciences, said the grant will assist in her research efforts in gene discovery utilizing weeds as a resource for finding stress tolerant traits in rice. As part of the K-12 outreach component of the fellowship, she hopes to communicate those research efforts to local fifth graders using emerging technology.
"Through developmental modeling software and an adjustable imaging system, the students will see how rice responds to environmental stressors," Stallworth said. "Not only will they be able to grow rice, they will also see 360 degree, time-lapse videos of the process, including how rice responds to extreme temperatures and other abiotic stressors."
The Biloxi native has received several recognitions for her research. In 2017, she received the American Society of Plant Biology (ASPB) Graduate Travel Award to attend the organization's annual meeting in Hawaii. She serves as an early career representative for the ASPB Science Policy Committee. She also recently placed first in the Ph.D. Graduate Research Poster Competition at the national Minorities in Agriculture, Natural Resources, and Related Sciences (MANRRS) conference. In January, she was sponsored by Bayer Crop Science to attend the National Association for the State Departments of Agriculture policy meeting in the nation's capital. She also attended the Plant Science Research Network's workshop in Baltimore, Maryland, last fall.
Paul Tseng, assistant professor in plant and soil sciences, serves as Stallworth's major professor. He spoke to her commitment and drive as a student and researcher.
"Shandrea has presented her research at numerous internal, regional and national meetings and conferences," Tseng said. "She shows genuine excitement for her research project and interacts with faculty and students in a mature, professional manner. She is diligent, thoughtful and meticulous in her approaches to the research tasks presented to her."
Stallworth earned her bachelor's degree in plant science and biotechnology from Fort Valley State University in Fort Valley, Georgia, and a master's in plant breeding and genetics from Auburn University, where she was active in MANRRS at the national level. She is currently a member and mentor within the MSU chapter of MANRRS.
For more information on the Department of Plant and Soil Sciences in MSU's College of Agriculture and Life Sciences, visit www.pss.msstate.edu. To learn more about MSU's chapter of MANNRS, visit www.manrrs.org.msstate.edu.