MSU investment workshop offers boost for rural businesses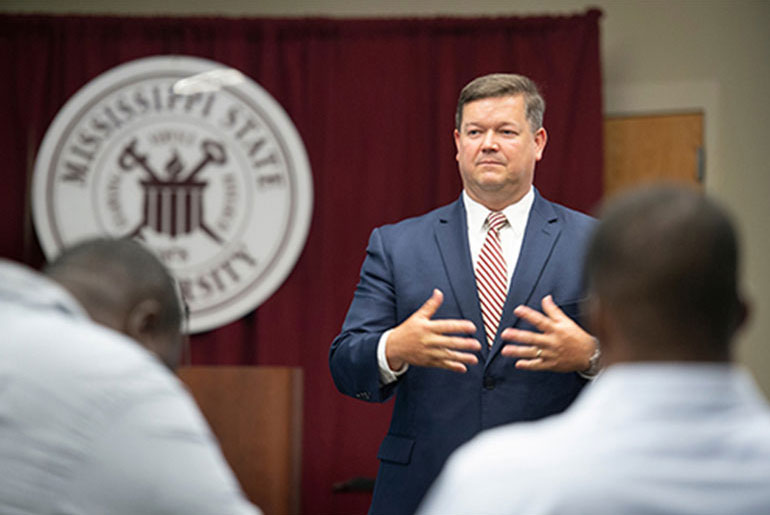 More than a dozen regional small business owners convened with investors from around the country on Thursday [June 21] at Mississippi State University.
The Rural Opportunity Initiative-Mississippi State University Rural Investment workshop spotlighted regional business owners and gave them the chance to pitch about why their business models are investment ready.
"One of the goals of the workshop and the initiative is to help put rural businesses on the radar of investors who might be unfamiliar with the business landscape in rural states," said Steve Turner, director of the Southern Rural Development Center and MSU professor of agricultural economics.
Fifteen small businesses throughout the Magnolia State and surrounding region were represented at the event, hosted by Mississippi State's colleges of Agriculture and Life Sciences and Business.
From making crackers and casseroles to connecting communities, proprietors included local culinary establishments as well as companies focused on issues such as rural internet access, energy and fuel efficiencies and global food safety. Many pitched their capital needs during a 'Shark Tank' style panel of investors. There also were seminars to help business owners better understand what defines a good investment and what makes a business ripe for investing. The invited businesses were identified by Mississippi State University, Mississippi Development Authority, USDA Rural Development and other economic development partners as established businesses with unique growth potential.
One of those businesses was No Time 2 Cook, founded in 2005 by Karen Kurr. The Oxford, Mississippi-based company produces southern-inspired frozen meals from scratch using whole food ingredients. Kurr's products have been in area Kroger stores since 2013, and last year the business was selected by Walmart for inclusion in stores in Western Tennessee, Arkansas, Louisiana, Mississippi and Alabama starting this fall.
"As a mother who raised two children, I understand firsthand how hard it is to get a wholesome meal on the table every evening. When I started No Time 2 Cook, I realized I had a love for cooking and producing and developing new products. I have a passion for bringing families back to the dinner table. My love and my passion became No Time 2 Cook, and now my business and I find ourselves in the middle of a $22 billion dollar industry."
She said the workshop provided essential insight and was a great chance to connect with investors.
"We hope to further these conversations," Kurr said.
John Rounsaville, state director for the USDA Rural Development in Mississippi and MSU alumnus, keynoted the day's luncheon. The agency focuses on improving economy and quality of life in rural America. Rounsaville described capitalism and entrepreneurship as two vital engines to help rural communities in Mississippi realize their potential and said today's event was a step in the right direction.
"This was an opportunity to connect entrepreneurs with several resources. I see this as something that will continue to grow," he said. "Hearing these business plans and knowing they connect with some of the programs we have is exciting. I want to help figure out what we may have in our tool box to assist these entrepreneurs."
The Rural Opportunity Initiative aims to serve rural American communities by driving financially and socially sustainable rural development. It originated with a former senior advisor to the Obama administration's United States Department of Agriculture, Matt McKenna, who has partnered with Georgetown's McDonough School of Business and the Georgetown Global Social Enterprise Initiative, to help businesses be forces for good by creating social, economic and environmental impacts that will involve private, public and nonprofit leaders working across multiple sectors.
Learn more about the College of Agricultural and Life Sciences at www.cals.msstate.edu and the College of Business at www.business.msstate.edu.
In addition to Mississippi State University, ROI is also partnering with other land-grant institutions, Iowa State University and Purdue University.