MSU landscape architecture faculty member receives national award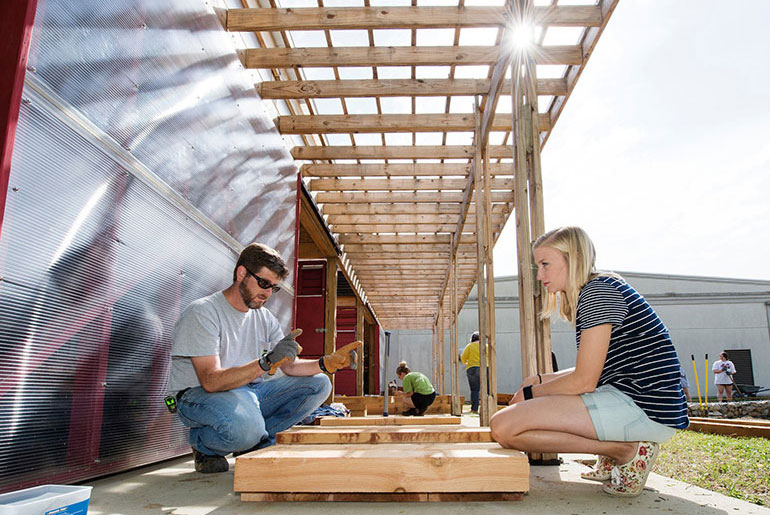 A Mississippi State University faculty member is being recognized nationally for his role in teaching the next generation of landscape architecture professionals.
The Council of Educators in Landscape Architecture is honoring Cory Gallo, associate professor of landscape architecture, with the 2018 CELA Faculty Award of Excellence in Service Learning, Junior Level.
Each year, winners are selected by a jury of the Council of Educators in Landscape Architecture. Gallo was presented with the award at the organization's annual conference recently held at Virginia Tech.
The service-learning award honors a faculty member's accomplishments in the area of outreach and service-learning education at the junior faculty level with three to 10 years of teaching experience. Gallo has been with the university since 2009.
Sadik Artunc, landscape architecture professor and department head, nominated Gallo for the award. Artunc emphasized Gallo's ability to bring service learning to the next level in the classroom environment.
"Cory incorporates service learning and outreach endeavors seamlessly into both design and construction studios; he is adept at recruiting, training and engaging community partners and allied professionals to work alongside students in these projects and executes well-planned reflections at the end of the projects as a critical and necessary component of service-learning pedagogy," Artunc said.
Student-centric service-learning projects led by Gallo have garnered numerous national and regional awards in recent years. In 2017, the MSU raingarden, funded by a $20,000 U.S. Environmental Protection Agency grant, won a national award from the American Society of Landscape Architects in the student collaboration category. In 2015, the READ sculpture at the Starkville Public Library received a national honor award in the community service category from the same organization. That same year, the Oktibbeha County Heritage Museum received an EPA Region 4 Rain Catcher award, which recognizes excellence in the implementation of stormwater green infrastructure. All three initiatives were service-learning projects completed by students who contributed to the betterment of the local community.
"Service learning is a central part of the culture of our department and the nature of our program," Gallo said. "There is a great deal of ownership for the students involved in these projects. Not only is what they learn invaluable, in terms of discovering how to adapt design to real-world constraints, they also know their work will have a lasting impression on whoever uses the space long into the future."
Gallo also serves on the MSU Campus Design Review Committee and as a board member for the Oktibbeha County Heritage Museum. He also is helping spearhead the installation of a community garden at MSU.
Gallo received his Master of Urban Design from the University of Michigan and his Bachelor of Landscape Architecture from Louisiana State University. He is the second MSU landscape architecture faculty member to receive an award from CELA in recent history. Professor Michael Seymour was recognized in 2012 for an Excellence in Teaching, Junior Level, award.
The MSU landscape architecture department in the College of Agriculture and Life Sciences includes majors in landscape architecture, landscape contracting and management, as well as a dual degree option that combines both majors. It is the only accredited bachelor of landscape architecture degree program in the three-state region of Alabama, Mississippi and Tennessee. Learn more at lalc.msstate.edu.