Our People: Emma Neigel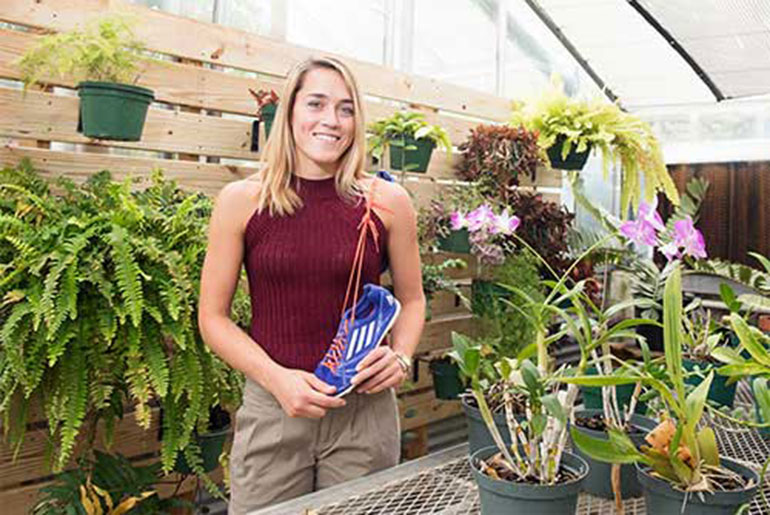 For Emma Neigel, a path to Mississippi State was unlikely. She grew up in the farming community of Athabasca, Alberta, a place so small that it didn't have a movie theater. There was no track team in town or a track for the promising runner to use.
A summer job at a local greenhouse helped open the door to Mississippi State. MSU' head cross-country coach Houston Franks, who planned to recruit Neigel, just happened to be the son-in-law of Neigelís employer.
"The nursery's owner gave Coach Franks my number when she found out he was interested in recruiting me. He was looking at who made big improvements from season to season, and my name was on the list," she said. "Had he not known my boss, it would have been pretty hard for him to find my number, given that I live in such a small town so far north."
Now a horticulture master's student, Neigel first found her way to MSU through this track-and-field opportunity and a scholarship.
During her junior year, she broke the school record for the 3K steeplechase, an obstacle race that draws its name from a similar event in horseracing. This past summer, Neigel represented Team Canada in the Francophone Games, an international competition comprised of French-speaking nations, held in Abidjan, Côte d'Ivoire, Africa.
"It was a thrill to be on my first national team," she said.
Neigel got into running when her mother hired a personal trainer. Trainer Bud Ottosen mentored Neigel through high school as her running coach. While most high school track athletes perform at multiple meets across two seasons, Neigel competed in about four races a year.
"I participated in two regional meets and two provincial meets a year. National meets were too expensive because they were so far away," Neigel said.
Because of the cold winters and lack of a nearby track, she quickly discovered that using a treadmill was one of the easiest and best ways for her to train.
When Neigel arrived at Mississippi State, training kicked into high gear during the hot, humid climate of a typical August in the Magnolia State.
"I was used to cool and dry weather, so the heat and humidity were a shock to my system. That first year was pretty intense. I ran more miles than I had ever run, and everything was very different," she said.
Still, Neigel persevered. She competed as a student athlete in track and field while earning her bachelor's degree in horticulture in 2015.
After graduation, she spent six months interning at the National Tropical Botanical Gardens in Kauai, Hawaii. It was there she realized she wanted to return to Mississippi State for a master's degree.
Today, as part of her graduate research, she is mapping the state's milkweed population, a flowering plant essential for pollinators like the monarch butterfly and honeybee. She hopes to determine best habitats for future planting.
Neigel is under the direction of Richard Harkess, plant and soil sciences professor in the College of Agriculture and Life Sciences. She also is working with John Rodgers, professor and interim head in the Department of Geosciences. Her geosciences minor led to a study aboard in San Salvador, Bahamas this past summer.
As for future plans, Neigel will keep working on both academic and athletic passions. She hopes to graduate in 2018 and has her sights set on bigger athletic ambitions.
"I hope to make it onto another national team," she said. "You have dreams, and they may seem out of reach, but at the same time you feel like you could do it, so you just have to do your best."