MSU student raingarden collaboration garners national recognition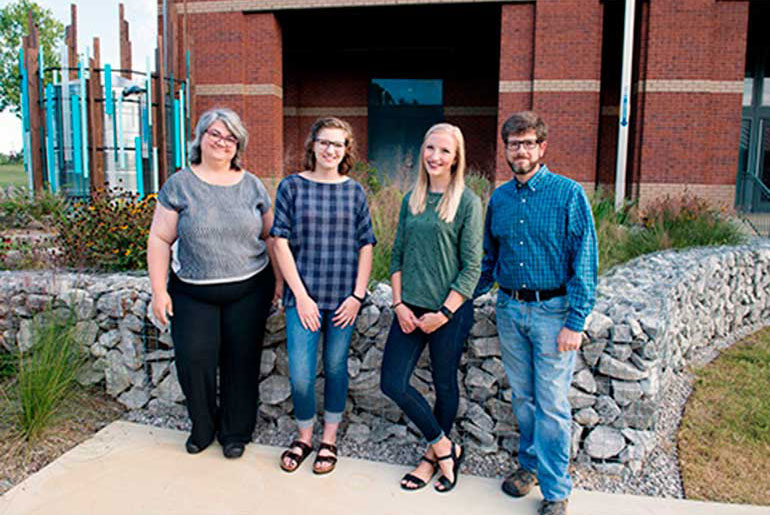 Mississippi State University is receiving a national award from the American Society of Landscape Architects.
The MSU raingarden, funded by a $20,000 U.S. Environmental Protection Agency grant, has been honored in the society's student collaboration category. MSU team members accepted the award at the society's annual meeting and expo in Los Angeles this week [Oct. 20-23].
Cory Gallo, associate professor in the Department of Landscape Architecture, said landscape architecture and graphic design students worked side-by-side throughout the process of building a sustainable water management demonstration garden.
"The concerted effort wrapped up during a cross-college design/build class this spring," said Gallo, who led the class alongside Suzanne Powney, assistant professor in graphic design. "Both landscape architects and graphic designers partner often in the real world and each discipline fosters different perspectives. This project gave students a chance to learn from each other by viewing the same problem from different angles."
Gallo also said several others played a vital role, specifically MSU Facilities Management.Tommy Verdell Jr., associate director of MSU Facilities Management, said the experience was a chance for his team to help out in the classroom.
"We were privileged to be a part of that whole academic enterprise and to see the skills of the students develop and grow," Verdell said.
Rodney Barksdale, carpentry supervisor, also was involved in the work.
"The best part was being able to interact with the students to share what I've learned over the years and then see them put the pieces together," Barksdale said.
Caitlin Buckner, a landscape architecture senior and Starkville native, said the experience taught her several new skills including "how to fit pipes, cut boards and make water flow out of the cistern."
Graphic design senior and Madison, Alabama native, Lauryn Rody, said the project opened her eyes to options within the graphic design field."We had to demonstrate how the garden worked and employ processes like wayfinding. It went much further than the basic principles of graphic design," Rody said.
Other MSU collaborators on the garden included the Bagley College of Engineering; Mississippi Agricultural and Forestry Experiment Station; College of Agriculture and Life Sciences; College of Architecture, Art and Design; and the Water Resources Research Institute.
Photo Above: Raingarden project leaders include (l-r) Suzanne Powney, assistant professor in art and graphic design; Lauryn Rody, senior art major with a graphic design concentration; Caitlin Buckner, landscape architecture senior; and Cory Gallo, associate professor in landscape architecture. Powney and Gallo led the design/build class last spring; Rody and Buckner attended the class as juniors. The class put the final elements in place for the raingarden.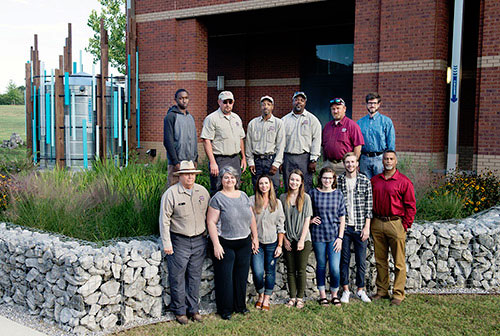 Facilities Management staff, faculty and students who helped build the award-winning raingarden include: (top, l-r): Timothy Johnson, Wade Ray, Douglas Dumas, Stanley Carpenter, Rodney Barksdale and Cory Gallo; (bottom, l-r): Joe Keeton, Suzanne Powney, Maddie Marascalco, Amy Farrar, Lauryn Rody, John-Taylor Corley and Tommy Verdell Jr. (Photo by Megan Bean)