MSU agronomy student provided 'Golden Opportunity'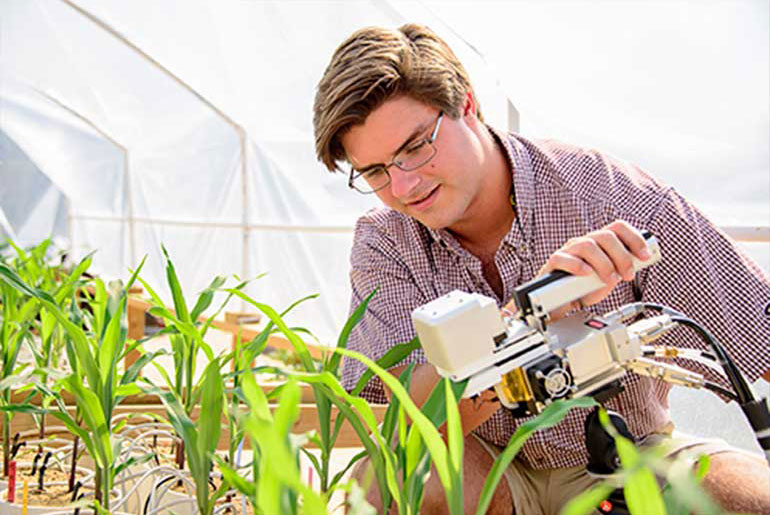 A Mississippi State University agronomy graduate student has been selected into the Golden Opportunity Scholars Institute, a program of the American Society of Agronomy, Crop Science Society of America and Soil Science Society of America.
Charles Hunt Walne of Collierville, Tennessee, is the first Mississippi State student to receive the honor.
The Golden Opportunity Scholars Institute selects 14-15 students throughout the globe and pairs them with professional mentors during the society's annual meeting. Walne will attend the "Managing Global Resources for a Secure Future" conference Oct. 22-25 in Tampa, Florida. In addition to networking opportunities, selected students present their research findings and receive financial support to attend the annual meeting.
The professional development program is aimed at cultivating future leaders in the agronomy, crops and soil science professions. Students are chosen based on their academic achievements, research, leadership and interest.
Walne worked as an undergraduate research scholar in MSU's College of Agriculture and Life Sciences. He studied drought tolerance of corn in the Mississippi Agricultural and Forestry Experiment Station's Soil-Plant-Atmospheric-Research Units, working under the direction of Raja Reddy, MSU research professor in plant and soil sciences. He also served two years as a student senator for the College of Agriculture and Life Sciences and vice president of the MSU Student Association during the 2016-2017 school year.
"I had the opportunity to mentor Hunt in his undergraduate research scholar program and now serve as his major professor in his graduate studies," Reddy said. "Hunt works really hard and has a strong desire to succeed. He has the utmost ethics in research and unparalleled leadership abilities."
Walne graduated in May 2017 with a Bachelor of Science in Agronomy. His experience as an undergraduate research scholar sparked a curiosity in research. Now, as an agronomy graduate student, his research on drought and flooding stresses in corn hybrids could assist producers in determining the best seed to plant in less-than-favorable conditions.
"This opportunity is a testament to the quality of our programs in agriculture and environmental science at Mississippi State University," Walne said. "MSU has faculty and students working every day to solve problems in agriculture that affect us here in Mississippi, as well as those around the world."
The agronomy major in the College of Agriculture and Life Sciences includes concentrations in integrated crop management, integrated pest management, golf and sports turf management and agricultural and environmental soil sciences. To learn more about the major, visit online at www.pss.msstate.edu.