State equine association names room in MSU Animal and Dairy Sciences Building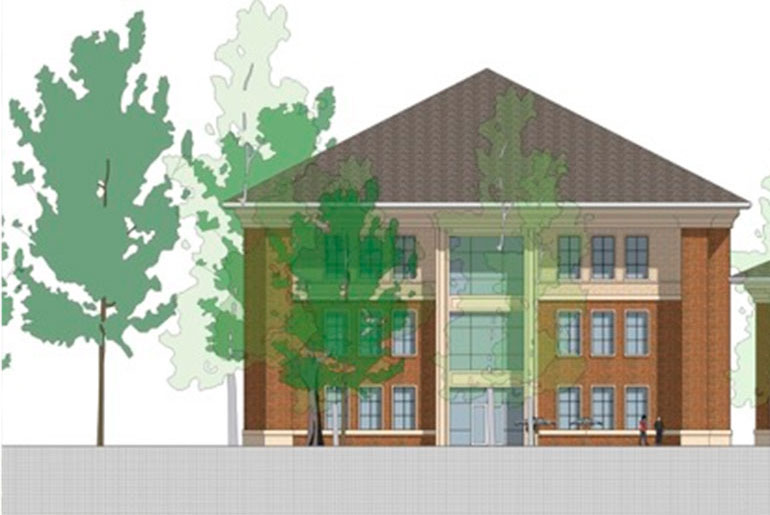 The first gift toward an anticipated Animal and Dairy Sciences Building slated to open in spring 2019 on the Mississippi State University campus comes from a state horse-owner organization.
For their $25,000 contribution, the food retail room on the first floor of the new facility will be named for the Mississippi State Equine Association. An affiliate of the Washington, D.C.-based American Horse Council, MSEA is a statewide network of horse owners dedicated to improving the quality of life for state equine and horsemen through education and information programs.
"As the first of its contributors, we want to encourage other individuals and organizations to have their names associated with the Animal and Dairy Sciences Building in this manner," said Executive Director James H. Watts of Brandon. "We are pleased this contribution will become part of our long history of support within our state."
MSEA works closely with Mississippi colleges and universities, as well as county boards of supervisors. At Mississippi State, the association also supports scholarships and the Extension Service's 4-H Therapeutic Riding and Activity Center.
MSEA President James Rasberry of Kosciusko further explains the motivation behind the organization's gift, saying, "Our organization assists Mississippi State when possible, and this building will help the university's faculty address challenges facing our state's livestock industries."
The building is currently under construction near the corner of Stone Boulevard and Blackjack Road in front of the Wise Center. The relocation of the program from its current occupancy of the fourth floor of the Wise Center will enhance and grow teaching and research capabilities. The three-story building will contain some 34,500 square feet of offices, conference rooms, classrooms and labs.
Once complete, the Animal and Dairy Sciences Building will help form an L-shape complex. The remaining buildings within the complex are a newly constructed 15,000-sq.-ft. Meat Science and Muscle Biology Laboratory opening this fall and a two-story 26,500-sq.-ft. Poultry Science Building anticipated for completion in spring 2020.
"The initial gift from the Mississippi State Equine Association will help spark other contributions for the building that can assist with future operations for the facility, as well as benefit learning and research at Mississippi State," said Jud Skelton, director of development for the university's College of Agriculture and Life Sciences. "We are actively working with alumni, friends and industry partners and feel many of them will link their names with these much-needed facilities."
Along with select features for the three facilities, interested individuals also can name the buildings and/or the multi-purpose building connector. For more on supporting facilities for the College of Agriculture and Life Sciences, contact Skelton at 662-325-0643 or email jud.skelton@foundation.msstate.edu.