MSU students, local kindergartners envision playground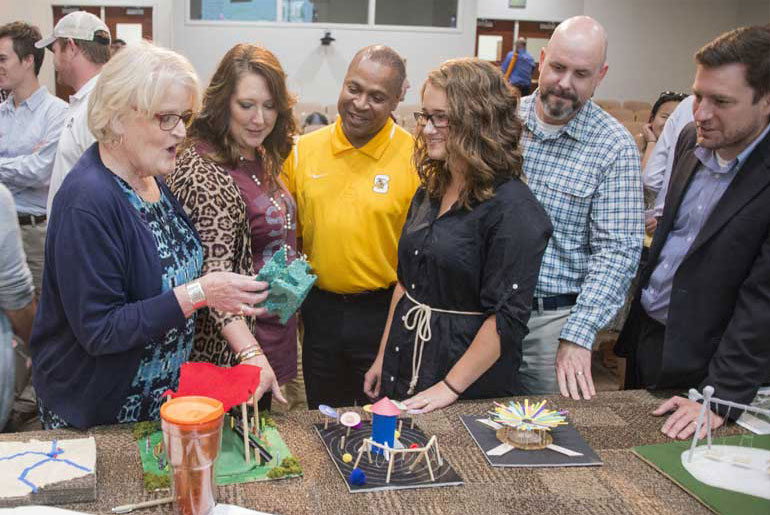 Mississippi State University students collaborated with students from Starkville Oktibbeha School Districtís Sudduth Elementary School to envision a master plan for a playground.
Last week, the landscape architecture department in MSU's College of Agriculture and Life Sciences was abuzz with activity during their annual Design Week. It was all hands-on design while teams of students made up of freshmen through seniors and graduate students spent the week designing playground ideas for the local school.
To kick off Design Week, the department coordinated with the school principal, county superintendent and local stakeholders to host a design charrette. The charrette was a visual input session where children and parents drew out their ideas of adventures and activities that they wanted to see come alive. The week culminated in the eight teams presenting their designs in front of community stakeholders, faculty and peers at Bost Auditorium on the MSU campus.
Landscape architects from Memphis-based landscape architecture firm Dalhoff Thomas Design Studio were onsite all week to mentor MSU students throughout the intensive design practicum. Future plans include collaboration with the firm to implement some of the design elements at Sudduth Elementary in Starkville and West Elementary in Sturgis.
Peter Summerlin, assistant professor and faculty lead on this year's Design Week, said in addition to the charrette, MSU students visited the site and reviewed parent and teacher surveys.
"The students weaved that preliminary work into designs that met the opportunity and constraints of the site while bringing the imagination of the elementary students to life," Summerlin said. "The faculty is pleased with the results—all of the students did a phenomenal job."
Summerlin pointed out that the vertically-integrated teams gave students of all backgrounds and skill levels a chance to work collaboratively on a large project in a short span of time. One such student was senior landscape architecture major Danielle Griffin of Clayton, North Carolina, who served as a team lead on a story-book themed design.
"This project was all about idea generation; putting ideas on paper and seeing how far we could take them," said Griffin, whose team design included a dragon castle, pirate ship and enchanted forest. "It's exciting to present something that can benefit students, teachers and the community that's not only fun but also promotes learning and physical activity."
Kenneth Langley, a parent whose daughter attended Sudduth last year helped lead the charge to have Sudduth's playground be a part of MSU's Design Week. Langley, a landscape architecture alumnus, is part of a parent task force focused on health and fitness. The group works closely with Sudduth administration and Parent Teacher Organization to implement initiatives. Their first project includes constructing a fence between the parking lot and playground, so students can play outside during morning drop-off. The committee also is focusing on playground design.
"The school uses the playground during the day and it's open to the community on the weekends and during the summer so any investment you make into the space will fulfill two needs within the community," said Langley, who emphasized the spirit of collaboration on this project. "When the community gets the chance to voice their opinion and throw out ideas, especially the children, on something as fun and as opportunistic as a playground, itís pretty special."
SOSD Superintendent Eddie Peasant was especially happy to see opportunities for education included in the design.
"We understand that every minute a child is in our charge represents an educational opportunity. These designs incorporated education in unexpected and imaginative ways," Peasant said.
Elizabeth Mosley, principal at Sudduth Elementary School, was equally impressed.
"The quality of work the students have done is phenomenal. I can hardly wait to put some of these elements to good use. I think the children and community will really benefit," she said.
Gabrielle Mills, principal of West Elementary of nearby Sturgis also was in attendance.
"The work the MSU students have done in this short amount of time is amazing," she said. "I think they've incorporated a lot of various things the kids need from academics to free play to areas that stimulate their imagination and creativity."
The landscape architecture department includes majors in landscape architecture, landscape contracting and management, and a dual degree option that combines both majors. Find out more at www.lalc.msstate.edu.