Our People: T.J. Bradford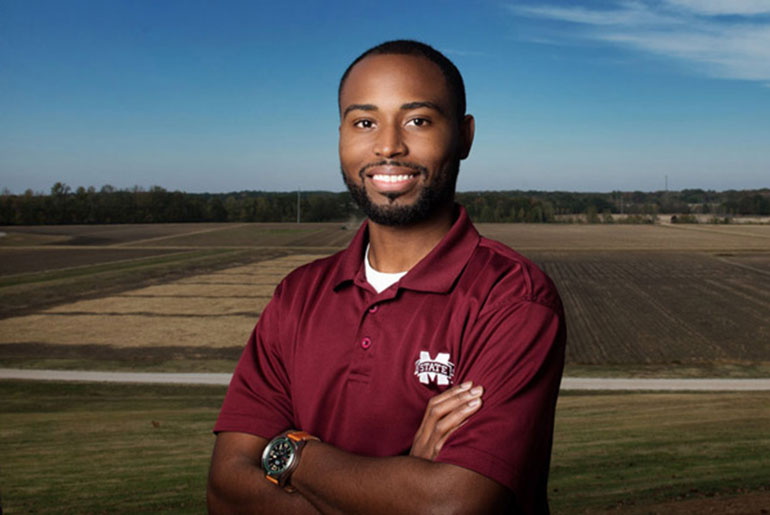 When Timothy Bradford Jr. was a small child, he thought farmers had magical powers.
"I watched my dad plant seeds in the ground, and then a few days later crops would emerge," Bradford remembers. "From that point on, I became enamored with how plants grow—how that tall plant can come from this small seed."
That childlike wonder parlayed into a passion for agricultural education.
Bradford grew up in agricultural family. His father, Timothy Bradford, Sr., taught agriculture in high schools and vocational centers for 23 years. Both men now farm the family land in Isola, a small town in the heart of the Mississippi Delta. They grow mostly butterbeans, peas and watermelons on land that's been in the Bradford family for 150 years.
The younger Bradford's fascination with farming led him to follow in his father's footsteps to a career in agricultural education. He teaches as a plant and soil sciences instructor in the new precision agriculture certificate program in Mississippi State's College of Agriculture and Life Sciences.
At age 17, Bradford began working for the U.S. Department of Agriculture spending summers traveling as a soil scientist to places like Wyoming, Florida and Pennsylvania. After graduating from Hinds Community College with an associate's degree, he came to MSU where he completed bachelor's, master's and doctoral degrees all focused on some aspect of agriculture.
His Ph.D. work brought his passion for teaching ag to the foreground. For his dissertation, he evaluated how students best learn agronomy. He worked with students across three high schools, separating the students into two groups with one group receiving lecture only and the other having classes outside and growing crops in a high tunnel.
"Students who had access to the high tunnel scored at least 12 points higher overall than the group that received the lecture only," he says, adding that the higher-scoring students also started a garden club.
Bradford brings that hands-on approach into the lab at MSU.
"Precision ag is decision ag. It's about trying to quantify the unseen. In the lab, we practice evaluating all of the unknowns in any given field with the end goal of making the best decisions possible for each specific scenario," he says. "My teaching goal is to provide students with real-world experience in precision ag that enables them to think critically and have the confidence and skill set to apply different concepts of precision ag in actual field settings."