Our People: William and Julie White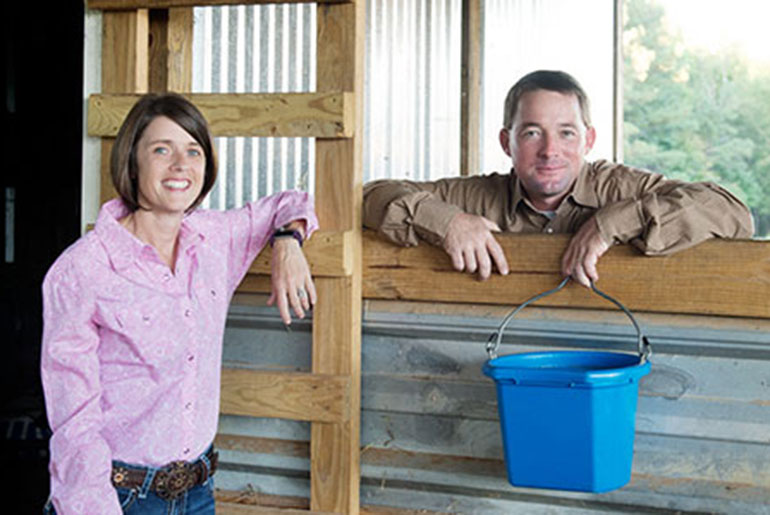 Agriculture has always been a part of the lives of William and Julie White. Today, they are both involved in advancing the field at Mississippi State University and throughout the state of Mississippi.
William has been the facilities coordinator for the H. H. Leveck Animal Research Center, commonly known as South Farm, since 2009. "I have my dream job and enjoy working with our faculty, students, and farm crews," he said.
Julie has been part of MSU Extension Service for 17 years and has worked in the School of Human Sciences since 2015 to promote agricultural literacy through a program called FARMtastic. FARMtastic gives youth across the state the opportunity to experience Mississippi's agriculture in an interactive environment while teaching them of its importance in their everyday experiences.
"I was raised on a farm, and agriculture is one of the things I'm passionate about. That's why I chose the career I did. It allows me to teach children and show them the importance of agriculture to their daily lives," Julie said.
The Whites met while in college. Similar interests and being members of the MSU livestock judging team (William) and dairy judging team (Julie) provided extra opportunities for them to see each other.
William and Julie both earned degrees from MSU in agriculture-related disciplines. William, a Stewart native, received a bachelor's degree in animal and dairy sciences in 2000. Julie, originally from Denham Springs, Louisiana, obtained a bachelor's degree in agricultural education from Louisiana State University in 2000 and a master's degree from MSU in agricultural and extension education in 2003.
The Whites, including their children Matthew and Morgan, lived on South Farm for seven years. They moved to their family beef cattle farm in the Oktoc community in 2016.
William and Julie are active in the Starkville area through Meadowview Baptist Church, Oktibbeha County Farm Bureau, Oktibbeha County Cattlemen's Association and the Starkville Community Market. They were the recipients of the 2012 Mississippi Farm Bureau Excellence in Agriculture Award and Julie is a 2017 graduate of the prestigious American Farm Bureau Partners in Agricultural Leadership program.