MSU poultry science majors chosen for research recognition
Author: Sarah Buckleitner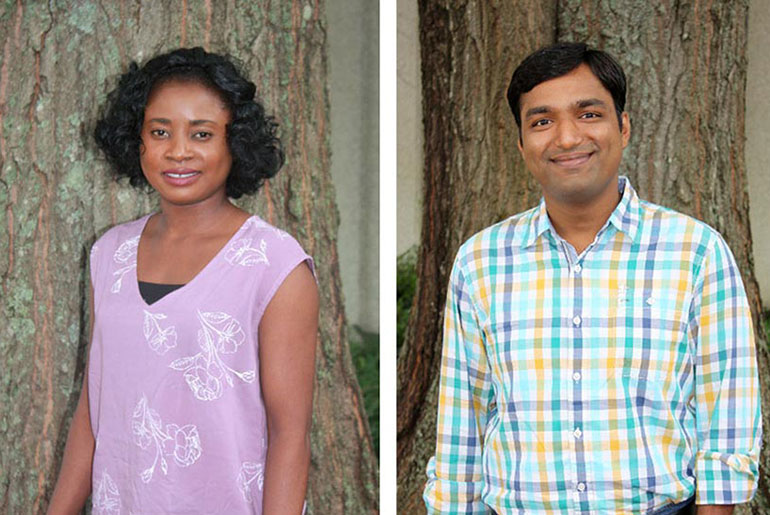 Two Mississippi State graduate students are winners of major research recognitions presented at the 2017 International Poultry Scientific Forum.
Tomilola O. "Tomi" Obe and Mohit Bansal were presented with awards of excellence at the professional gathering held in Atlanta, Georgia. Both are Starkville residents pursuing master's degrees in the Department of Poultry Science in the university's College of Agriculture and Life Sciences.
The annual forum is co-sponsored by the Southern Poultry Science Society, Southern Conference on Avian Diseases and United States Poultry and Egg Association. Its student competition is judged on academic rigor of the research project and a student's ability to successfully communicate its complex details—both traits required for professional success.
Research by the two MSU students involved separate areas of salmonella resistance, with Obe testing whether salmonella resistant to antimicrobials may also have resistance to pH, heat or antibiotics. Bansal looked at the ability of listeria and salmonella with resistance to antimicrobials to resist antibiotics and examined the components of "biofilm" or the coating that pathogens create when they come into contact with antimicrobials. Assistant Professor Aaron Kiess directs their investigations.
A native of Nigeria, Obe received a 2013 summa cum laude MSU poultry science degree with a business management focus.
"Tomi is an incredibly driven individual," Kiess said. "She received her bachelor's degree in poultry science here at Mississippi State and then worked in a processing plant. Her experiences there motivated her to work on a master's degree geared toward helping the industry."
Kiess was equally appreciative of Bansal, a native of India, who he said is also highly motivated. "He has this uncanny ability to come up with novel research ideas," Kiess said.
Mary Beck, poultry sciences department head, also spoke about the students' excellence.
"Each has exceptional potential to conduct meaningful research that should produce significant answers that benefit the general fields of food safety and processing plant environments," Beck said.
Both plan to pursue doctoral degrees—Obe at MSU; Bansal at the University of Arkansas.
Pumping an estimated $6 billion into the state's economy, poultry and egg production is Mississippi's largest agricultural industry.
Mississippi State is among only six U.S. higher-learning institutions currently offering poultry science degrees. Because campus research programs and teaching curricula mirror current maintenance and production practices, the university provides a high percentage of graduates directly to the industry or its allied businesses.
For more about MSU's poultry science department, visit www.poultry.msstate.edu.