Our People: Tessie Wilkerson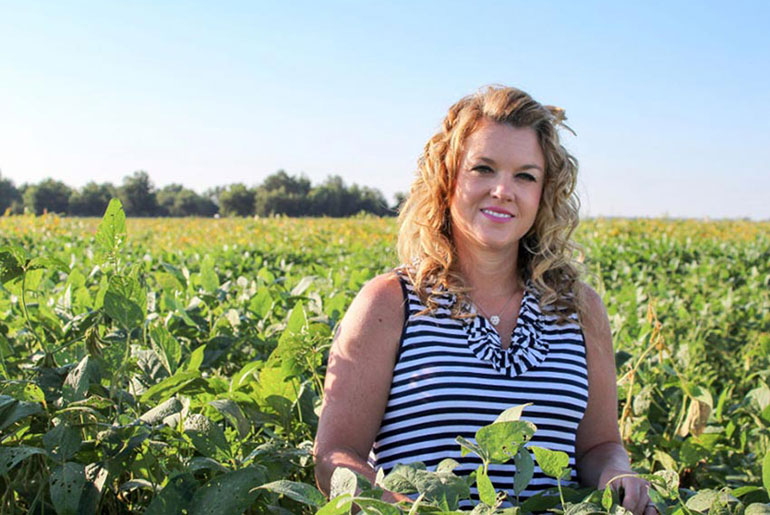 Tessie Wilkerson began her collegiate journey with dreams of becoming a physician. After earning a biology degree at Delta State University, an entry-level research position with an agricultural biotechnology firm completely changed her outlook.
"I took the job during a gap semester and fell in love with research. I loved being outside working with the plants. I knew I wanted to pursue a career in agricultural research," she said.
While working at the firm, Wilkerson earned her master's degree in natural science with an agronomy concentration from Delta State. As a mother with a young son at the time, she decided to put off pursuing a doctorate.
"As I finished my master's degree, my son, Peyton, was at the age when I knew his education and sports were going to take center stage in our lives. I wanted to make sure I would be there for all of those important milestones. Working toward any type of degree can take away from family time, but I knew working on my Ph.D. would require a focused effort," Wilkerson said.
When Peyton was a little older, Wilkerson decided to take the leap and apply to graduate school at MSU. She reached out to Tom Allen, associate extension and research professor, at the Delta Research and Extension Center in Stoneville, Mississippi.
"Dr. Allen encouraged me to apply for the Alan Blaine Doctoral Fellowship," she said. "I was awarded the fellowship, which took a huge burden off of me financially as I pursued my degree."
The fellowship from the Mississippi Soybean Promotion Board helped fund Wilkerson's graduate work in plant pathology for three years beginning in 2013. Wilkerson's main area of research is focused on charcoal rot, a common root and stem disease found in soybean plants.
Both Wilkerson and her son will celebrate major academic milestones this year. Peyton graduates from St. Joseph's Catholic School in Greenville and will enroll at Mississippi State University as a freshman in the fall. Wilkerson graduates with her doctoral degree in August and will begin a position in the Mississippi Agricultural and Forestry Experiment Station as an assistant research professor stationed at the Delta Research and Extension Center soon after.
Wilkerson said support from those around her has contributed to her academic success.
"I have been so very blessed and extremely fortunate to have tremendous support from my family, friends, and colleagues during this journey."
Wilkerson recommends that students embarking on a similar journey celebrate small successes and stay focused on their goals.
"You never know what you can do until you set your mind towards accomplishing that goal. You may think something is impossible, but you just have to dig deep and find that determination within yourself. When you set your mind to something, you can definitely get there."
Biochemistry, Molecular Biology, Entomology and Plant Pathology