Our People: Makayla Brister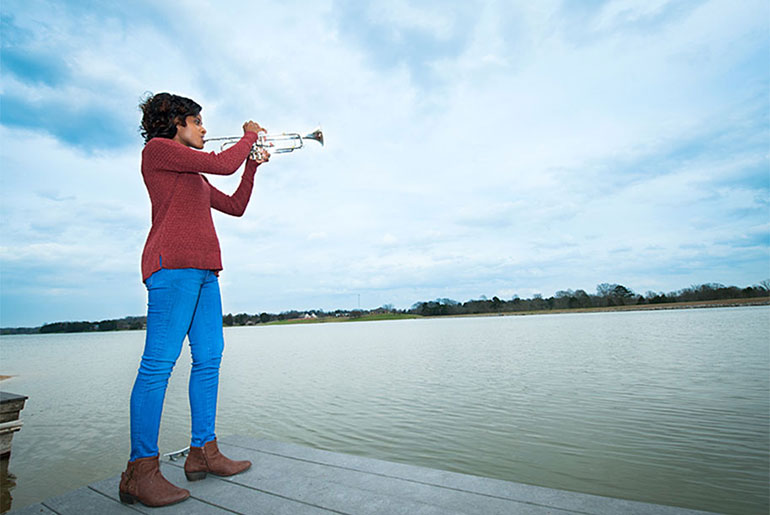 Makayla Brister, a trumpet player in MSU's Famous Maroon Band, identifies with American jazz trumpeter Dizzy Gillespie.
"The way Dizzy played trumpet was unconventional; his style is a little more difficult to play. That's the way I play though, so I feel a connection with his music," Brister explains.
Brister has taken an unconventional approach to academics as well. The dizzying stride of the junior's life includes two majors and numerous extracurricular responsibilities. In addition to playing in the band, Brister is a double major across two colleges. She is a wildlife, fisheries and aquaculture major with a pre-vet concentration in the College of Forest Resources and also an environmental economics and management major in the College of Agriculture and Life Sciences.
"I chose both majors to differentiate myself. The wildlife, fisheries and aquaculture major seemed like a path less traveled to vet school, and the environmental economics and management major seemed like a good way to diversify my skill set so I could have broader career options down the road," Brister says.
The Raymond native also serves as a resident assistant in Moseley Hall.
"I became an RA my sophomore year. That experience has connected me to a lot more people on campus. You get to interact with people you might not have met otherwise, and you learn a lot about yourself, as well as others. You also learn about different cultures and other parts of the country and world."
In two other roles, Brister is focused on recruiting more minorities into the fields of agriculture and natural resources. She serves as an ambassador in the College of Forest Resources and as president of the MSU student chapter of MANRRS, which stands for Minorities in Agriculture, Natural Resources, and Related Sciences.
This summer, Brister will travel to Washington, D.C., as one of 11 MSU students selected for the ninth annual William A. Demmer Scholars Program, a conservation leadership training program funded in part by Wildlife Mississippi. The students will work with federal agencies and non-governmental organizations focused on natural resources, and Brister is scheduled to work for the U.S. Forest Service.
She encourages other students to take their time and pave their own path.
"Go at your own pace. I may graduate a semester later, but I'll have two majors and a lifetime of memories to take with me," Brister says.