Bettering the University: Tyler McMurray
Author: Samantha Neargarder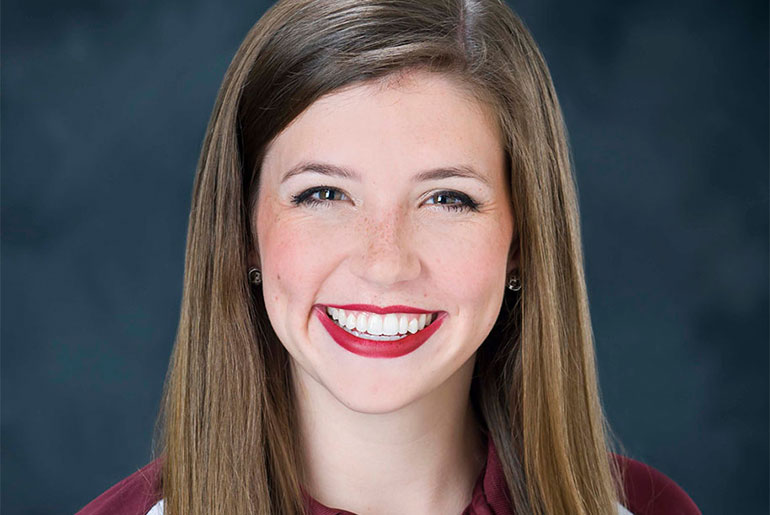 Tyler McMurray, a junior animal and dairy science major, will take the office of Student Association president after today's [February 6, 2017] election, as she is running unopposed.
From Flowood, Mississippi, McMurray is a 20-year-old junior ready to take the seat of president with her campaign focusing on enrichment, engagement and empowerment.
McMurray chose to run for president for many reasons, one being her experience at the Southeastern Conference exchange last year, an event where the student governments of all SEC schools come together.
She saw and heard what other schools do for students and wanted to bring those ideas to Mississippi State University.
When she ran for secretary last year, McMurray described a different mindset she had and felt she should run for president because her motives were different.
"When I ran for secretary it was like I need to do graphics, I need to do a campaign, I have to get this done, get these people on my team…but when I decided to run for president it was like what can I do to better the university," McMurray said.
Her experience through many different organizations has led her to believe she is qualified for this position. Just in SA alone McMurray has been in freshman council and held the positions of co-director of student association late nights and secretary. She had leadership positions outside of SA as an orientation leader, she is involved in the pre-veterinarian club, and is an MSU roadrunner.
Being involved in all of these things, McMurray feels has molded her into the person she is today, and that is why she is running for president.
Running for president takes a lot of time and effort. According to McMurray, she started preparing about a month before Christmas break, getting a team together, and developing a platform. The cost of campaigning can be steep also, given the budget is $1750. However, compared to many other SEC schools, that is a very low number.
McMurray plans to give out phone wallets, and many other campaign materials, all of which can quickly add up.
When McMurray was told she would not be running against another person, she said she had a huge weight lifted off her shoulders.
As the position of president presides over all other cabinet members, McMurray said she wants to start strong.
"Come out guns blazing, and then back off later. I want to have weekly reports where every single officer tells what occurred last week, and then what will happen in the next week," McMurray said. "One of the things apart of my campaign, empower, is something I want to show and empower them to lead."
As one comes in, one must leave; Roxanne (Roxie) Raven is excited for McMurray to take office and to see what she accomplishes. Raven shared a piece of personal experience advice to the incoming president.
"[This is a] really amazing opportunity that takes a lot of responsibility and can get overwhelming, and when it does take a step back, take a deep breath, and remember what your purpose is and that will help motivate you to keep going," Raven said.
Raven said she puts about 60-80 hours a week, depending on the events happening on campus, into her position as SA president. Her relationship with McMurray involved working together on the executive council as McMurray was secretary.
"She [McMurray] was someone I could always go to with something and I knew it was going to be completed fast and efficiently and well," Raven said. "From the moment we started working together I was always really impressed with her ability to be kind to everyone. I've never seen someone able to remember names like her."
McMurray believes a president should be able to empathize and understand with everyone. As president she is more than willing to listen to every student that has an issue, compliment, or complaint and serving people.
McMurray expressed her excitement about MSU throughout her debate, as well as interviews, describing MSU as having "bulldog dust" which makes this campus so great. McMurray felt enchanted when she came to visit her first time, saying everyone showed her love from the administrators, students, or just people walking on the sidewalk.