Our People: Taylor Paine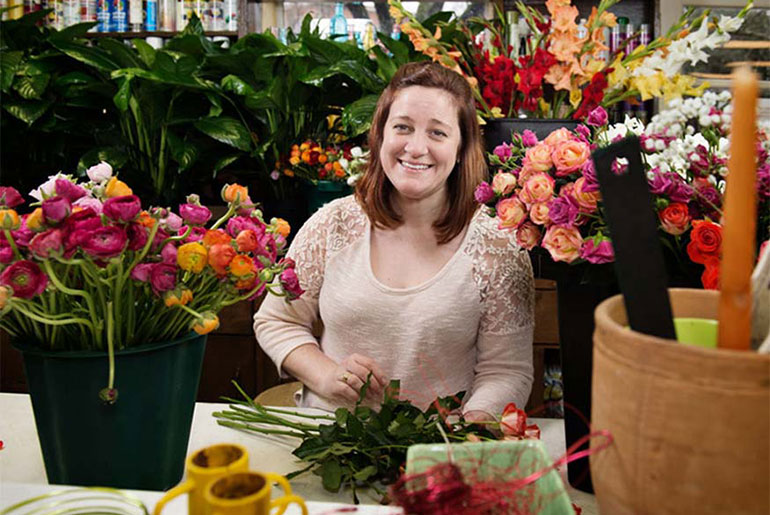 Every season brings something new—especially in the retail florist business—but the love of flowers and fostering student growth are constants for Taylor Paine, who recently joined Mississippi State as the manager for University Florist.
In 2016, Paine moved from Texas A&M University to MSU. She is overseeing the university's longtime shop that also serves as a practicum for horticulture majors concentrating in floral management. The business operates with several paid student employees who help fulfill walk-in orders, and those for weddings, banquets and other special events. Paine emphasizes that while students working in the shop are learning, their floral design work is top-quality and each arrangement is checked and approved by supervisors.
"This shop is not just about getting a paycheck—students are learning a career. This is a teaching facility," she says.
"We don't want people to just think 'Those are nice flowers.' We want to teach our students to do something magnificent."
Paine is planning to finish her master's degree in May in horticulture at TAMU, where she has also worked at the Benz School of Floral Design. Her research focus is on the post-harvest physiology of roses.
"It's basically everything that happens after the flowers are cut," she says.
The science and business sides of retail floral production, distribution and sales make the industry a fast-paced and demanding field, but the rewards are great for working with products Paine loves. She first realized her love for plants before her college days, when her grandmother encouraged her to spend a few weeks in Israel, where she worked in a kibbutz that produces fruit.
"They just have a lot of really interesting horticultural technology that got me excited about plants," Paine recalls.
She loves sharing her knowledge with students who are eager to learn. "I am big on asking them questions and having them reason decisions out with me," she says. Paine explains that running the retail business on campus gives students the opportunity to learn practical skills like purchasing and selling, pricing, and designing attractive storefronts.
She and her students are experimenting with some new products, including apparel, candles and a variety of seasonal products.
Paine says she still has a lot to learn about her new community, but she has already found MSU to be a very warm and welcoming university.
Paine pointed out that with Valentine's Day quickly approaching, customers are encouraged to learn more about University Florist and pre-order at www.florist.msstate.edu.