Batesville student named MSU's first Gates Cambridge Scholar finalist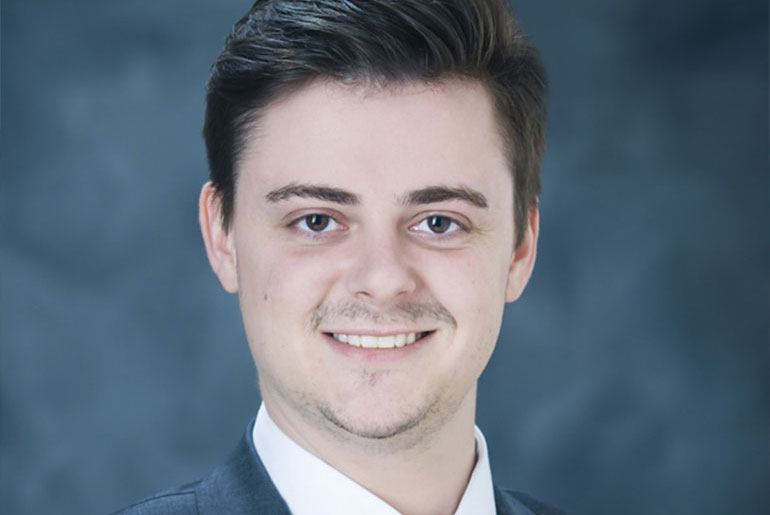 A senior biochemistry major at Mississippi State has been named the university's first finalist for the prestigious Gates Cambridge Scholarship.
Lucas J. Ferguson of Batesville, a 2016 Judy and Bobby Shackouls Honors College Outstanding Research Award recipient, will interview Saturday [Jan. 28] in Washington, D.C., for what is considered one of the most generous international scholarships awarded by one of the world's leading universities. In addition to the full cost of studying at Cambridge, the award provides additional, discretionary funding.
The scholarship is provided by the Gates Cambridge Trust, which is regulated by the Higher Education Funding Council in England via the University of Cambridge. For more, visit www.gatescambridge.org.
Concentrating in bioinformatics, Ferguson is among finalists chosen this year for academic excellence, leadership potential, commitment to improving the lives of others, and being a good academic fit with Cambridge.
Also pursuing minors in computer science and microbiology, Ferguson is working to complete a computational biology certificate from MSU's Institute for Genomics, Biocomputing and Biotechnology.
He is a 2013 graduate of the Mississippi School for Mathematics and Science.
Tommy Anderson, honors college director for prestigious external scholarships, said Ferguson's Gates Cambridge finalist designation is "an indication that his undergraduate research has the potential to have global impact" and "places him in a community of scholars who are motivated to solve some of the world's most intractable problems."
"Lucas plans to devote his professional life to computational modeling of infectious disease, and the platform that Gates Cambridge offers him to pursue cutting-edge research is unparalleled," said Anderson, also a professor of English.
In addition to Anderson, Ferguson expressed gratitude for the guidance of faculty mentor Dr. Henry Wan, whom he met through the Mississippi School for Mathematics and Science's Research Shadowing program. A professor at MSU's College of Veterinary Medicine, Wan is part of a team of researchers working to improve the system for developing life-saving flu vaccines.
"Under the mentorship of Dr. Wan and various collaborators from the College of Veterinary Medicine's Department of Pathobiology and Population Medicine, I have been able to help answer pertinent questions related to bovine influenza D virus, which was discovered in 2011," Ferguson said.
Ferguson explained that the team primarily has concentrated on bovine influenza D virus epidemiology and pathology in cattle and other species, but their research focus has since developed into a study of antigenic and genomic diversity of bovine influenza D virus.
"This work is relevant to cattle considering bovine respiratory disease is the leading cause of economic loss in beef cattle production," said Ferguson, who has co-authored articles in top-tier journals.
This past summer, Ferguson participated in a six-week international research experience at the Jiangsu Academy of Agricultural Sciences in Nanjing, China. There, he conducted research on the diversity of an avian immunologic gene in Chinese poultry.
"My experience in China impressed upon me the importance of international research and collaborations," Ferguson said.
Aspiring to a career in academia, Ferguson said he plans to focus his graduate school and professional research endeavors on RNA viruses, the innate immune system, and translational research. Forging collaborative relationships with other scientists conducting infectious disease research is a major goal, he said.
"Being able to begin my research career as a freshman at Mississippi State has made me competitive on an international level," Ferguson said. "I hope to continue establishing myself in the international research community as a productive, collaborative and passionate scientist eager to make a difference in my realm of research."
Learn more about MSU's Judy and Bobby Shackouls Honors College at www.honors.msstate.edu; College of Agriculture and Life Sciences and its Department of Biochemistry, Molecular Biology, Entomology and Plant Pathology at www.cals.msstate.edu; and College of Veterinary Medicine at < a href="https://www.vetmed.msstate.edu/" target="_blank">vetmed.msstate.edu/.
Biochemistry, Molecular Biology, Entomology and Plant Pathology