New MSU agriculture lab enables 'real-field' experiences
Author: Sarah Buckleitner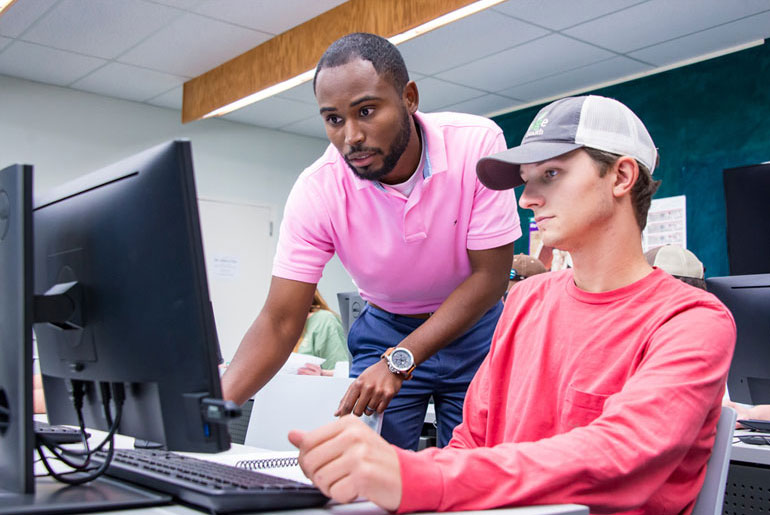 A sophisticated new teaching platform at Mississippi State is preparing majors in the College of Agriculture and Life Sciences to master the complex demands of 21st century careers.
Opened earlier this semester on the first floor of Dorman Hall, the MSU Precision Agriculture Laboratory is equipped with 21 high-speed workstations that enable students to take academic theories learned in university classes and apply them in real-world experiences.
Primary support by Monsanto, the St. Louis, Missouri-based international agrochemical company, facilitated the lab's creation.
Precision agriculture includes the use of global positioning and geographic information systems, along with remote sensing, to collect and analyze site-specific data used to resolve crop, soil and related issues. The visual and multispectral data is collected via ground instrumentation, unmanned aerial vehicles, fixed-wing aircraft and satellite.
"We've established this lab as an interface for a number of different majors in precision agriculture," said Scott Willard, associate dean. "We've combined high-powered technologies that will allow students from different walks of life to take a class together and follow the same path toward understanding the concepts of precision agriculture."
While campus workstations are licensed for a range of agriculture-specific programs, they are but a part of the facility's advanced teaching capabilities.
"Not only do we have state-of-the-art technology, but Drs. Amelia Fox and T. J. Bradford also have written a curriculum tailored to the students of Mississippi State," Willard said, adding that Fox, a visiting scholar, "literally wrote the textbook on this topic."
Fox is a 2013 MSU doctoral graduate in agricultural remote-sensing technologies. She earlier earned master's degrees in geographic information systems at Western Illinois University and University of Wisconsin-Stout.
Fox said much of today's agriculture is controlled by computers. "We found that graduating students are often theory rich and real-world experience starved. These work stations provide experiences that students can take out into the field with them."
An advanced audio-graphics system also enables MSU students to have immediate contact with agriculture providers throughout the state. "With this technology, a farmer can conduct a conference with a class from the middle of a field," Fox said.
Beyond preparing students for technically focused careers, the enhanced college curriculum should have a major impact on those working daily to help feed the world. "We're hoping classes like these can teach future farmers to do their own programming, data management and map making, instead of needing to hire someone to do these things for them," she said.
Bradford, who completed MSU bachelor's-through-doctoral degrees between 2010 and 2016, is a plant and soil sciences instructor who teaches in the lab. His doctoral dissertation in agricultural and extension education examined the efficacy of using experiential learning to teach agriculture.
"This lab gives students a real-world view of the application," Bradford said. "In my own experience, this is particularly important."
"After graduation," he continued, "I worked mapping soils for the Natural Resources Conservation Service. While I had been taught the theories in school, I hadn't learned how to apply them in the real world. I want to make sure our graduating students can bridge that gap," Bradford said.
In expressing appreciation to Monsanto for helping equip the lab, Willard said plans for an expansion are already in progress.
"The next step is opening a classroom next door with tractor- and unmanned aerial vehicle-control consoles so students can practice programming routes and actually sit behind the controls of a simulator using data from real-world production-management scenarios," Willard said.
For more on MSU's College of Agriculture and Life Sciences, visit www.cals.msstate.edu; the plant and soil sciences department, www.pss.msstate.edu.